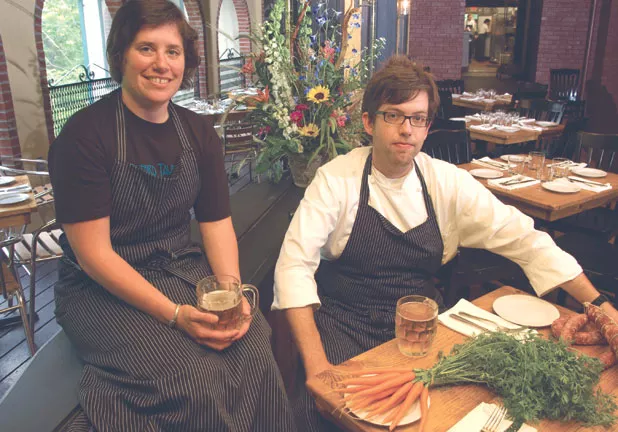 Matthew Thorsen
Sue Bette and Aaron Josinsky
When the old bar from Smokejacks hit the market, Bluebird Tavern owner Sue Bette couldn't resist snapping it up. "We decided it would be an awesome fit for the Bluebird," she says. Using it as the centerpiece, she's turned the restaurant's event room into a snazzy speakeasy. Beginning on July 8 — the eatery's one-year birthday celebration — the room will open on Thursday, Friday and Saturday evenings beginning at 4 p.m.
"[Chef Aaron Josinsky] is creating a total speakeasy menu, all snacks and light bites," Bette says. During its operating hours, the room will also function as a raw bar offering a variety of oysters, plus other seafood as the summer progresses.
But that's not all Bette has up her sleeve. Beginning this week, she'll be retrofitting the old Klinger's kiosk on Church Street with copper to begin the process of converting it into a biz called the Bluebird Coffee Stop. "We're trying to create a 1920s, 1930s New York subway vibe," she explains.
Starting in August, pedestrians can swing by for locally roasted Fair Trade coffee and espresso, local creemees, and seasonal housemade pastries and snacks. All of the goodies will be prepared in the Bluebird Tavern kitchen, and they'll change depending on "what's inspiring to the chef," Bette says.
Why is Bette branching out so soon after opening her flagship? "We're really excited to be part of the vibrancy of Church Street," she says. "There are lots of people who celebrate special occasions and events with us. Making [Bluebird] a coffee shop lets us be part of people's everyday routine."