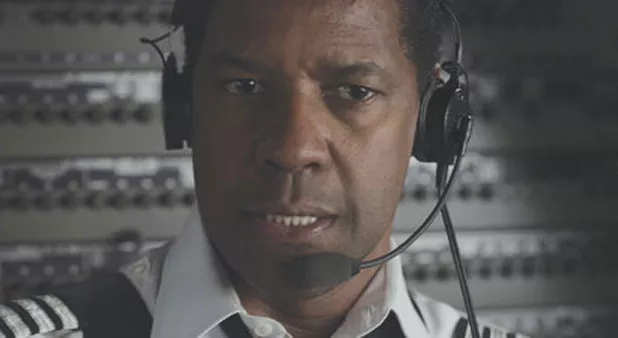 FLYING HIGH Washington plays a pilot who hits bottom — hard — in Zemeckis' often overwrought addiction drama.
It's always nice when a movie asks questions but even nicer when those questions are complex, morally ambiguous or at least a bit tough. With his first live-action feature in 12 years, director Robert Zemeckis takes nearly two-and-a-half hours to grapple with a question I think most audience members can answer in a couple of seconds: Even if you're a really good pilot and can hold your liquor, is it OK to fly a crowded commercial jet when you're hammered?
Uh, no. The end. Closing credits. Lights up. The problem with Flight is that its makers would like you to believe there's more going on than that, that it's more profound. And it's not.
What the film is, is intermittently engaging. It stars Denzel Washington, whose career, if one is honest, has also been only intermittently engaging. Critics tend to cut him all kinds of slack, but the fact is that, for every Philadelphia or Training Day, he's collected paychecks for three or four forgettable projects such as the Preacher's Wife, the Bone Collector and Out of Time. And Déjà Vu, Virtuosity, The Siege, The Taking of Pelham 123, the Book of Eli and Unstoppable. If this movie raises a single question of note, it's this: Is Washington's batting average any better than that of, say, Nicolas Cage?
Cage, of course, earned his best reviews and an Oscar for a brilliant performance as a drunk in Leaving Las Vegas. Hollywood has always had a thing for sagas of addiction and salvation. Washington borrows several pages from Cage's book in his contribution to the genre. His Captain Whip Whitaker loves to fly.
When he's not flying on a SouthJet plane — and sometimes when he is — he's flying on booze, coke, weed and painkillers. As the movie opens, Whitaker has just spent the night partying with a nubile flight attendant and snorts a couple of lines to get straight for his morning Orlando-to-Atlanta run. The surprise isn't that there's trouble; it's that he's not the cause.
When a mechanical failure sends the jet hurtling earthward in a terrifying nosedive, Whitaker keeps his cool and executes a hot-dog maneuver that saves the day. If you've seen Cast Away, you know Zemeckis can direct a digital air disaster with the best of them, and this sequence is by far the movie's most engaging.
The rest is a letdown. Six people of the 102 on board die when Whitaker crash lands the crippled aircraft in a field, and an investigation is launched to determine whether, given his blood alcohol count, the pilot is a hero or should be charged with manslaughter. Since we watched the plane malfunction, we already know his condition didn't affect the jet's, so this thread of the story doesn't generate much suspense.
Nor does the thread involving a heroin addict (Kelly Reilly) who falls for Whitaker and nudges him toward AA, or the one involving Whip's by-the-numbers battle with his demons. If you've ever seen an after-school special on the perils of alcohol abuse, the screenplay by John Gatins (Coach Carter) will offer few surprises.
Washington's work is solid throughout. He's won two Oscars. Playing a drunk probably didn't rank among the greatest challenges of his career. A number of dependable performers are excellent in supporting parts: Bruce Greenwood as Whitaker's union rep; Don Cheadle as his disapproving attorney; and John Goodman — on a hot streak following Argo — as the pilot's colorful supplier. Unfortunately, the movie fails to prove greater than the sum of these parts.
At a pivotal point, Whitaker realizes that, however the investigation turns out, he's guilty of betraying the public trust. Zemeckis is guilty of the same crime, on a more benign level, for luring ticket buyers in with a first act he had to know his second and third couldn't equal. After that spectacular opening, the movie isn't just downhill — it's dull, preachy, sappy and predictable.
My suggestion: Think twice before buying the hype. This Flight wouldn't be a tragedy to miss.