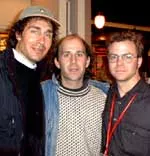 Doug Liman, Keith Speigel & Justin Henry
When McCabe & Mrs. Miller came out in 1971, I fantasized about being the Julie Christie character, an opium-addicted madam of a bordello run by Warren Beatty's tragicomic gambler-gunslinger. In a forlorn Northwestern mining town at the turn of the 19th century, he yearns for the kind of romantic love she's incapable of returning. Graced by Leonard Cohen's haunting soundtrack, the Robert Altman picture is a heartbreaker.
Fast forward three decades with the filmmaker, whose Gosford Park offers people similarly trapped by their passions, or lack thereof, during a 1932 weekend gathering at an English country estate. An existential murder mystery, its conniving wealthy aristocrats and servants with dark secrets are also hemmed in by class distinctions. A large ensemble cast — Kristin Scott Thomas, Michael Gambon, Alan Bates, Jeremy Northam, Bob Balaban, Emily Watson, Ryan Philippe, Helen Mirren, Maggie Smith and Clive Owen, among others — delivers understated oh-so-British dialogue that slowly reveals a household of shattered psyches.
"Robert Altman has more sheer stubborn effrontery than any other great American director," the late film critic Pauline Kael wrote in Hooked, a 1985 collection of her reviews. "When he's working in top form, there's nobody who can touch him. They can't even get near him."
With Gosford Park, Altman's in top form indeed.
grand slamdunk? Burlington-based writer-director Keith Spiegel says his decision to launch the Slamdunk Film Festival four years ago was "partly motivated by a desire to get back at Sundance," the 800-pound gorilla that also takes place in Utah's glorious mountains. Groupies, the 1997 mockumentary he shot in Vermont, had been turned down by Robert Redford's prestigious event. So, Spiegel aimed to screen his debut feature at an annual competing, simultaneous fest he would organize in the same town, Park City.
Slamdunk was an instant success. Somehow, Spiegel and Weston businessman Cabot Orton were able to lure an array of luminaries as judges: director Alan Parker (Evita), composer Lalo Schiffrin (The Sting) and actor Anthony Perkins (Psycho). The selections included The Dirk Diggler Story, the prototype for Paul Thomas Anderson's Boogie Nights.
In addition, there was a packed-with-celebrities screening of Kurt and Courtney, which Sundance dropped after rocker-actress Courtney Love threatened to sue — Nick Broomfield's controversial documentary suggests she may have hired someone to kill husband Kurt Cobain, whose death by gunshot was officially ruled a suicide.
The 2002 Slamdunk has just wrapped. Spiegel's e-mail summation mentions a closing-night North American premiere of Dead in the Water, with Dominique Swain and Henry Thomas, and The Huey P. Newton Story, a series of monologues by an actor portraying the late Black Panther leader.
Some good news for the 30-year-old Spiegel as he heads back home to the Green Mountain State: Both Miramax and Paramount Classics have told him they would be interested in taking a look at his re-edited Groupies, which will be renamed The Junior Defenders. The eccentric road movie is about a deranged fan who kidnaps the former child stars of a 1970s TV superhero show. "It's all very encouraging," he says, "but first I just want to concentrate on finishing the film right this time."
hollywood goes north Montréal — and its advantageous exchange rate for American dollars — will be drawing considerable Tinseltown "glitterati" to Quebec in the next few months. According to a recent article in The Gazette, Drew Barrymore, Brad Pitt, Matt Damon and Julia Roberts, no less, will be in the city to make Confessions of a Dangerous Mind. George Clooney is acting in and directing the comedy adapted from the Chuck Barris autobiography that claims he hosted the goofy "Gong Show" as a front for his real job as a government assassin.
Nicole Kidman, Angelina Jolie, Billy Bob Thornton, Anthony Hopkins, Morgan Freeman and Holly Hunter are among the other thespians trekking to the frozen reaches of Hollywood-with-a-French-accent this winter.
pro conscientious Did you spot last week's New York Times photo of a youthful peace activist Dave Dellinger in the company of seven other men being hauled away to prison in 1940 for resisting the draft? The shot accompanied a story about The Good War and Those Who Refused to Fight It, which was broadcast January 15 by some PBS stations. The Vermont affiliate taped the national feed and expects to show the film at an undetermined future date. In it, Dellinger — an octogenarian now living in Montpelier — discusses his experiences as a conscientious objector. The documentary apparently was not subject to local censorship — unlike that of the Maryland PBS system, which feared a negative reaction during the country's war on terrorism.