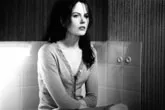 Nicole Kidman in Birthday Girl
FROM RUSSIA WITH SEX
We live in a time of e-mail-order brides, a gambit that alternately charms and grates in
Birthday Girl
. This new romantic comedy with dark thriller overtones comes from a confluence of Butterworth brothers: playwright Jez directed and co-wrote the script with Tom, while Steve serves as a producer.
The indie merits a nationwide release this week primarily because of the ascendance of its star: Fresh from her gigs as a sickly chanteuse in Moulin Rouge and a spectral mom in The Others, redhead Nicole Kidman plays a Russian brunette wooed in cyberspace by a lonely British man. He's found her through an Internet matchmaking service, but it's not exactly instant good karma.
Ben Chaplin appears as John Buckingham, whose "palace" is a modest home in the south of England. He's been a bank teller for 10 years, with no hope of climbing the corporate ladder. Repressed and shy, John coasts along with little in the way of a personality. Until Nadia comes into his life, that is.
When John meets her flight from Moscow, nothing is as he imagined. Nadia doesn't speak his language — despite her letters indicating otherwise — and she smokes like there's no tomorrow. Alarmed, he keeps trying to call the agency that paired them. She's a dud as a potential wife.
To improve her precarious position, Nadia seduces him. John comes home from work the next day with a Russian-English dictionary for her; she's scowling and holding a handful of the porn mags that were hidden in his bedroom. After an embarrassed interval, he is won over by her ability to replicate many of the erotic positions in the publication's kinky photographs. John's fantasies come true. Can love be far behind?
Yup. Nadia is not what she seems, which John learns only after two of her friends drop by unannounced. Alexei (Vincent Cassel) and Yuri (Mathieu Kassovitz) are perfect examples of why the Soviet Union should have remained intact; this Ukrainian duo deserves a gulag. The two insinuate themselves into the couple's theoretically blissful domesticity. Before you can say nyet, the not-quite-newlyweds have become hostages, and John is forced to save Nadia from harm by robbing the bank where he works.
It's a scam as old as Mother Russia, but at that point Mrs. Butterworth's boys abruptly switch gears. The quirky plot of the first hour gives way to a rather grim and predictable extended chase sequence, as Alexei grows increasingly nastier. While this twist brings out John's previously untapped testosterone, the results are less cinematically satisfying than intended.
None of this can be blamed on the cast. Cassel and Kassovitz, both French, effectively forego Gallic je ne sais quoi for Eastern European mystique as the two Russian rats. Chaplin makes a convincing nerd on the verge of a manly breakthrough; he can be sweet or swashbuckling as needed. But Kidman has the biggest transformation, and her performance resonates with emotional depth. If only Birthday Girl were a movie fully worthy of that talent.
SHORT TAKES A Beautiful Mind, with Russell Crowe as schizophrenic mathematician John Nash, includes a cameo for Kent Cassella as one of two military officers in the first code-breaking scene. A familiar face on local stages, he divides his time between Burlington and New York City. Cassella also works in a production capacity for NBC's "Law & Order: Special Victims Unit," on which he periodically shows up as a detective in the squad room . . . In the umpteenth adaptation of Alexandre Dumas' The Count of Monte Cristo, Guy Pearce and Jim Caviezel inhabit the lead roles. But a Cabot man who portrays Jacabo, the hero's sidekick, was praised by The New York Times for giving the epic "a spark of mischievous humor." Although he's largely unsung, Luis Guzman has played good guys in such mainstream pictures as Traffic and is one of the finest American actors around today. He's usually hired to be the villain. On HBO's intense prison drama, "Oz," Guzman was incarcerated with the baddest of the bad . . . Although it lacks Monte Cristo's literary pedigree, the recent lampoon entitled Not Another Teen Movie is similarly connected to Vermont. Screenwriter Mike Bender graduated from Middlebury College in 1997. A year later, bingo! He sold his first feature-length script. Alas, Gigantic — a spoof of Titanic — sank before making it to celluloid. Bender's next project is A Fistful of Candy, which parodies Clint Eastwood's spaghetti Western period. Go ahead, make my Payday.