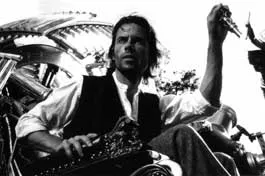 Two early, defining moments remain fixed in Stephen Bissette's memory: A third-grade teacher in Duxbury who liked to read Edgar Allen Poe to the class; and the time his family went to Burlington for the 1965 world premiere of Those Calloways, an environment-friendly Disney film shot in Vermont.
Ever since his introduction to the literary master of the macabre, Bissette's tell-tale heart has been devoted to the horror genre. The 46-year-old Wilmington resident's abiding interest in Green Mountain State movies — whether by locals or flatlanders — will culminate in a book to be published next year by the University Press of New England.
With the persistence of a sleuth, the guy has become a walking encyclopedia for regional cinematic trivia. "I'm trying to find out more about A Vermont Romance, a 1915 film that WCAX restored and broadcast only once in 1965," Bissette says. "And someone named Marjorie Wilson made Insinuation here in 1922."
The 1970s seem to have been a particularly fertile era. "A Polish director did The Catamount Killing in North Bennington in 1974. I saw it at the St. Albans drive-in," notes Bissette. "Dark August was a 1976 horror film shot in Stowe by Martin Goldman."
His own career in comic books was formulated at about the same time. Bissette studied cartooning at a specialized school in New Jersey until graduation in 1978, then worked two decades in the field. He was a "penciler" for Swamp Thing at DC Comics, and went on to lend his artistry to Heavy Metal, Archie and Teenage Mutant Ninja Turtles.
In late 1993 Bissette created Tyrant, a Tyrannosaurus Rex saga in comic form that even prompted him to join the Vertebrate Paleon-tology Society. After four issues in two years, Tyrant became extinct when the number of distributors dwindled from a dozen to only one.
Luckily, Bissette had already developed a successful sideline: writing, generally with a frightful theme. He won a 1993 Bram Stoker Award for his novella, Aliens: Tribes. Last year, he co-authored Buffy the Vampire Slayer: The Monster Book. One of his essays was selected for a British Film Institute horror companion. Bissette's weekly video review column appeared from 1999 through 2001 in the Brattleboro Reformer — the town where he now co-manages a store called First Run Video.
The genesis of his current project, with a working title of Green Mountain Cinema: Vermont Films and Filmmakers, can be traced to a presentation Bissette was asked to give a few years ago. "I assembled notes and a 90-minute reel of clips for pictures made here by Hollywood or by Vermonters," he says. "I sent that reel, with my proposal, to University Press, which is at Dartmouth."
But Vermont films are barely known elsewhere. Does his publisher think the subject matter will sell? "I convinced them that now's the time to set a demarcation for things that might disappear," Bissette recalls. "Walter Ungerer made The Animal in 1975, but it's practically a lost film. There are only two worn 16mm prints and a murky video transfer left. Ungerer's been giving his films to a museum in Canada for preservation. My other agenda is to pull together some sort of archive."
Meanwhile, Bissette is exploring Vermont filmmakers both obvious — John O'Brien, Nora Jacobson, Jay Craven, Bess O'Brien, David Giancola — and obscure, such as the legendary Adolfas Mekas, who came here in 1963 to shoot his improvisational underground classic, Hallelujah the Hills. Bissette is as impressed by the pioneers of yesteryear as he is by today's "tsunami of young filmmakers who are creating a generational groundswell."
short takes Can you believe it's been 20 years since Americans were dazzled by an adorable, and very homesick, being from outer space? E.T. the Extra-Terrestrial will enjoy a sneak preview at the Essex Outlet Cinemas on March 19 before its nationwide re-release three days later. The film has additional footage and a digitally remixed soundtrack. All well and good, but the emotional subtext — a boy feels abandoned after his father leaves the family — is what makes Steven Spielberg's sci-fi adventure a masterpiece. . . Fans of The Fellowship of the Ring might want to check out director Peter Jackson's Heavenly Creatures at the Hopkins Center in Hanover on March 26. The special effects are fabulous in this 1994 thriller-fantasy about two teenage girls in New Zealand conspiring to commit matricide. Oscar contender Kate Winslet plays one of the adolescent assassins.
For info, call Estrogen Fest at 660-4848 and the Manchester Film Festival at 362-9960.