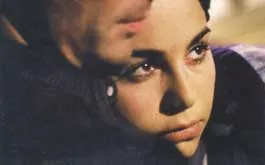 In the aftermath of September 11, what could be more timely than a cinematic tale about the impact of Islamic revolution? In Maryam, which is screening this week at the Hopkins Center, the members of an affluent Iranian-born New Jersey family try to fathom the political events of 1979 in their faraway native land. These suburbanites must also reexamine the assimilation they have taken for granted.
This small movie of surprising strength begins with a voice-over narration by 16-year-old Maryam Armin. The bright-eyed adolescent recalls that, "as far as I was concerned, Iran had nothing to do with me" — even when the westernized Shah is overthrown, the fierce Ayatollah Khomeini assumes power and militants take American hostages in Teheran.
On the soundtrack, "Let the Good Times Roll" — a tune by The Cars, not the saucy Shirley and Lee groove from 1956 — conveys the mood of Maryam's adopted nation just before the turmoil 23 years ago. But the good times appear to be a partial mirage for the girl, who is played with winning charm by Mariam Parris. In a high school journalism course, she faces subtle racist ridicule from Jill (Sabine Singh), the blonde classmate who competes with her for the attentions of a cute blonde boy named Jamie (Victor Jory).
At home, Maryam is often embarrassed by the vestigial "foreignness" of her physician father Darius (Shaun Toub) and housewife mother Homa (Shohreh Aghdashloo), despite their rather enlightened outlook on life. They buy her a spiffy automobile — quite a symbol of liberation considering that women in Saudi Arabia, for example, are forbidden to drive or even ride in the front seat. Maryam's new wheels are the good news.
Bad news arrives in the form of a cousin who comes from Iran to live with the Armins while studying physics at a local university. Ali (David Ackert) carries some heavy baggage: He's a devout Muslim, a Khomeini loyalist and is still bitter about the murder of his own father by the Shah's secret police. Maryam is alternately amused and annoyed by Ali's rigid Islamic beliefs. The dour young man will not let any female touch him, recoiling even from a handshake, and he fumes when wine is served at the dinner table.
These household tensions are juxtaposed with increasing anti-Iranian fervor in the community, where previously friendly neighbors become distant. Everyone's tying yellow ribbons on their trees — a patriotic symbol that, to the Armins, is a chilling reminder of the outsider status they have long denied. Archival footage from U.S. news reports reveals the growing outrage in a prosperous, somnolent country suddenly faced with Third World resentment. We were — and still are — perplexed by the accusation that the Great Satan R Us.
Writer-director Ramin Serry's semi-autobiographical saga resonates powerfully now, as developments in the Middle East suggest we should have been paying closer attention. It's an era when "Let the good times roll" has been eclipsed by "Let's roll" — one courageous passenger's mantra when confronting the terrorists on one of the hijacked planes.
Although I saw Maryam at last November's Fort Lauderdale International Film Festival, it had begun making the rounds a year earlier. A current limited release has garnered positive reviews but minimal box-office receipts, the sad fate of many an indie gem. Civilization is surely doomed when a picture flops after being plugged by Chicago critic Roger Ebert, who praised the artistry and intelligence of Maryam "at a time when most movie teenagers are bubble-headed pawns in sex comedies."
short takes: Another antidote for bubble-headedness might be this weekend's Estrogen Fest at Champlain College in Burlington. The three-day gathering will spotlight films on such topics as reproductive rights, body image, gender roles and the media, lesbianism and violence against women. There'll be discussions of relevant issues, as well as performances of poetry, monologue, song and dance . . . Changing Lanes, a new psychological drama with Samuel L. Jackson and Ben Affleck, was co-written by Michael Tolkin. If his name sounds familiar, it's probably because the 1974 Middlebury College graduate penned Robert Altman's The Player and The Rapture, an odd feature about religious conversion that Tolkin also directed. The 1991 cult hit stars a pre-"X-Files" David Duchovny, in this case abducted by God rather than aliens.
Maryam is showing Sunday, April 21, at 6:45 p.m., at the Hopkins Center, Dartmouth College, Hanover, N.H. Info, 603-646-2576. The Estrogen Fest is this Friday through Sunday, April 19-21, in Hauke Auditorium, Champlain College, Burlington. Info, 660-4848.