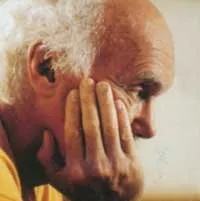 High Times:
The Doors of Perception
, the title of a book Aldous Huxley wrote after taking mescaline in the 1950s, is a term that perfectly describes any exploration of human consciousness. Rocker Jim Morrison could dig it. So could Richard Alpert and Timothy Leary, Harvard University psychologists who began stepping through those doors with Huxley in 1961 as fellow travelers on numerous LSD trips.
Morrison died in 1971, the same year Alpert — by then renamed Baba Ram Dass by an Indian guru — published Be Here Now, the counterculture's guide to all things transcendental. Director Oliver Stone memorialized the Lizard King in a 1991 feature film, The Doors. Ram Dass Fierce Grace, opening this weekend at the Savoy Theater in Montpelier, is Mickey Lemle's fascinating, touching 2001 documentary about a man whose wise perceptions have inspired generations of fellow spiritual seekers.
In his personal break-on-through-to-the-other-side experience, Ram Dass almost reached the end when he suffered a major stroke in 1997. Though he still battles partial paralysis and difficulties with verbal expression, the septuagenarian remains quick-witted despite long lapses when he speaks.
"Ram Dass was always the master of the one-liner," suggests his friend Wavy Gravy, one of several talking heads interviewed on camera. "Now, he's taken the pregnant pause to a new dimension."
Ram Dass was also always exceedingly bright. Beginning with his precocious childhood in a well-heeled New England Jewish family, Richard Alpert was destined for conventional success. That all changed when he joined forces with Leary, whose "openness to new ideas and his willingness to take wild risks in thinking" made him a stimulating colleague.
Had the pair merely stuck to wild thinking, they might not have been fired from the university in 1963. But by that time, their experiments with acid — designed to combat recidivism among prisoners and to help divinity students see God — had breached the boundaries of scientific inquiry.
Ram Dass tells the filmmaker his own intake of hallucinogens became tiresome, especially because of the inevitable drop after a drug high. "I saw that going up and down wasn't satisfying," he says.
He went to India in 1967, intending to meet holy men and give them LSD so that "they'd tell me what LSD is." Instead, Alpert encountered a guru called Maharaj-ji who read his mind, blew his mind and dubbed him Ram Dass — which means "servant of God" in Hindi. "I was bathed in love and, because he knew everything about me, I was forgiven," remembers the American, while sitting in a wheelchair at his home in California's Marin County. "It was so beautiful."
His Himalayan sojourn proved to be transformative. "I came into a culture that recognized spirit," Ram Dass recalls. "When I went to India, my method was psychedelic. When I came back, it was inside me."
Some of the funniest archival material in Fierce Grace centers on Ram Dass' return to the United States in the early 1970s. His best-selling Be Here Now enchanted hippies, who are seen gathering by the hundreds for mass meditations on the three-hole golf course of the Alpert family's New Hampshire country house. They chant, dance, skinny-dip in a pond and sing "Hare Krishna."
When the endearingly silly flower-power era ended, Ram Dass continued his mission by helping inmates find spiritual growth during their incarceration. He also developed the Dying Project, a program for coping with death and grief.
The film, which strangely fails to mention that Ram Dass is an openly gay man, observes his often painful physical therapy sessions. His faith had been tested by the stroke, he acknowledges, "and it was a cold, cold place."
But there is poignant rebirth, evident when a young woman named Abby visits Ram Dass, looking for answers. Her activist boyfriend Terrence — recently killed while working with indigenous people in Colombia — has appeared in a dream. She asked Terrence if it would ever be okay to move on, Abby recounts, and he assured her: "When you find that love, I'm a part of it."
Ram Dass looks thunderstruck. "Yum, yum, yum," he remarks, in what seems to be a stroke victim's equivalent of "yes, yes, yes." He sobs. He exhales deeply. "Boy, that's strong," he says of her nocturnal vision. They cry together and hug.
"Your soul has intuitive understanding of this path," he tells Abby, and it's clear Ram Dass also has been blessed with insight about making his own way through this troubled world.