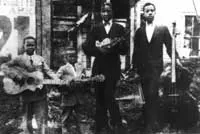 A scene from Sweet Old Song
When Terry Zwigoff's Louie Bluie documentary came out in 1986, Howard Armstrong — the visual artist and musician who sometimes used that rhyming pseudonym — was a mere 75 years old. The guy is now in his early nineties and still playing blues, gospel, rags, Appalachian folk and Tin Pan Alley pop like there's no tomorrow.
In Sweet Old Song, airing Tuesday, July 30, on Vermont Public Television, producer-director Leah Mahan examines the courtship that came late in Armstrong's life. He was 73 but looked about 50 when he met Barbara Ward, who appeared to be 25 but was actually 43. So, although the couple does not have a typical May-December relationship, they can't avoid a few looming age-disparity issues.
Mahan never quite explains how they found each other when Armstrong was living in Detroit and Ward was a Boston resident. Whatever the circumstances, a spark apparently ignited. Armstrong sent her eloquent, insistent, hand-written love letters, always decorating the page and the envelope with his vivid designs. "I was attracted to his energy," the younger woman says of the man 30 years her senior. "But it frightened me."
Small wonder. Armstrong has been a hyper genius since boyhood. At one point in the film, he's seen holding a piece of chalk in each hand and simultaneously drawing two terrific caricatures on a classroom blackboard. The act is so fast and effortless that, had a camera not been there to catch it, his ambidextrous flourish might have gone unnoticed.
When Armstrong talks, his verbal potpourri of wisecracks, sardonic commentaries, memories, nonsense words and wistful observations could be the patter of a seasoned entertainer. But when the raconteur picks up a mandolin or fiddle — he plays 22 instruments — audiences are thrilled. The man excels in a number of musical styles and his singing voice is just as versatile.
Ward, a sculptor, is somewhat less distinct in the film. That might be because Armstrong has such an outsized personality. Yet, as his back-up vocalist, percussionist, business manager and chief booster, she demonstrates a bemused patience with his periodic crankiness. He relies on her strength of character. Their collaboration extends to the memoir she is writing and the gorgeous illustrations he paints based on her tales of growing up in tough times.
Both come from families with nine children. Ward's was an urban saga. Sweet Old Song follows Armstrong on his first visit back to his hometown in many a moon. The sleepy Tennessee hamlet of LaFollette doesn't seem much changed in the decades since he left — except that African-Americans are no longer legally segregated. During this visit, with the mayor proclaiming a Howard Armstrong Day in his honor, he's hailed as a local hero at the high school that once excluded black teens.
Zwigoff was inspired to create his rambling cinematic biography after discovering a 1934 recording by Louie Bluie and Ted Bogan, Armstrong's lifelong friend. They toured extensively as a duo or part of a string band, beginning in the 1920s. The Southerners even busked in Chicago's ethnic neighborhoods, offering favorite Polish, German or Italian tunes for spare change.
We see faded photographs that Armstrong cherishes: his equally musical brothers, all now deceased; his grandmother, a former slave; his father, whose "great-granddaddy" was a Scotch-Irish slave owner. "I'm the last surviving member of my family," Armstrong laments, but his remark raises some unanswered questions: Did none of his siblings have children? Was he ever married before? Was Ward?
The missing pieces bedevil this profile and overshadow its sense of intimacy. Perhaps Sweet Old Song should be broadcast in tandem with Louie Bluie to provide a more complete picture.
Although Mahan may not have crafted a cohesive whole, many lovely moments help define these intriguing people. When Armstrong and Ward stop at a Tennessee cemetery to search for his parents' final resting place, she tells him to bring along the mandolin. But he's reluctant, possibly troubled by the specter of his own inevitable death. The nonagenarian protests: "I don't play no music around ghosts and things."
Armstrong initially doubts whether the mutual grave of his mother and father was ever marked with a proper memorial. Before long, though, he's perched atop their formdable tombstone, strumming and singing a poignant hymn — a haunting serenade for those ghosts and things.