Oliver Parini
Fletcher Free Library
Supporters of the Fletcher Free Library are exploring the possibility of a $19.8 million renovation that would dramatically revamp Burlington's all-purpose information center.
The downtown public library would have more meeting space, additional bathrooms, and an indoor café and outdoor terrace. A new stairway would better integrate the original 1904 beaux arts library known as the Carnegie building with its 1981 addition.
The children's section would be moved upstairs, so its lofty, wood-paneled space could revert back to a reading room for adults. After the makeover, the library might even follow the example of the New York Public Library and invite couples to book weddings there.
The library's 112,000 books, as well as its 41,000 ebooks, would remain central to its mission. But the renovation would further the Fletcher Free's evolution toward serving as a community center, following the lead of many libraries around the country that were founded in the horse-and-buggy era.
"We're in the 21st century now. It's a different world," explained Jonathan Chapple-Sokol, president of the Friends of the Fletcher Free Library, a nonprofit organization that raises funds to augment the taxpayer revenues that cover most of the library's operating costs. The Friends would oversee the renovation's capital campaign.
The proposal, though still preliminary, is detailed in glossy renderings and blueprints created by Oudens Ello Architecture, a Boston-based firm. It shows a terrace by the current way in and a grander main entrance in the little-used doorway to the Carnegie building.
If construction were to start four years from now, in 2023, the price tag could increase to $22.1 million, according to the firm.
The library hired Burlington consultant Christine Graham, president of CPG Enterprises, to test potential philanthropic support for the renovation. Her specific task: to assess whether local donors would contribute the entire $19 million tab.
"It's a traditional way to do your research so that you don't end up in a campaign that has no hope," explained Graham, who has conducted 145 such studies, including many involving libraries.
For the Fletcher Free study, she's interviewing 25 people, some of them potential donors.
"We don't ask them for money, but we ask them for their frank opinions about the fundable aspects of a project," said Graham. Her report is expected at the end of the month.
Graham's findings will factor into whether the project moves forward, and in what form, said Mary Danko, library director. She helped lead a "visioning" process that included a survey of patrons and Burlington residents earlier this year.
"We were told: Think your biggest dreams," Danko said. "What would be your ideal, with the caveat that you might not get it."
Oudens Ello's Visionary Redesign report, completed in September, represents a wish list based on input from administrators, staff, city residents and patrons.
The redo concept also incorporates national library trends. Many libraries across the country have opened cafés, Danko said.
"We definitely see people hanging out in the library for longer and longer periods of time, because this is where they are finding community," she said.
Last Friday afternoon, Cavan Little was reading a book called Concrete Economics in the library before his shift as a chef at the nearby restaurant A Single Pebble.
"Oh, yeah, nice," he said in response to the rendering of the proposed outdoor terrace, decorated with twinkling lights for a small concert. The feature might attract younger people, the 26-year-old South Burlington resident suggested, noting the library's demographic tends to skew older.
Little said he thinks the renovation could be an important investment. "I've come to really appreciate a library as a civic tool that can really benefit society," he said.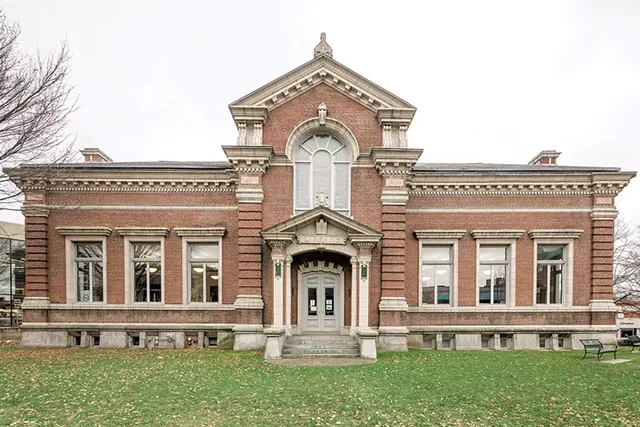 Oliver Parini
Fletcher Free Library
University of Vermont student Emily Bridgers was working on a lab report in the local history room. It was her first time at the Fletcher Free. Her hometown public library in Nashville, Tenn., has a café and outdoor seating, and both add to its appeal, Bridgers said.
Tim Hayes pecked away on his laptop across the room, writing his second nonfiction book. The Johnson resident wrote half of the first one, Riding Home, in this same spot. He said the renovations sound appealing, especially if donors fund them.
Some of the patrons on that chilly afternoon carried large backpacks, one with a bedroll attached. A few seemed under the influence and, when asked by a reporter about the renovation, looked dazed and muttered incoherently.
Many people with nowhere else to go visit the library, especially in cold weather. The renovation proposal includes a small meeting space where social service providers could offer advice on opioid treatment and affordable housing — essentially, expanding on a help desk the library created this fall in the main reading area. The Howard Center, a private nonprofit provider of mental health, addiction treatment and other services, staffs the desk part time. The library would like to recruit more social service providers to provide confidential advice and referrals to patrons.
"If we had a designated office for them here, then they would have more privacy," Danko said.
There's no plan to move old portraits of the library's historic benefactors that hang on the building's first floor. In one, a dignified, dark-haired Mary Martha Fletcher gazes over the collection that she and her mother helped create with a $20,000 bequest to found the library in 1873. For several decades, the library was housed in a building on the site of Burlington's current city hall.
Then, like many communities around the country, Burlington benefitted from the largesse of industrialist Andrew Carnegie, the former bobbin mill boy who donated vast sums to help construct nearly 3,000 public libraries. Portrayed as a bearded, white-haired gentleman in a portrait next to Fletcher's, Carnegie gave Burlington $50,000 to construct a new library in high style at 235 College Street.
The location was flawed: A ravine ran through it. The brick building was erected on unstable earth. By the 1970s, it had started to sag. Residents pushed to demolish the structure and start afresh.
But another group of citizens successfully fought to preserve and stabilize the library, with the help of a federal grant. They also pushed for the addition. In 1978, city voters approved a $2.4 million bond to build the new section, with its signature wall of windows.
Backers from that era evolved into the present-day Friends of Fletcher Free Library, which runs an annual appeal for donations, book sales and other fundraisers.
Last year, the Friends' revenue totaled $26,404, down from $56,230 in 2017, according to its Form 990 tax filings with the Internal Revenue Service. Chapple-Sokol, the president, is an unpaid volunteer, like the other officers. He agrees that thus far, the Friends have raised "nothing close" to the millions likely to be sought in a renovation capital campaign.
Many public libraries have private fundraising arms similar to the Friends. They appeal to donors who want anonymity and assurance that their gifts won't go to general city coffers.
"By giving money directly to the Friends, they are assured that 100 percent of their donation goes to support the library," Chapple-Sokol said.
Donors sometimes cover the tab for library projects. The Manchester Community Library opened a new building in 2014 with the help of a successful $7.2 million capital campaign. In other cases, private money helps, but taxpayers foot most of the bill. Shelburne taxpayers approved a $6.5 million bond to renovate their town hall and build the library that opened earlier this year. South Burlington voters last year also approved a large bond for that city's planned new library, but much of the cost will be covered through tax increment financing. A groundbreaking ceremony is scheduled for Wednesday, November 13.
If fundraising for the Fletcher Free renovation falls short, Burlington voters might be asked to approve funding in a public bond vote. Danko acknowledged taxpayers could end up with "some skin in the game."
She also conceded the plan is still just that: a plan.
"It's what we want," she said, "but we might not get it all."