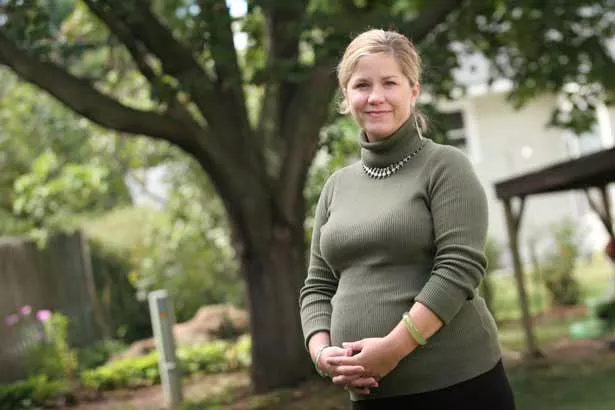 BURLINGTON - When Carolyn Schmidt gave birth to her first child several years ago, she delivered her baby with the help of a certified nurse-midwife at Gifford Medical's Montpelier birthing center. She speaks for the small percentage of women who opt for midwives over physician-assisted births when she says she wanted someone helping with her labor and delivery who viewed pregnancy as a "normal condition," not an illness or medical emergency requiring drugs and invasive care.
So when Schmidt moved to South Burlington and got pregnant again earlier this year, she once again sought out a nurse-midwife - this time through the Claire M. Lintilhac Nurse Midwifery Service at Fletcher Allen. And, as she'd done with her first child, Schmidt scheduled a water birth, a delivery option many women say is easier on mother and baby alike.
But Schmidt's December baby may not have that exit strategy. Two weeks ago, Fletcher Allen notified her, along with several dozen other expectant mothers, that the hospital is eliminating its stand-alone nurse-midwifery program and will soon incorporate it into the hospital's low-risk obstetrical practice.
As a result, the state's largest hospital, which handles about a third of all births in Vermont, will no longer provide 24-hour nurse-midwifery services. In effect, Schmidt's chance of delivering with a nurse-midwife will be determined by fate - i.e., if a nurse-midwife is on call the day she delivers. And, since most physicians aren't trained in water births, that, too, may no longer be an option.
"This isn't what we signed up for," says Schmidt. "To change it midway is a little distressing."
The decision to eliminate the freestanding nurse-midwifery program, which has been around since 1975, has been under consideration for a long time and was based on the declining number of women opting for midwifery deliveries, says Fletcher Allen spokesman Mike Noble. According to Noble, the program has been steadily losing money each year, even as the overall number of hospital births - between 2100 and 2250 annually - has remained constant. Between 2004 and this year, the program lost $482,278.
Interestingly, a spokesperson for Gifford Medical Center says their midwife-based birthing program "continues to thrive" with four nurse-midwives and three OB-GYNs. Of the 300 or so births per year, between 60 and 70 percent are midwife-assisted.
Dr. Roger Young, who runs the unit that will absorb the nurse-midwife staff at Fletcher Allen, says he can't say for sure why the hospital's number of nurse-midwife patients have been declining. However, he suspects it's due to a number of factors, including competition from other midwife providers in the community, as well as more women being amenable to "high-tech deliveries."
But others in the community are challenging the hospital's accounting and are asking that the decision be reconsidered. Crea Lintilhac is president of the Lintilhac Foundation, which helped found the hospital's nurse-midwifery program in 1975. Since 1987, the foundation has provided about $2.8 million in financial support to the nurse-midwife program. Lintilhac says that she and her husband, Phil, were never consulted about the hospital's decision to phase it out; they were simply informed it had been made.
"It's always been our dream that midwives would increase in number and flourish and spread across the landscape," says Lintilhac, who delivered her third child with a nurse-midwife at Fletcher Allen. "This is a program that we would like to fight to keep."
Jennifer Henry is president of the Vermont Federation of Nurses and Health Professionals, which represents Fletcher Allen's five nurse-midwives. Although Henry could not discuss the details of the current negotiations - the hospital is saying that as many as three nurse-midwives could lose their jobs due to this change - she is surprised that the administration would be talking about profits before patients, especially when it comes to mothers and babies.
"This is a decision that has to be driven from the patients' side," Henry says. "We have medicine units that lose a tremendous amount of money in the hospital. But we would never dream of saying, 'We can't take care of your 80-year-old ventilated mother,' because it can't be about money all the time."
Ironically, Fletcher Allen's recent financial statements show the hospital is in good financial shape this year. On a year-to-date basis, Fletcher Allen's net income from operations was $21.7 million, above its budgeted $13 million for that period. Another key financial indicator, earnings before interest, depreciation and amortization, stood at $60.1 million for the first three quarters - significantly more than a forecasted $53 million.
Marti Churchill is a nurse-midwife who's been working at Fletcher Allen for 14 years. Due to her seniority, she says she's not worried about losing her job, but is concerned what it might mean to have the midwife program absorbed into a more clinical-minded approach to birthing.
"It's a different model of care. It's certainly not how I see midwifery," Churchill says. "Do I think that I have something to offer women in that situation? Absolutely."
The nurse's union and the hospital administration plan to meet again on this issue on the next two Tuesdays, September 25 and October 2.