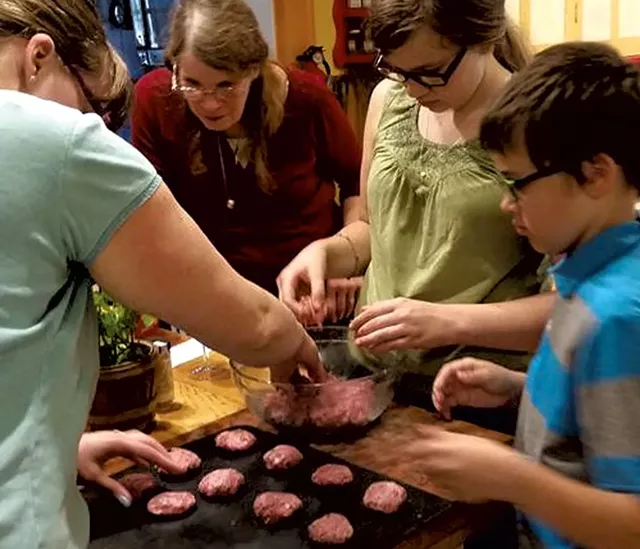 Certain smells can trigger memories. For me, the tantalizing scent of my dad's lamb patties — fragrant herbs and rich and earthy lamb — remind me of one year when I came home from college for my birthday. After a three-hour car ride, I was greeted by the aroma of mint, oregano and rosemary. I followed my nose to the kitchen, where my parents were cooking my delicious birthday dinner: lamb patties, spanakopita, tabbouleh salad and fresh pita bread, made by my expert-baker mom.
My dad passed away in 2013, and he never wrote down his lamb-patty recipe. But during my sister's most recent visit, we reminisced about how much we loved the dish, and I knew I had to make it.
Last month, my kids, my husband and I gathered at my mother's house in South Hero to try and re-create the recipe. We started by looking through the cookbooks in my mom's extensive collection to see if my dad had taken the recipe from one of them. No such luck. The patties were clearly something he had dreamed up one day and continued to make from memory. So, with our memories as a guide, we chopped the herbs and added them to the lamb. My daughter and son got right in there, mixing the meat and forming the patties. They loved prepping the dish almost as much as eating it!
These lamb patties aren't traditionally Greek — I know because we looked through about a dozen Greek cookbooks. But we treated the meal like a Greek feast, similar to my birthday dinner so many years ago, making spanakopita, tabbouleh and decadent baklava for a sweet ending.
While I'm not sure I nailed Dad's recipe, the patties certainly smelled, and tasted, like I remember them. Try them for dinner this month, and they may just become one of your family's favorites.
Lamb Patties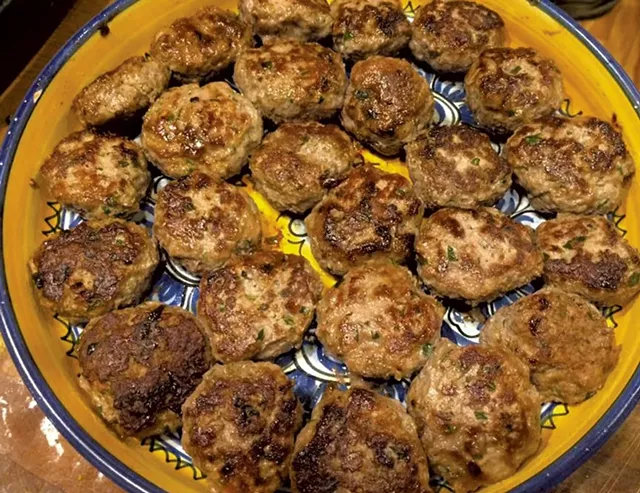 Ingredients:
3 tablespoons fresh mint
2 tablespoons fresh parsley
1 teaspoon fresh rosemary
½ tablespoon dried oregano
⅓ cup onion (about half of a small onion)
2 pounds ground lamb
2 tablespoons lemon juice
½ teaspoon garlic powder
½ teaspoon salt (more or less to taste)
Directions:
Finely chop the herbs and onion. Put the remaining ingredients in a large bowl, then add the chopped herb mixture and mix until just combined. (I like to mix it with my hands!) Do not overwork the meat or it can get tough.
Form mixture into flattened patties, about two inches wide. Put them on a baking sheet and chill in the refrigerator for at least 30 minutes to meld flavors.
Cook on a griddle or grill pan, about four to five minutes per side, until they're cooked through and nicely browned on both sides.
Serve with spanakopita and tabbouleh, or try pita bread and hummus on the side.