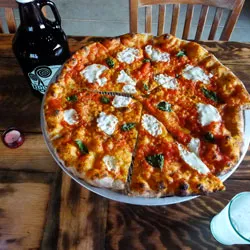 For a few months, the sign proclaiming "Beer and Pizza" over the door of 6305 Shelburne Road was only half true. While Fiddlehead Brewing opened in January, the owner of flatbread eatery Folino's Pizza was still putting the finishing touches on his wood-fired pizzeria.
Last week, John Koerner finally fired up the oven and threw open the doors of Folino's, a 2000-square-foot, 18-seat space adjacent to Fiddlehead.
Part of his vision was keeping service minimal and the vibe relaxed: Customers order their flatbreads at a long counter and watch the pie take shape before it's slid into the 800-degree oven, from which it emerges blistered and bubbling three minutes later. Then they can carry the pie back to their table and grab a drink or salad from a nearby refrigerator.
Sharing the menu with the standard cheese, Margherita and pepperoni pies are some imaginative combos: bacon and leeks; curry shrimp and Italian lettuce; scallops, bacon and lemon zest. For now, an iceberg-wedge salad with buttermilk ranch dressing is the sole non-flatbread option, and customers can grab chilled glasses from the fridge in which to pour their own beer or wine. Koerner quips that Folino's is "BYOF" — bring your own Fiddlehead growler from next door. There's wine across the street at Shelburne Vineyard, too.