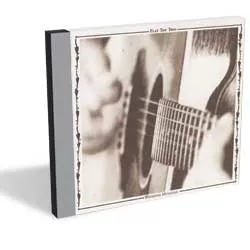 (Self-released, CD, Digital Download)
From the title of their debut full-length album, Weekend Musician, you'd be tempted to think Underhill's Flat Top Trio are just another group of players who gig occasionally in various joints around the Green Mountains. On the contrary, these are three of the region's most accomplished acoustic players. While the band's relaxed, back-porch sound is certainly informal and familiar, the tunes bristle with rootsy, down-home charm, and are immaculately and tastefully composed and performed.
The picking party kicks off with a cover of John Prine's "The Speed of the Sound of Loneliness." Bandleader Jeremy Sicely — formerly of Gold Town, Rock 'n' Roll Sherpa and the Medicinals, among other local bands — handles lead vocals. His sweet, unadorned baritone is well matched by the arcing, crystalline tones of his dobro. Guitarist and mandolinist Dave Ogrodowczyk adds breezy tenor backing vocals over a gentle country strut, while bassist Jeff Thompson holds down a loping low end.
Weekend Musician features a mix of traditionals, covers and originals. While the covers and trad tunes are generally expertly done — especially a stunning live version of Gillian Welch's "Annabelle" — Sicely's originals drive the record and give it character. "Rich Girl Poor Boy," a dark, tragic tale of late nights in seedy bars, simmers with sinister energy. The following tune, "Rupert Depot," is an earnest ode to small-town living that features some of the finest yodeling on a local album since Wooden Dinosaur's Spaces, released earlier this year. The instrumental "Shovel Ready" highlights Sicely's nimble banjo chops. "Even God Gets the Blues" is a clever, cheeky dose of high-lonesome harmonies wrapped in a lilting waltz. And the title track is a pitch-perfect slice of blue-collar Americana.
The record closes on a trio of live cuts recorded at Maple Corner with fiddler Patrick Ross. From weekend musicians or otherwise, mountain music is often best experienced in person. The Lane Gibson-engineered studio recordings sound rich, but the two Sicely originals and the Welch tune highlight Flat Top Trio's formidable prowess as a live act. It's a fine close to a sterling effort from one the state's best Americana bands.
Flat Top Trio play the Maple Corner Fourth of July celebration in Calais this Saturday, July 7.