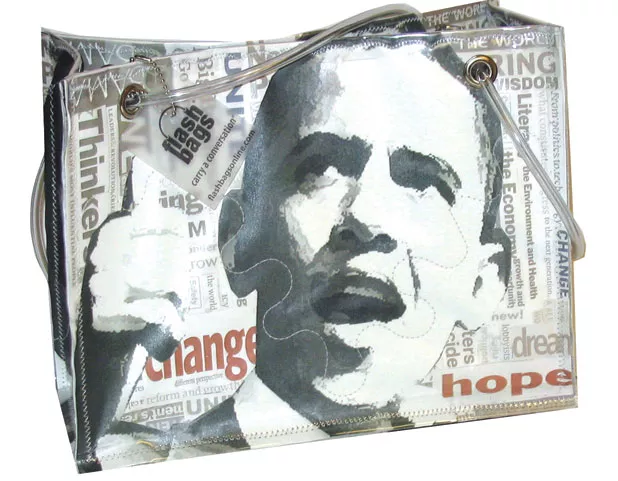 It's all about the Democrats this week, as the national convention presses toward its purpose: officially anointing Sen. Barack Obama as the party's candidate to become, as politicians like to put it, the President of the United States of America! It remains to be seen, in November, whether the junior senator from Illinois will bag the national election as well. But meanwhile, one Vermont company is making sure Obama is on a bag, so to speak, and its product has accompanied the state's official delegation to Denver.
Burlington-based Flashbags is offering its signature tote with an image of the candidate, backed by a collage of ripped-from-the-headlines text featuring words such as "change" and "thinker" and "hope." The design can be put on most of the company's offerings, but the main attractions are the medium (11x9x4.5 inches) and large (15x11x4.5 inches) rectangular bags, made of plastic-coated recycled paper with plastic-tubing handles; they go for $68 and $78, respectively. FlashBags co-owner Laura Cheney reports that Carolyn Dwyer (Obama delegate and Green Mountain PAC director) brought some of the bags to sell, along with other Vermont products. Cheney adds that she threw in "some freebies to pass out to whoever they saw fit." Say, Michelle Obama?
The Obama bag is the latest entry in Flashbags' "Buzz" line, which typically features thematic words and phrases from pop culture. But this is not the first time Cheney and partner Ali Marchildon have whipped up bags for a cause: They've made photograph-laden purses that benefit Women for Women International, PlayPumps International (a nonprofit addressing the drinking-water crisis in sub-Saharan Africa), and the Burlington-based Committee on Temporary Shelter, among others. Nancy Koppelman, who works with Women for Women and is also close to the Obama campaign, "drove the desire for an Obama bag," Cheney explains. "She's having an event with Caroline Kennedy in September and wants to have bags there."
Flashbags' sewers are producing their political fashion statements as quickly as possible (the bags are made individually), having sold out of previous stock at an Obama fundraiser at Charlotte's Old Lantern last weekend. The orders are "exceeding expectations," Cheney says. If a promised appearance on CNN happens this week, the requests could well become overwhelming. But she promises to offer some of the bags back home soon, during Burlington's South End Art Hop and at retail venues including Mi Bag, ecco and Pine Street Art Works.
No word yet on whether Hillary Clinton supporter Madeleine Kunin has joined the Obama bag wagon.