Vermont has a lot of nonprofits — more than 6000, according to a list from Vermont Business Magazine — and competition for donor dollars can be fierce. It takes more than phone-a-thons to raise the dough needed to keep the state's arts, human services, health, educational and religious institutions afloat.
Ask Vermont's best fundraisers for the secrets of their success, and you'll hear versions of the same refrain: patience, persistence, outside-the-box thinking, humor and, of course, the all-important "connections." And if all that doesn't work, try hoisting a giant inflatable ape on top of your building.
For our annual Money Issue, Seven Days spoke to five of Vermont's most successful fundraisers in the nonprofit world to learn what makes them good at their jobs, and the wacky things they've done to make a few bucks for their cause. Spoiler alert: Wearing clothing made of meat isn't necessarily a turnoff to donors.
******
John Killacky, Flynn Center for the Performing Arts
When John Killacky arrived for his new job as executive director of Burlington's Flynn Center, a capital campaign was already in progress to pay for renovations inside the facility. A half-million-dollar grant from the Kresge Foundation helped support those efforts, and, in the summer of 2010, Killacky says, "We enclosed the loading dock." The next phase, he adds, "was going to be expensive."
That included replacing 1453 60-year-old seats in the MainStage theater. Most locals know how that turned out — but more on that in a moment. In telling the story, Killacky first wants to "set the stage." He was nervous, he says; he was the new guy — following in the footsteps of previous ED and formidable fundraiser Andrea Rogers — and, never mind his successful money-raising at previous institutions, this was his debut campaign in Burlington. Furthermore, he wasn't doing things conventionally. In the fundraising field, Killacky explains, "You should first have the private phase and then the public phase. The private [donations] should get you halfway there."
Instead, the Flynn started its "seat campaign" on Facebook.
"We asked people to tell us their favorite Flynn stories and memories," Killacky says. "People started telling us about seeing their first movie there, having their first dates. We realized this place was embodied in people's memories."
Soliciting public reaction first went against all the rules of fundraising, Killacky says. But then the Burlington Free Press did an article about the project that inspired an anonymous donor to send the Flynn a generous check … for $1 million. "That was a benchmark in my career," Killacky says, humbled still. "I've never had that experience."
That wasn't the end of it. The public campaign continued — including the commemoration of 389 seats to donors, or in honor of other individuals — and the small checks rolled in. In all, the Flynn raised $2.3 million for that campaign.
"I can't tell you how grateful I am to the $25 donors and the million-dollar donor," Killacky says. Because he does not know who wrote that big check, "I just need to be grateful to everyone who walks in [to the Flynn]. It could be anybody."
Most donations are tiny fractions of that, and Killacky has learned over his years of fundraising that supporting a nonprofit arts organization takes a village. He cites an example from his previous position as a program manager for arts and culture at the San Francisco Foundation. "The Wallace Foundation in New York was looking at investing in community partnerships," Killacky recalls. "I had six weeks to put together a proposal for [the city]. The result? A $7.7 million grant collectively for 11 organizations.
"It taught me that you are stronger together than alone," Killacky says.
Accordingly, he has sought out partnerships in Vermont with, for example, the BCA Center — on a screen-print project — and a consortium of other performing-arts organizations to encourage the under-40 crowd to buy discounted tickets to their shows. (Full disclosure: Seven Days was a media partner in the Six Pack Onstage promotion.) Killacky is also quick to point out that the Flynn's successes are a team effort of "the marketing and development teams and inspired commitment from the Flynn's board."
Of course, not everyone says "yes" to a request for money. At least not right away. When Killacky gets a negative response, he doesn't take it personally, he says, adding, "I'm grateful when people support anything" in the community — other arts organizations, the United Way, charities. "I take 'no' as 'not now,'" he says.
What's the craziest thing he's done to raise funds? Well, there was that time he wore a shirt made of hot dogs in support of a favored mayoral candidate. (Go ahead, ask him about it.)
Killacky has learned a lot about the Flynn, and Vermont, since arriving here in the summer of 2010. In part that's a result of inviting people to tell their stories, and of his habit of creating relationships not just with donors but with "people who aren't … yet," he says. Pointing to the "enormous investments from this very generous community" even during a recession, Killacky says, "Philanthropy is motivated by emotion."
P.P.
******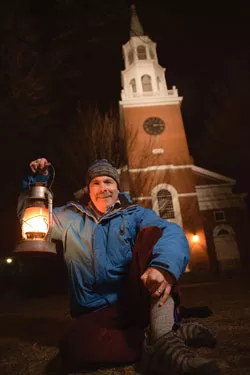 Mark Redmond, Spectrum Youth & Family Services
Shortly after taking the helm at Spectrum Youth & Family Services, Mark Redmond paid a visit to his counterpart at the King Street Center for fundraising tips. His colleague's advice: Tell your story and make personal connections.
"I said, 'OK, that's cute. But how do I raise money?'" Redmond recalls of that 2003 conversation. "And she's like, 'Tell your story and make personal connections.' I said, 'Come on. There must be something more.'"
In the decade since, Redmond's connections and storytelling have greatly benefited the 1800 Burlington-area youth who come to Spectrum for shelter, addiction counseling and mental health services. When he arrived a decade ago, the nonprofit was $174,000 in the hole and nursing a bad reputation.
"People either didn't know about us or had this negative impression," says Redmond, a native New Yorker. "Spectrum got tagged with a lot of bad stuff — rightly or wrongly."
By 2010, Spectrum's revenues were $4.6 million. Today, private donations accounted for 21 percent of that total — up from just 4 percent in 2003. Last week, Spectrum held its second annual sleep out, where scores of donors camp out on a church lawn in solidarity with homeless youth. The center raised $151,179 in a single night.
Redmond credits his fundraising team and his board with Spectrum's success, but you could also credit his own persistence and a dash of sheer luck.
Case in point: Redmond secured $200,000 for Spectrum from Warren Buffett's sister after four years of trying. The connection was a roundabout one: The grandfather of Redmond's wife was Emmett McNamara, who at 103 was the second oldest living ex-FBI agent when he came to visit Spectrum in 2007. "He said, 'My granddaughter down in Washington was dating Warren Buffett's sister's grandson,'" Redmond recalls of the elderly gentleman. "'And the romance is over, but they're still friends, and she still knows Warren Buffett's sister. You should ask for money.'"
So Redmond handwrote a letter asking for a donation and name-dropping his famous in-law. Doris Buffett rejected the appeal but said Redmond was free to send her news of Spectrum's activities. For three years, Redmond clipped and mailed her every article written about Spectrum until, after the stock market rebounded, he wrote her another letter asking for a donation.
"She said, 'Yes. We've been following everything you do,'" Redmond recounts. "It took four years of letter writing, but I never gave up. It's what we teach our kids ... it's not letting go."
Securing high-dollar donations from philanthropists who have never set foot in Spectrum — or met the at-risk kids it serves — isn't as uncommon as one might think. Rich Tarrant Sr. wrote Spectrum a $25,000 check after reading an op-ed Redmond published in the Burlington Free Press questioning a $50 million gift to Middlebury College and wondering why donors didn't give more to needy charities like his own.
"I didn't even know him," Redmond says of the entrepreneur.
A version of that op-ed subsequently published in Forbes magazine has resulted in more checks from donors Redmond never met.
"I've got someone to this day who, every December, sends me $15,000. There's a guy in Texas who sends $5000 every year," Redmond says. Spectrum even counts Paris Hilton's grandfather, hotel heir Barron Hilton, among its donors.
The lesson Redmond sees: Spectrum has a powerful story to tell — 85 percent of kids who complete the nonprofit's transitional program leave with safe and secure housing and a bank account — and it's his job to tell it.
Asking people for money is "awkward at first," admits Redmond, who worked for youth organizations in the Bronx and a charter school in Stamford, Conn., before moving to Vermont for the Spectrum job. "But I just think about the kids."
A.B.
******
Jeffrey Stauch, Middlebury College
When is "the ask" not an ask? When fundraiser Jeffrey Stauch hits up a potential donor for a million-dollar gift — or greater — to Middlebury College.
"You never raise it as a question," confides Stauch, the college's assistant director of principal gifts (meaning those in the seven-figure range). "Instead, it's 'I'd like you to consider making a gift' of some specified amount. That way, you minimize the opportunities for the person to say no."
Avoiding a negative response ranks as an achievement for a job in which "no" is heard much more often than "yes," Stauch says. Middlebury fundraisers actually don't fare so poorly in that department, he adds, noting that about one in four of the college's solicitations results in a donation — a higher-than-average ratio. That helps explain why the school's endowment stands at about $900 million.
Middlebury's rejection of an admissions application from the child of an alum is the most common reason why an approach gets spurned, Stauch says. "A lot of male alums don't like that the college eliminated fraternities," he adds. "And you also hear stuff like 'The campus has gotten too liberal.'"
But a turn down isn't the same as a turnoff. "It's not a conversation stopper," Stauch says. "It's a reason to explore if there's maybe a way forward."
Fundraising the Middlebury way is not like selling, he notes. For one thing, there's no commission involved. "That allows for better donor relations," Stauch says. "You're not always rushing to close the deal." Indeed, it typically takes 12 to 18 months of periodic schmoozing before the proposition gets made.
Fundraising is like dating, he continues. "It's really awkward, it's full of rejection, and you always look forward to it."
Soon after graduating from Middlebury in 2005 with a political science degree, Stauch learned to practice persistence in what amounts to fundraiser boot camp — standing on the sidewalks of Boston, clipboard in hand, asking passersby to contribute to the Democratic Party. That was an exhausting and frustrating experience, he recalls. But, seated in a Middlebury coffee shop, the Filipino American wearing a bow tie and tailored shirt looks back on it with a joke: "There's a saying about that kind of fundraising: 'The hours are long, the work is thankless, but at least the pay sucks.'"
Stauch loves his current job — seriously. It involves regular travel, mainly to Chicago, London and western European cities. And it offers some momentous moments, such as in 2011 when, Stauch relates, he opened an envelope to find a personal check in the sum of $100,000. Amusing incidents occur, too. He recalls sitting in one room of an alumna's home and trying to carry on a gift-giving conversation as she changed a baby's diapers in another room. And then there was the time, in California, when Stauch contracted food poisoning the night before making a pitch — the venue for the ask being a hospital, the potential donor a physician. "You may have to excuse me at any moment," he remembers telling the doc.
Stauch was hired by his alma mater in 2007 and has since moved up to positions of weightier responsibility in the college's 60-person fundraising department. He wrote a book along the way: Effective Frontline Fundraising: A Guide for Nonprofits, Political Candidates, and Advocacy Groups.
One key piece of advice Stauch imparts is to pay as much attention to the follow-up as to the solicitation — especially when the latter has proved successful. He refers to that postconsummation phase as the "stewardship."
"You want the person to feel happy about having given," Stauch says. "It can be the perfect segue into suggesting that the person may want to build on the gift."
K.J.K.
******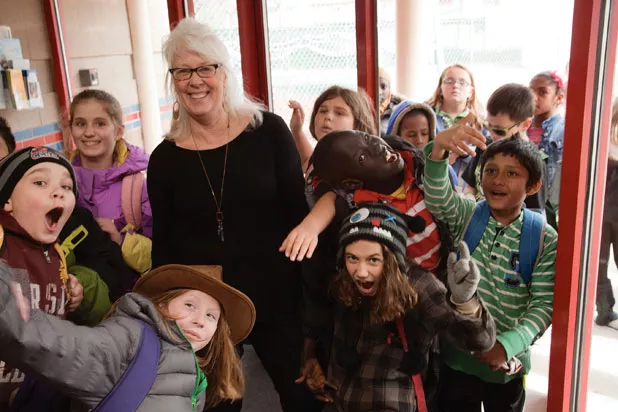 Nancy Cathcart, Boys & Girls Club of Burlington
To Nancy Cathcart, fundraising for the Boys & Girls Club of Burlington is a lot like playing matchmaker. In this case, matching wealthy donors with causes they care about — and will write checks to support.
"I try to respect what I know about them, what they care about, and only invite them to invest when it's something up their alley," says Cathcart, the club's director of development and communications.
That strategy has served Cathcart well over a 33-year career of fundraising for Vermont nonprofits. Since her first job at the Addison County Parent Child Center, Cathcart has raised dough for Vermont Public Television, Trinity College, Fletcher Allen Health Care and her own consulting firm.
What has she learned from hobnobbing with Vermont philanthropists?
"It's about creating authentic relationships with people with resources," Cathcart says. "Learning to know what works for them, what they want, delivering what they want to see."
Evidently, Cathcart's pretty good at it. When she started at the Boys & Girls Club three years ago, under executive director Mary Alice McKenzie, the organization had just one donor in the $10,000 or above category; today, it counts seven such donors. Over the last six years, individual giving is up 80 percent, and the club's 30 board members have donated 431 percent more out of their own pockets.
Since 1942, the Burlington club has served as a safe after-school hangout for kids in the Old North End, but Cathcart says that mission is changing as poverty becomes generational rather than situational. The basketball court, swimming pool and music studio may be the club's biggest draws, but it's emphasizing more educational programming to supplement school. To support those programs, Cathcart is spearheading a campaign to raise $3 million for an endowment that will sustain programs long-term and buffer them against the vagaries of grant funding. That's more than double the club's total revenues from 2010, which were $1.4 million.
"If we're going to promise these kids, 'We're going to be there for you,' we better be there for them," Cathcart says. "We better not have a bad year one year and then say, 'Oh, jeez, sorry. We can't get you a tutor this year.'"
Two years in, the club has raised $1 million toward its goal, "slower than we wanted," Cathcart comments. She says donors are increasingly interested in seeing results from their largesse, so the club more closely tracks kids' progress to improve accountability. Last week, a group of club mentors sat around a conference table comparing notes on various children.
Cathcart says she cut her fundraising teeth at Vermont Public Television. Her biggest "get" there was a $600,000 federal grant to put a transmitter on top of a mountain. She credits her outside-the-box grant application, which included handwritten letters from students at schools that would benefit from educational television programs broadcast through the transmitter.
"I don't know if you've ever seen federal grants, but they're horrible. Whoever poor person has to read them must want to shoot themselves," Cathcart says. "So I thought, add a little flavor. And, boom — I got the grant."
To Cathcart, that's an example of "treating people like people."
Dumb luck accounts for another fundraising success, which Cathcart describes as the "weirdest" of her career. VPT was bringing to town public-television personality Dr. Leo Buscaglia — a best-selling author nicknamed "Dr. Love" — for a big fundraiser. Cathcart was tasked with securing a $10,000 sponsor in just three weeks.
Driving home one day, Cathcart heard an ad for a family mental health practice in Essex and called to ask about a sponsorship. The doctor asked Cathcart if her pitch was some kind of "rude joke" and requested she appear in his office the next morning. There, he revealed an amazing coincidence.
"He said, 'When you called, we were in therapy. My wife and I had separated, and when you called, we were reading a passage out of Leo Buscaglia's book, and my wife put her wedding ring back on,'" Cathcart recounts. "He said, 'Of course we'll sponsor.' He wrote me a $10,000 check on the spot.
"If I tap into that more often," she adds, "I'll be way better at my job."
A.B.
******
Doug Anderson, Town Hall Theater
Like a lot of old buildings in Vermont, Middlebury's Town Hall Theater has had a number of incarnations: auto dealership, Knights of Columbus hall, movie theater. So when Doug Anderson set about raising money to renovate and restore the 1883 brick structure, he got some interesting responses.
"There was a business owner in town who, frankly, was kind of a stern person, and I was a little afraid of asking him for a donation," Anderson recalls. "But it turned out he had very fond memories of growing up in the town and going to movies in the facility."
Anderson continued to "uncover people who had relations with the building," including one woman who had won a Shirley Temple look-alike contest there as a child. These personal memories were key to his fundraising success, Anderson says. "When people have some kind of emotional relationship with the mission, they're more inclined to give," he notes.
It's not the first remark from this executive director that echoes observations made by the Flynn Center's John Killacky. Another: "Slow and steady wins the race," Anderson says. "You develop real relationships with people over time … It might be 10 years before you see a donation."
However, he reveals, his biggest donor to the THT renovation campaign came from someone he didn't even ask. "Six figures," he says. "And now we're best friends."
Anderson says the best kind of donations involve what he calls "joyful giving." That's when "people are so wrapped up in what you're doing that they joyfully give. We saw a lot of that here because people were very interested in restoring this old building, reviving this part of town," he adds.
One chunk of the capital campaign was an effort to raise $100,000 to remove the bricks from the windows along one side of the building — windows that turned out to contain beautiful stained glass. Anderson's tactic? "I got some of the funniest people I know, locked them in my office with a lot of wine and said, 'We're not leaving until we come up with a great idea,'" he remembers. The resulting brainstorm was to sell each brick "back to the town," Anderson says. "Each came with an owner's manual, like a pet rock. As we sold [the bricks], we took them out of the window, and that became like a thermometer. And, by gosh," he declares, "we sold a thousand bricks for $100 each!"
Most THT fundraising projects are characterized by a sense of humor — and have a visible "thermometer" that publicly marks the campaign's progress. In fact, Anderson and his crew are known for highly creative membership drives. Since the building renovation was completed, annual pledges have been necessary to keep the performing-arts facility going. And Anderson, who has a theater background, is all about putting the "fun" in fundraising.
The first membership drive, created with local graphic designer Jory Raphael, involved putting an inflatable King Kong on the building — a reference to its movie-house days. The motto was "Be part of something big," and, with each donation, the outsize ape was hoisted a little higher. The device was both entertaining and incentivizing.
Another year brought an "Expand Your Mind" theme. A '67 Volkswagen bus — painted in psychedelic colors — was parked outside the theater all summer, and Anderson himself "donned a wig and marched in the Memorial Day parade," he recalls. This summer's theme, he reveals, is "Come out and play"; expect to see brightly painted pianos all over town.
Anderson says he had never raised a dime "until I locked my jaws on saving this theater. Then I found in myself the skills to do it."
But, he notes now, "Raising money for a nonprofit isn't as bad as people think. People admire you for doing this work, and they're not insulted to be asked. The worst they can do," he concludes, "is say no."
P.P.
All photos by Matthew Thorsen, except Doug Anderson photo courtesy of Paul Boisvert.