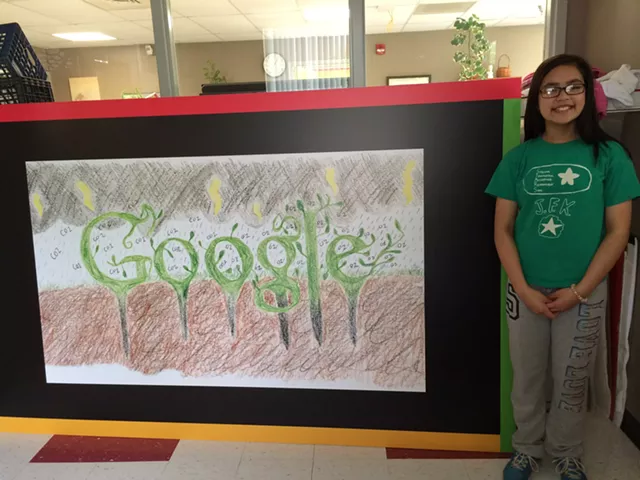 Penny Ly with a blown-up version of the Google logo she designed.
In April, Winooski fifth grader Penny Ly, received an exciting phone call. It was a representative from internet-search giant Google, informing her that she was the Vermont winner in the company's seventh annual Doodle 4 Google competition. "I didn't cry or jump or scream," Ly says, "but I was very excited in my head."
The contest asked students in grades K-12 to redesign the Google logo. This year's theme was, "If I could invent one thing to make the world a better place..." For her doodle, Ly transformed the letters of the logo into bright green artificial plants that could convert carbon dioxide into oxygen. "I guess I was thinking really selfishly," Ly says, by way of explaining how she got her idea. "What do humans need? Oxygen!"
Last week, Ly got to cash in on her prize. She and her dad were flown out to the Google Headquarters in Mountain View, California, to attend the Doodle 4 Google awards ceremony on May 21st, where a national winner was announced: 11-year old Long Islander Audrey Zhang. Her design will appear on the Google homepage on June 9. Ly also got to participate in a bunch of fun, technology-focused activities. The whirlwind trip — Ly was in California just over 24 hours — left quite an impression. Ly sat down with
Kids VT
to talk about the experience.[jump]
Kids VT: What was it like traveling to California?
Penny Ly: When we got to the airport, a person was waiting for us with a Doodle 4 Google sign. We got into a long, black car. It wasn't a limousine but it was like half the size of one. We stayed at a really big hotel — the Sheraton in Palo Alto. I learned that city was really rich. It has a bunch of famous people, like Steve Jobs' wife.
KVT: Did you enjoy meeting other kids who had won the contest in their states?
PL: Yes. Google had set up a crash pad for all the "Doodlers" in the hotel. There were whiteboard tables and a bunch of dry-erase markers so we could draw on the tables. There were wooden pieces in the shape of each state that we got to decorate. The older kids were really nice and they welcomed me.
KVT: What was the Google headquarters like?
PL: When we got there, there were a bunch of Google employees wearing colored shirts. They had balloons, flowers and noise thingees. As soon as we got there, they started making a huge racket. [The campus] was really, really big. Each building was numbered. I could tell that everyone had fun while working there and I could tell they treated their employees well. There were a lot of cafeterias. And I saw someone in a big dome with an opening who was napping.
KVT: What other fun things did you get to do there?
PL: We got welcome bags that had Legos, a Nexus 7 tablet and a Google water bottle. We used a program called Scratch to make icons that spelled out our name and we got to make each letter do something — like I made the "P" in my name make piano sounds. In teams, we made prototype space rovers that had to go straight and not fall off a table. My team didn't complete the mission because our rover kept moving sideways and fell of the table.
KVT: Did the experience make you want to work at a company like Google one day?
PL: I don't think I'd want to work in California because it's far away from home, but I'd like to go back there for a vacation.