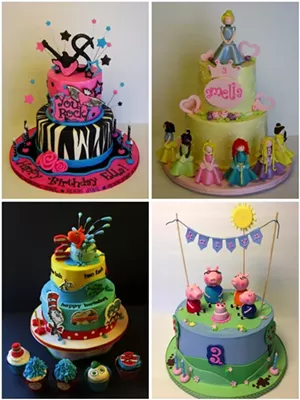 Kids' birthday party themes vary widely, but almost all of them have one thing in common: a birthday cake. Colchester resident Marriam Khan, the woman behind The Little Purple Cake Shoppe, serves up some incredible ones. Her awe-inspiring creations range from dainty delicacies covered in buttercream ruffles and sugar paste peonies to bright, cheerful superhero- and My Little Pony-themed numbers. The floral designer and mom of two daughters, ages 6 and 7, started her home-based baking business as a way to keep busy during the lull between wedding gigs.
Kids VT
spoke with Khan about her adventures in cake making.
How long does it take you to create one of your cakes from start to finish?
My average cake, even if it's single-tiered, takes from 10 to 20 hours. I don't think anyone realizes how much time goes into it. With kids' cakes, you sometimes have to stop yourself and say, "That's enough detail."
What kind of cakes do you find most difficult to make?
My most challenging cakes are the cakes where I have to copy characters because it's so easy to get them wrong. When you're making a fantasy character, you can do whatever you like. When you make a mistake no one knows.
What kind of cakes have you made for your own daughters' birthdays?
Last year we did a henna party. A henna artist did henna on the kids' hands and I made a plain iced cake and she did a henna pattern with buttercream on it in front of the girls. This year they want to do an English tea party with tiny stuff like mini tartlets, finger sandwiches, cake pops and petit fours. I'm not sure if they're going to want an actual cake yet.
What famous bakers inspire you?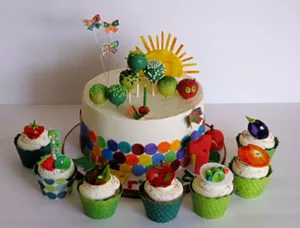 My absolute favorite is (London-based cake designer) Peggy Porschen. She's very girly and all about pink and flowers and that's my favorite, too. I have two girls so it makes good sense.
What do you like most about your job?
The reason I do cakes is the reaction I get from kids. The money isn't the greatest because it's a lot of hours. But it's the reaction. I mean, that just does it for me. It's the happiness it brings. I hope I can make a difference in the world even if it's just making people happy.