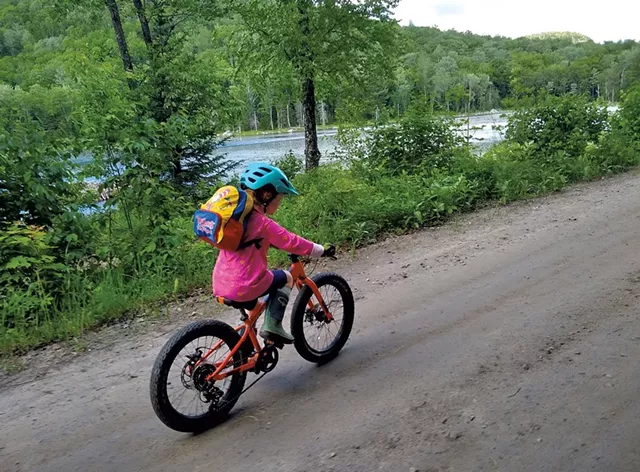 Tristan Von Duntz
Sarah's daughter Elise on the Cross Vermont Trail
While COVID-19 has put a damper on many families' summer vacation plans, we are fortunate that Vermont is a great place for warm-weather recreation, especially when you're on two wheels. The following five locations are some of the state's best spots for biking with kids. Pack up your bikes, helmets, snacks and water, and spend a summer day exploring one of these trail systems.
Note: All of these locations have implemented safety protocols to protect riders and, in some cases, staff from the spread of COVID-19. Please visit their websites or call ahead for detailed information on protocols and safety guidelines.
This fun mountain bike trail system is across the street from a sandy parking lot by Blueberry Lake (note: this is not at the cross-country ski center of the same name) and about one-tenth of a mile beyond the road to the boat launch. As you pedal into the woods on the main double-track trail, a single-track trail on your right, called Tootsie Roll, loops around a small hillside. At less than one mile long, the trail is ideal for young or novice mountain bikers, and it winds through a field of wildflowers, across a stream and through the woods. There are additional loops to the left of the main double-track trail, including Leonard's Loop and Amenta's Way, but these are more challenging in both distance and technical terrain, making them better for more experienced mountain biking families. All trails are well marked with signs at each intersection, showing trail names and difficulty ratings using a system similar to ski trails: green circle for beginner, blue square for intermediate and black diamond for advanced. There are also easy-to-read maps at every junction.
This section of the Cross Vermont Trail, which in its entirety runs from Burlington to Wells River, follows an old rail bed for 12 miles of easy riding through Vermont's largest state forest. Access the trail from a Vermont Fish & Wildlife parking lot on Route 232, where there is a trail map and information kiosk. Maps and step-by-step directions are also available online, though cell service is often not available in this part of the state. Riders can take a picture of the map on the kiosk to refer to on their phone. This trail is a great spot to explore flora and fauna while taking in the views of pristine lakes and dramatic mountains. The trail itself is a sand and dirt surface with very slight, gradual hills, which makes for easy pedaling for all ages. While the trails are car-free, some four-wheel vehicles are allowed, so watch out for occasional traffic.
Kingdom Trails, Darling Hill Rd., East Burke
Kingdom Trails is the classic standby for mountain biking families, with more than 100 miles of mountain bike trails for all abilities. Riders need to purchase a monthly ($35) or annual ($75) pass online ahead of time. Children ages 7 and under are free. It costs $5 to park at the grassy lot next to the Inn at Mountain View Farm. From there, riders can get onto the Loop and Cupcake trails, which are great options for kids and beginners, though there are some technical features like rocks, roots and hills. Village Sport Shop Trailside, also on Darling Hill Road, is a full-service bike shop and bar that allows parking only with permission from shop staff. From its parking lot, riders can access a kid-friendly pump track and skills course that provides loads of opportunities for fun and skill-building.
Because of COVID-19, the Kingdom Trails Welcome Center is not open and paper maps are not available, but visitors can find a PDF map online. Trail maps with current trail conditions are also available with the app On the Go, and there are signs at all intersections showing trail names and difficulty ratings. Trail ambassadors are stationed at parking areas to check in riders and can provide additional information about the trails and nearby amenities.
Another classic location for family mountain biking, this network includes more than 20 miles of trails for all abilities. Riders do need to purchase a day pass, which can be done online or on-site, either by using a no-contact cash drop box or by going to the Hub, a staffed trailside information and welcome center across the road from the parking lot. (Check the website for Hub hours.) Maps are not available on-site, but there is a map online and riders can take a picture of a large map on the outside wall of the Hub with their phone to refer to. All trail users must fill out a waiver, which can be done online or at the Hub. After signing in at the Hub, riders can head out from the back corner of the parking lot. The trails are marked with signs and difficulty ratings, and a system of colored arrows guides riders through different loops. Despite some roots, rocks and small hills, these trails offer mellow, beginner-friendly riding.
These trails give riders a rolling tour of the historic granite quarries of central Vermont. Mountain bike trails lead past towering granite boulders, piles of leftover slabs, and neat carvings and historic relics. The quarries, now filled with blue-green water and surrounded by sheer walls of granite, are a sight unto themselves. For young or beginner riders, stick to green circle trails. The terrain does get fairly technical, with lots of rocks, roots and advanced descents on the more difficult trails. All trails are marked with signs at each intersection, showing the trail name and difficulty level. Check in with the Vermont Bicycle Shop in Barre for up-to-the-minute trail conditions. Buy a day pass or annual membership online or at the Vermont Bicycle Shop. Maps are available online or through the TrailHUB app.