Who says people don't date anymore? Sure, the formal dinner date has gone the way of the supper club, and couples today are more likely to "hang out" (and sometimes hook up) before they start to think of themselves as "dating."
But ask any long-term pair about their first date, and stories of meet cutes and the resulting rendezvous come pouring out. Whether they enjoyed a traditional dinner-and-a-show or a talk fest over fast food, these couples knew early on that something was clicking. Their stories could renew your faith in the dating game.
Natalie Miller and Nathan Hartswick
Nathan Hartswick and Natalie Miller know when they got married — in September 2011, on the same day they launched a successful crowdfunding campaign for their business, Burlington's Spark Arts. They know when Hartswick proposed, because he "spent six months planning an elaborate proposal weekend," says the actor-comedian. And they know they probably met during their Lyndonville school days, even though they don't remember it, because one day Hartswick discovered Miller's "fifth-grade chicken-scratch handwriting" in his yearbook.
But their first date? It's hard to put a date to it.
Back when Miller signed Hartswick's yearbook, the seven years between them were a gulf. Years later, when Miller was in her early twenties, she returned to the NEK from trying to kickstart a performing career in New York City and starred in a production of I Love You, You're Perfect, Now Change put on by her high school teacher. That happened to be Hartswick's mom, who enlisted him to costar.
At the time, "I was in another relationship," says Miller.
"So it wasn't really on my radar," Hartswick goes on. "I thought she was cute and fun to be around. We just sort of developed this friendship."
They didn't start "dating" until both the musical and the other relationship had ended. So when was this first date, exactly?
One day, driving from her home in Lyndonville to his in Burlington, the pair stopped at Rainbow Sweets in Marshfield. "That's always an adventure," Miller says. "And I remember I had chocolate cake and a Greek salad at the same time."
"The cake is, like, this big," says Hartswick, demonstrating.
Bakery owner Bill Tecosky — well known locally for his gift of gab — chatted them up. "We told him where we were from," Miller recalls, "and he made some joke and started making an elaborate story up about how we were having a tryst and meeting in the middle."
They weren't really breaking any taboos, but because Miller had just recently broken up with her boyfriend, "it felt a little bit like that," Hartswick says. "He [Tecosky] basically created a backstory on the spot for us. It was hilarious."
"I was so uncomfortable being there," says Miller, who calls herself "wound up super-tight" in those days.
That soon changed, as the pair found out how well they got along. Hartswick remembers that he'd sworn off dating women in their early twenties — "too much drama." With Miller, however, "It so quickly became apparent that she was a down-to-earth person. It just felt easy."
"We're still like that. We just talk the whole time about everything," Miller says. Once she moved to Burlington, "we hung out, like, every day, and that's kind of never stopped." Today the two performers appear together at their classes, onstage with their improv troupe, even in Vermont Health Connect ad spots.
Since that day at Rainbow Sweets when their relationship was still undefined, Hartswick says, "You've become a lot more secure in yourself."
Miller chuckles. "You think?
MARGOT HARRISON
Kristin and Jacob Albee
"I don't even remember it feeling cold," Kristin Albee says of her first date in 2006 with Jacob Albee, now her husband. That's even though it took place atop Mt. Philo. In January. On a sled.
Fueled and warmed by whiskey-spiked hot chocolate, the couple capped off their first rendezvous by zipping down the central road at Mt. Philo State Park on a sled they'd hauled to the summit. "It was terrifying," says Kristin with a smile.
Jacob, a native Vermonter, jokes that he was less scared than his "flatlander" date, a Pennsylvania native. They agree, though, that the occasion was unique and memorable — so much so that they got engaged at the same spot, and have brought their young son, Axel, there on more than one occasion.
Before sledding down from the peak, the pair sat there talking, watching peregrine falcons in flight and getting to know each other. "It was very easy and honest and fun," says Jacob. "I don't feel like either one of us had any particular agenda or put on any sort of mask."
The pair had met through Jacob's jewelry making business after Kristin's mother bought her one of his rings for a birthday gift. When it turned out to have an imperfection, Kristin brought it in for repair.
Now, the couple co-owns Burlington's Jacob Albee Goldsmith — Jacob, 37, makes the jewelry and Kristin, 36, is the business manager. They have since expanded their family with a daughter, Noël. But all they knew during their first date, says Jacob, is that "we would be having another date."
ETHAN DE SEIFE
Ken Anderson and Rebecca Hall
West Townsend-based duo Hungrytown are known for their beautiful folk suites, breezy songs that wind around easy melodies and gentle harmonies. Often featuring little more instrumentation than guitar and bass, their music is spare, tasteful and full of grace. Ken Anderson and Rebecca Hall really do make sweet music together. So the longtime couple's first date had to have been something classically romantic, right? Perhaps a picnic in a rolling Vermont field, or an elegant dinner at a fine bistro?
Nah. They went to White Castle.
"She had never eaten there and feigned interest in going," says Anderson, who says he had dropped by Hall's Hell's Kitchen apartment to return a video he'd borrowed from her roommate. "We got to talking about double cheeseburgers, and I didn't miss a beat."
"Classy!" says Hall. "I wasn't even sure it was a date, exactly."
Date or not, Hall describes the dinner as "easygoing." Anderson, however, chooses a different word.
"Indigestion," he says.
Greasy sliders aside, both Hall and Anderson say their chemistry and attraction were immediate.
"We had the same sense of humor and liked a lot of the same things," Hall says. "There was no awkwardness."
"I liked Rebecca all right, especially her gap-toothed smile," says Anderson. "I always assume that everyone hates me, but she seemed more accommodating than most."
Hall was not the only accommodating one. As their afternoon date turned to evening, the weather turned cold.
"Ken saw that I was shivering and insisted on loaning me his jacket," says Hall. "I found this to be very romantic."
Did that act of chivalry lead to a post-White Castle good-night smooch?
"Yes, believe it or not," says Hall.
Hall and Anderson will enjoy their 20th wedding anniversary in April. And it won't be a complete surprise if White Castle is part of the celebration.
"I'm happy to say that we have eaten at many White Castles since that time," Anderson says. He adds, "However, we do tend to make more of a shindig about our anniversaries."
Might the couple do anything different if they do re-create that first date?
"I'd bring a jacket," Hall says.
Says Anderson: "Maybe large fries?"
DAN BOLLES
Jen and Bob Martin
If all the world's a stage, as Shakespeare wrote, then Jen and Bob Martin are having a pretty fantastic run. Sparks first flew between the theater-loving couple 11 years ago, when both were cast in a production of A Midsummer Night's Dream. He played Bottom, a character that famously wakes to find himself partially transformed into a donkey; she was a fairy court attendant.
Though their characters don't interact much in the play itself, Jen and Bob frequently crossed paths backstage. "We just got to talking before scenes," Jen says. "I think we actually occasionally got in trouble, because we were missing cues and not paying attention to what was going on."
Bob, too, remembers feeling a strong attraction right from the get-go. After the show wrapped, he asked Jen out on a date to see Romeo and Juliet, in which a friend was starring. The pair met up with friends for pizza, and the group went to the show together. "It was a nice, safe first date," Bob says with a chuckle.
All those just-getting-to-know-you, balcony-scene butterflies the pair experienced during Midsummer persisted through their first-date evening in the audience of Romeo and Juliet. "It was really funny because the seats reclined based on body weight," Jen recalls. "It was really awkward on that first date, because he kept trying to put his arm around the chair, but I'm not as heavy as he was, so the reclining chairs were at different levels."
After their official first date, both knew they were interested. But it took a while before either thought the words "the One."
"We'd been dating about six months to a year when I kind of realized she was the one," says Bob, who can't pinpoint the recognition to a specific moment.
Jen remembers having similar thoughts. But she knew something serious was up when she and Bob did their next show together: a date-rape simulation that the University of Vermont put on for student orientation.
The group of actors divided up to perform the same date-rape scene for different crowds of incoming UVM freshmen, and Jen and Bob were in different groups. "I was so jealous!" Jen remembers. "Like, you're snuggling up to some other girl. And I think he was the rapist."
Jen and Bob Martin tied the knot four years after their first date.
XIAN CHIANG-WAREN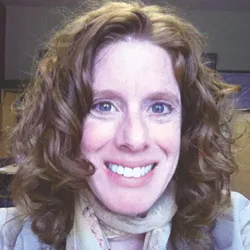 Stacy and Miro Weinberger
It's fair to say that Miro Weinberger met his now-wife, Stacy, because he wasn't providing very good adult supervision on the playground.
It was 1996, and Burlington's future mayor had just left a job in Florida and was headed back to Vermont for grad school. En route, he spent a week couch surfing at the home of friends in Washington, D.C.
"To be helpful while freeloading," Miro recalls, "I agreed to take their 3-year-old, Lily, to her childcare."
"Nursery school," interrupts Stacy, who worked at the school as a teacher.
Miro showed up early that morning. He remembers allowing Lily to climb too high on the monkey bars, "which got me some attention on the playground."
"My coteacher came down the hall and said, 'Stacy, there's a cute guy here with Lily. You should get down there,'" Stacy recalls. "A lot of my friends had met men through work, but the only men I met were 4-year-olds and dads."
Stacy and Miro chatted only briefly, but several parents remarked on their obvious chemistry and later suggested she ask him out. By the time Stacy confessed her interest in Miro to Lily's mom, he'd already left town.
Several months later, when Miro was returning from a trip, he conveniently arranged his travels to bring him through D.C. again. Though he'd spoken to Stacy only for a few minutes, he says, "I thought there might be something there."
In D.C., he again arranged to drop off Lily at preschool, which Stacy found highly suspicious. She asked him out that day, and the two met later for nachos in a restaurant in northwestern D.C., then went out to play pool.
To kill time while waiting for a pool table to open up, Miro broke out a deck of cards. Stacy admitted the only game she knew was casino, which her grandfather had taught her. Coincidentally, Miro's grandfather had taught him that game, too. He agreed to play but challenged Stacy to "make it interesting." The loser had to buy the winner dinner the following night.
"So we had our second date planned in the middle of our first date," Stacy recalls. "Sure enough, I ended up buying him dinner."
Did Stacy know on their first date that Miro was a go? She nods and smiles. And, yes, he got a good-night kiss.
"I'd gone on a lot of mediocre first dates and not-so-interesting second dates, and often I felt like I'd rather be with my friends," Stacy notes, turning to her husband. "But you made a good first impression."
"As did you," he agrees.
Fast-forward four years. Miro and Stacy were married in 2000 at an art museum on Long Island. Their flower girl? Lily.
Now, Burlington's First Couple have two adopted girls of their own, Li Lin and Ada.
KEN PICARD
Kirsten Fricke and Christina Olstad
Kirsten Fricke and Tina Olstad agree on a lot of things: that they first met at a University of Vermont Women's Center barbecue in 2008, that their immediate attraction was mutual, and that their first actual date was at Radio Bean. Or at least, it started there. Impressions of that occasion vary only slightly. Olstad calls it "exhilarating." Fricke says it was "exciting." This despite the fact that, she says, "a couple of Tina's friends 'happened' to stop by and say hello. I guess Tina needed outside confirmation about me before we could have a second date!"
The date kind of morphed into hanging out all day. "We went to the [Bailey/Howe] library to study together," Fricke recalls. "So nerdy, but we were both in school." After that, there was "dinner at an Indian restaurant," adds Olstad.
The chemistry was strong, and they were eager to see each other again, yet neither woman was sure the other was the One — yet.
"I knew Tina was someone very special, and I was very excited to get to know her better," says Fricke. Olstad says virtually the same thing: "The date went really well. I was excited to go out again."
The women waited a couple of weeks for their first kiss. But they've been inseparable since. They graduated from UVM — Fricke in 2010 with an MEd, Olstad in 2012 with an EdD — and now live and work in Baltimore, Md. The couple has been together five and a half years and tied the knot two years after that first date — in August 2010 at Kingsland Bay State Park. It was little more than a year after Vermont legalized same-sex marriage.
Fricke and Olstad say they haven't returned to Radio Bean for anniversaries — although once they went to the adjacent restaurant, ¡Duino! (Duende). But, says Fricke, "Since we no longer live in Burlington, our special trips to Vermont usually involve trips to Penny Cluse — our favorite restaurant in the world!"
JENELLE ROBERGE