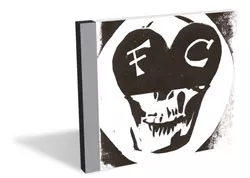 (State and Main Records, LP, digital download)
The band is called First Crush and their album is called Halfway Home. The clichés threaten to cave in on me. I learn that First Crush hail from Vermont's mysteriously productive capital and that they are a male-female duo. Uh-oh. I hope for echoes of Beach House while fearing shades of She & Him. I put the record on and, hearing more of the former than the latter, consider myself lucky.
This feeling will only last for about 15 minutes.
"Telephone," the album's kickoff track, begins with a sort of distorted ambience that sounds straight out of a Kid Cudi single. I know this sound. This is pop music in 2012, and I'm undeniably into it. After a few seconds, the notes begin to warp, a solid keyboard line is placed in the forefront of the mix, and before long these components merge into a trusty, patent pop melody. Exit Cudi. The ambience falls away; erratic percussion and Robyn Peirce's reverb-lifted vocals take the lead. I will learn after a few tracks that this is something of a formula for First Crush, and I will tire of it pretty quickly. But initially I am charmed. "Telephone" is a solid pop jam.
The first four songs on Halfway Home are well-thought-out and well-produced musical statements. They're classic indie-cute, but interesting. Within these four songs an impressive variety of instrumentation runs steadily alongside a cohesive sound path. The fourth of these tracks, "Rooftops," even features a crunchy, Pixies-style guitar riff. After "Rooftops," however, the album gets lost somewhere in its own reverb. The remaining six songs are difficult to distinguish from one another. The accents that bring the opening tracks to pop-life become scarce, and the production grows lazy. These are sleep songs.
The album ends with a round-style refrain ("I'll always look back and see our hands holding / I'll always look back and see our hands holding"), and I quickly skip back to the beginning.
At its finest moments, Halfway Home is accessible melodically and lyrically. You might assume that the theme here is young love and the disappointment that inevitably follows. You'd be right to. Sure, First Crush manipulate a deceptively simple and often one-dimensional approach to the subject matter. And it's true that the lyrics themselves are often unidimensional. But this is pop music. This is what we most often want to hear.
Halfway Home exhibits a great deal of promise, but unfortunately it stalls halfway there.