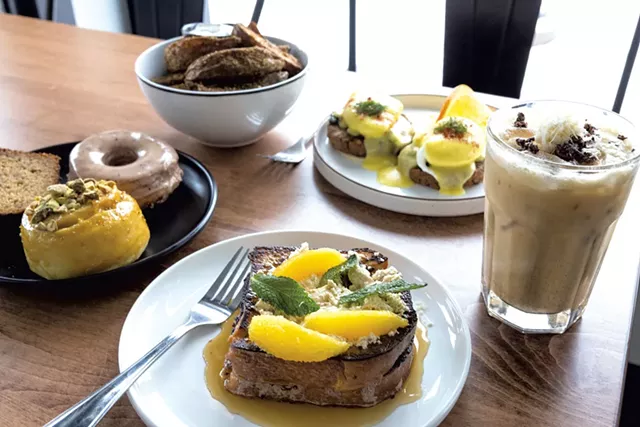 James Buck
Tahini French toast, pastries, crispy potatoes, falafel eggs Benedict and spiced tahini iced coffee
Honey Road executive chef and co-owner Cara Chigazola Tobin is a big birder. In March, when she and general manager and co-owner Allison Gibson announced their plans to open a daytime restaurant, Chigazola Tobin explained its avian name, the Grey Jay.
"It's my favorite bird," she said. "They're really curious and friendly, [and that] spoke to the vibe of what we want this place to be: It's brunch, but it's a little different."
Throughout the summer and fall, Burlington brunch fans kept a birder's careful watch on 135 Pearl Street. They were waiting for the Grey Jay to bring the space back to life. From 1983 through 2006, it had been the home of the city's only LGBTQ+ bar, first called Pearls, then 135 Pearl. More recently, the storefront housed Papa John's, then Lion Turtle Tea.
On December 7, the Grey Jay's doors finally flew open. The restaurant offers seated dining Wednesday through Sunday, 9 a.m. to 3 p.m., and takeout Wednesday through Friday during the same hours.
Honey Road regulars will recognize aspects of the breakfast, brunch and lunch spot: eastern Mediterranean flavors and ingredients, a helpful glossary on the menu, excellent service, a great sign, very cool bathrooms, and the best kale salad in town. The Grey Jay is also the dedicated home of pandemic-era takeout favorites from its sister restaurant, such as chicken shawarma sandwiches and pastry chef Amanda Wildermuth's decadent doughnuts.
"You walk in here, and you can tell that it's us," Chigazola Tobin said on a recent afternoon at the Grey Jay. "But you can tell it's not Honey Road. It's its own thing."
In fact, the only dish you can find on both menus is that kale salad, with its crispy quinoa crunch, feta, red onion, fennel, apple and tahini-yogurt vinaigrette.
The two restaurants do share several staff members. Gibson works behind the scenes, and Chigazola Tobin designs the menus and travels up and down the Church Street Marketplace to support the teams at both restaurants. (Avery Buck, former sous chef at Burlington Beer and Stowe's Doc Ponds, runs the Grey Jay kitchen day-to-day.) Wildermuth now manages the pastry program for the Grey Jay as well as Honey Road, and Dana Parseliti helps oversee both front-of-house teams.
The two restaurants' décors and personalities are as distinct as their menus. While Honey Road has a "pink and sparkly nighttime vibe," Chigazola Tobin said, "the Grey Jay is natural, earthy and energetic." The 38-seat, daylight-filled space holds numerous houseplants, lamps and fabrics in shades of green, as well as hardwood floors and tables that evoke the habitat of the namesake bird.
Though renovation delays pushed back the launch of the Grey Jay, its ultimate timing was poetic. It opened the same week that longtime Burlington breakfast staple Penny Cluse Café closed for good.
Compared with Penny Cluse's menu — and most American breakfast menus — the Grey Jay's is short. That's by design, Chigazola Tobin said. She modeled it after menus she encountered during her travels in the Middle East: Breakfast might be hummus in Lebanon or soup in Egypt.
"I was a little nervous to offer this smaller menu. It's not this huge list of choices that we're used to as Americans," she admitted.
The one-page food menu is divided into sweets, snacks and brunch sections. It features eggs and toast in decidedly Middle Eastern forms, including Tunisian deviled eggs ($7); simit toast (a sesame-topped Turkish bread) with whipped feta, chopped salad and pickled egg ($12); and an egg-and-cheese breakfast sandwich (from $12) on a sesame bun with a green hot sauce called zhoug and optional lamb sausage. Eggs also come poached in the two most popular dishes: a falafel Benedict ($16) and tomatoey shakshouka ($16).
Customers order the breakfast items all day long, Chigazola Tobin said, and some opt for lunchier lamb burgers ($16) and grilled chicken shawarma ($16) right when the Grey Jay opens.
On my first visit in January, even though I'd come with a plan, I was struck by indecision: It was noon, and the fried eggplant sabich (an Israeli-style sandwich, $15) at the table next to mine looked great. So did the lavish Turkish Breakfast ($32), a tower of plates loaded with dips, jam, citrus, pickles, olives, deviled eggs, focaccia-like mana'eesh and a simit. And how could I forget the doughnuts (from $5)?
"We imagined all sorts of scenarios," Chigazola Tobin later told me. The menu may look short compared to a diner's multipage tome, "But it's actually more options, in a way, because there are just so many ways you can do it."
Maybe you're in the mood for a spiced Turkish coffee ($4, made with beans from Vivid Coffee Roasters) and a saffron-pistachio sticky bun ($6) — in and out in 15 minutes. Or perhaps you'd like a snack or two? Or the entire snack menu?
Based on observations during my single visit — and Chigazola Tobin's advice — I came up with three ways to navigate a daytime meal at the Grey Jay. Don't worry, they're all hits.
Wing It
James Buck
Turkish Breakfast tower, shakshouka, kale salad and boozy beverages
I'm not a morning person, even with the promise of brunch. Typically — and pretty boldly, for a place I knew would be busy — my husband and I rolled up to the Grey Jay at noon on a Saturday. It was packed, and I was expecting a long enough wait to run all my errands.
Cue my surprise when the host quoted 20 to 25 minutes for a table for two. Wait, that's the wait? Replacing errands with a Church Street stroll, we killed 20 minutes easily before a text announced that our table was ready. The Grey Jay was still packed and accordingly loud when we returned. It was brunch, after all, and the tables were turning and burning.
For a first visit — and with just two of us — my planned strategy was to hit each category: a doughnut from the sweets section, crispy potatoes with hot pepper labne ($12) as a snack and classic brunch mains. I chose the eggs Benedict, which included the traditional poached eggs, spinach and hollandaise but was served on a much more interesting falafel base with a touch of tahini. My husband went for the tahini French toast ($14), a chunky slice topped with halva and subtly flavored with orange blossom. The mound of potatoes was probably more than we needed for a side, but their crispy edges and fluffy insides had us finishing them anyway.
The only downside to our midday risk-taking was that we missed the doughnuts. Wildermuth's sweet treats were a hot ticket at Honey Road's takeout window in 2021, and it's no different here: They were sold out. The cardamom banana bread ($4) was a lovely substitute.
We sat at a two-top table along a green-accented banquette. The best seats in the house, Chigazola Tobin said, are the low bar seats along the huge front windows. During the week, if you're lucky, you might catch a glimpse of U.S. Sen. Bernie Sanders walking from his parking spot in the back lot to his office.
The Grey Jay doesn't take reservations, so planners may want to show up on the early side. But, with short waits and a menu full of things I'd happily eat, it works for procrastinators and those of us who prefer to sleep in, too.
Stick to the Nest

James Buck
Takeout lunch of a lamb burger, chicken shawarma and coffee
One way to ensure that you get the doughnuts — in flavors such as passion-fruit-and-olive-oil-filled, glazed blood orange-sumac, and apple butter old-fashioned — is to order a box on the Grey Jay's website. Just as they did during the pandemic days of Honey Road's takeout window, customers can preorder online and pick up a box filled with doughnuts or other pastries on weekend mornings. (Ordering opens at 9:30 a.m. on Saturday and Sunday; supplies are limited.)
Wednesday through Friday, the Grey Jay's takeout is ideal for lunch. The whole menu is available for online or in-person ordering, so you can take a falafel salad or lamb burger back to the office.
"I never imagined takeout being a big breakfast situation, except for the pastries and breakfast sandwich," Chigazola Tobin said. "But lunch, that's perfect stuff to go."
In the Middle East, wraps full of falafel or shawarma are lunchtime on-the-go staples. "They're messy," she said with a laugh. "There's so much tahini that it's falling all over the place. But it's so good."
Bring the Flock
The ultimate Grey Jay experience, though, requires reinforcements. While I happily brunched with my husband, we watched in awe as the four-tops around us dove into their Turkish Breakfast towers, halloumi biscuits, maple-rose granola, kale salads, shakshouka, coffees, mimosas and Bloody Marys. That's how to do it, I thought, turning only slightly green with envy.
Chigazola Tobin reassured me that two people could handle the Turkish breakfast, "if you were pretty hungry and that's all you got." But why sacrifice? When four people share, most of the menu is achievable in a single meal. And what is brunch if not an opportunity to catch up with friends, fill every inch of a table with food, and sip a boozy beverage or two?