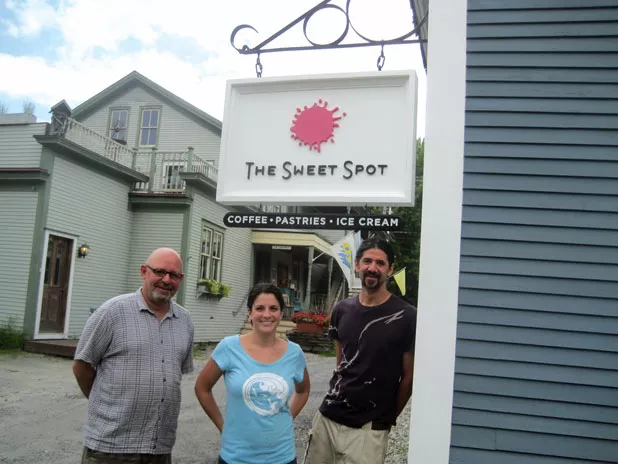 Since John Vitko opened the Sweet Spot at the end of June, he's had to tweak the recipe of Scout's Honor, the ice cream he named for his young daughter. He used to add viscous yolks from his own chickens' eggs to Monument Farms cream, but mounting demand for his sweet, complex scoops has forced him to obtain half his eggs from other farms. As a result, Vitko claims, his ice cream doesn't have quite the texture it did when he started selling it at the Waitsfield Farmers Market three years ago.
I never tried Scout's Honor before it went "mass market," so I didn't regret the change; instead, I found the ice cream's texture wonderful and unique. Served slightly warmer than many ice creams, Vitko's creations have a soft, almost elastic feel, like a fluffy pillow for a tired head.
All the Scout's Honor flavors I tried had ultra-concentrated, almost aggressive flavors. Pure vanilla was anything but boring, more like a slap in the face with the exotic bean. Salted caramel tasted like burnt sugar, not caramel flavoring, and the mix was plenty salty, too.
I visited the Sweet Spot on a Wednesday, when it isn't officially open — the low-key take-out spot operates Thursday through Sunday — so Vitko served me a scoop of blueberry ice cream made the previous weekend. Despite his warning that it was past its prime, I enjoyed the impressive combination of slightly icy sorbet and smooth ice cream, all with three-dimensional blueberry flavor.
Best of all was the chocolate-meringue ice cream that Vitko was creating for the next day's service. The silky scoop was flavored with dark Valrhona chocolate, neither bitter nor overly sweet. Most of the sugary bits came from wafery nests of homemade meringue, which Vitko makes with egg whites left over from the ice-cream-making process. The homemade sugar cone didn't offer the sweet overload that I usually expect from anything but a boring old cake cone.
Locavore ice pops also proved worth a trip. Though I waffled between sumac-sage-honey and blueberry-mint flavors, I finally chose cantaloupe-lavender. The slightly chunky slurry of melon was delicious on its own, but the floral, almost soapy lavender note made each bite a fun, evolving experience.
Vitko shares the Sweet Spot space with Sweet Simone's, a pastry shop owned by his sister-in-law, Lisa Curtis. Most of her business consists of special orders, so she never has a packed bakery case, although walk-ins are welcome to grab a shot of espresso and a cookie, or even a savory stromboli.
The small selection doesn't matter as long as there's a chocolate cupcake left on the counter. In 2008, Mark Bittman of the New York Times called the Green Cup's coconut cake "stunning, unbelievable." Sweet Simone's coconut cupcake uses the same recipe, but I thought it was merely very good. It was the chocolate cupcake that I found eye opening.
The moist, ultra-light cake is flavored with the same Valrhona as Vitko's chocolate ice cream. So is the frosting, a soft swirl whose texture is somewhere between buttercream and mousse.
That is a serious cupcake. And for those serious about dessert, Vitko and Curtis have hit the sweet spot, indeed.