Glenn Russell
Seared octopus with fingerling potatoes, harissa and chile oil
Last Friday, on opening night of the ArtsRiot Truck Stop, I headed past the Pine Street eating crowd for a destination that used to be a food truck.
Poco, which opened in April on lower Main Street in Burlington, serves a lunch menu that will be familiar to its former outdoor diners: The restaurant grew out of Dolce VT, a popular mobile eatery known for its street-food-style meals, including a fried chicken sandwich, a veggie pita and truffle fries.
In early May, Poco expanded its hours, and its offerings, when it added dinner service on Friday and Saturday nights. Fans of chef Stefano Cicirello's lunches — which were served for five years through the window of his black food truck — likely will be pleased by his dinners. The restaurant, which Cicirello owns with his sister, Susie Ely, hits on the all marks: terrific food, affordable prices, sweet hangout.
For Cicirello, the move from truck to restaurant is itself pleasing: "One minute you're holding a knife, the next minute you're holding a wrench," he said, summing up the life of a food-truck operator.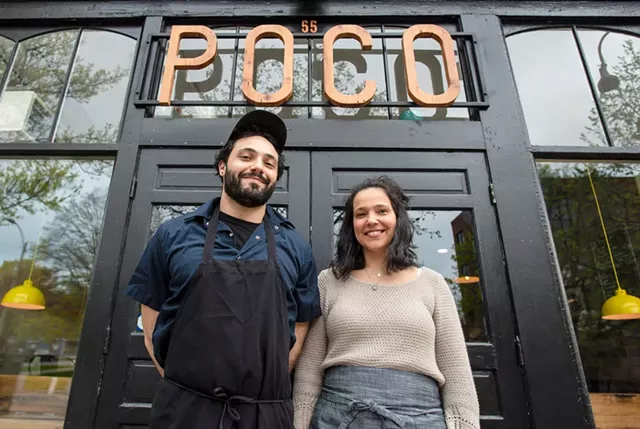 Glenn Russell
Poco co-owners and siblings Stefano Cicirello and Susie Ely
Poco, which means "little" in Italian, serves a creative and enticing selection of small plates for dinner. The name also applies to the intimate space, previously occupied by Doughnut Dilemma and Main Street Deli, which Cicirello and his brother-in-law, Matt Ely, rebuilt over the winter.
The interior of the renovated restaurant, crafted from repurposed and salvaged material, seats 25 people at a handful of tables, a wooden counter and a marble bar. Copper pots hang from a rack in the open kitchen. The name of the restaurant is spelled out above the bar in machine-shop and marble-quarry templates refashioned to form letters.
The image of an old blower motor used to make the letter P was engaging, but we quickly found ourselves more interested in another P word: potato. Smashed fingerlings happened to be our first course.
"Happened to be" because, when my friend and I ordered four small plates to share, our server asked if we wanted the kitchen to "course it" for us. I'm always in favor of letting a restaurant do its thing, so we affirmed with pleasure. Also, our server said, this method would keep our two-top less crowded.
I'm not sure what plate I expected for course No. 1, but I was surprised to find fingerlings ($7) up first. If you can be wowed by potatoes — and my mother insisted for 90 years that you can be — we were. These were parboiled, smashed big and sautéed with salt and chives. They were searing hot and straightforward, served with housemade aioli.
"Oh, my God," I said to my dining companion, Rachel. Talking with my mouth full, my vocabulary was limited to three words.
"Yeah," she replied. "Real good. Those are so delicious."
At the next table, another twosome was raving over a root vegetable: carrots.
Glenn Russell
Susie Ely chatting with patrons at Poco
As we ate our last potato, the next course arrived — crispy pork belly ($13) with grilled plums in fish-sauce vinaigrette, topped with leaves of mint and cilantro. The dish looked as good as it tasted. Rachel declared it "on point."
The pork belly, cured and roasted in-house, was crispy on the outside and striped with squirty fat. The cubes of fried meat were a lovely pairing with the sweet and juicy plum chunks, cut with heft to match the pieces of pork.
Next came a plate of grilled halloumi, a slab of sheep cheese, perched atop a salad of beets and oranges ($10). Our meal built to a plate of fried chicken ($12): four drumsticks arranged like spokes on our plate.
We mostly dispensed with forks to eat the chicken: crispy on the outside, of course, and moist within from initial sous-vide cooking in herbs and duck fat. The chicken, deep-fried to order, comes with whipped Bayley Hazen Blue cheese from Jasper Hill Farm and a honey drizzle. Ours was served at 6:30, a swift half hour after we began our meal. It was a testament to the enthusiasm with which we dined and the impeccable timing of the kitchen.
"You have a general feeling of how you want a meal to go," Cicirello told me, when I asked about the coursing. "It's about a roller-coaster ride of flavors."
The morning after our dinner at Poco, I drank a cup of coffee at a window table with Cicirello, 29, and Susie Ely, 42. They're from North Bennington, where their father, John Cicirello, and middle brother, also named John, run Bennington Marble and Granite. The restaurant's aesthetic — in food and design — is true to the family, the siblings said.
Glenn Russell
Charlotte Harvey plating three orders of soft-shell crabs
"It's an intimate, artsy little restaurant with food that matches that," said Ely, who is an art teacher at Orchard School in South Burlington, as well as a restaurateur. (She was a bartender for years in Burlington, including at Red Square, Half Lounge and Splash.)
"Our whole mindset was, we wanted to do something different. We wanted to do our own style," Cicirello said. "It's a platform for us to show off our interests and likes."
Next month, Poco will add a patio with outdoor seating on the Main Street greenbelt. In addition, pending final permitting, the restaurant will expand into the street, where it will have use of two parking spaces in the city's parklet program.
Parking spaces for restaurant seating, rather than parking a rig with a kitchen, is the direction in which Dolce VT had intended to move.
"Whatever I have here, I owe it to the truck," Cicirello said. "I learned firsthand, on my dime, everything."