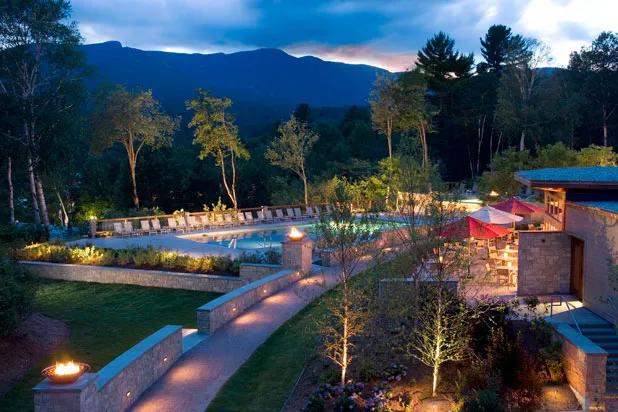 The Vermont-themed restaurant has existed as long as skiers and hikers have dined on salt pork in refurbished barns or sugar shacks in the mountains. But it took a while for restaurateurs to take advantage of the idea.
This summer, the "Vermont" concept has come of age. First, Hotel Vermont's Juniper debuted in Burlington dressed up in slate and reclaimed wood. Both its food and drink menus try delicious experiments with local ingredients, from vegetable-filled cocktails to rabbit prepared with juniper representing nearby Juniper Island.
Now, after closing last spring for a multimillion-dollar renovation, Stowe's Topnotch Resort and Spa has upped the ante with two new restaurants that likewise capitalize on Vermont's products and image. Flannel replaces the upscale Norma's, while the Roost is a more casual restaurant adjacent to the new, bright, window-enclosed lobby. Executive chef Steve Sicinski still presides over both.
The remade resort looks eerily like the designers' digital mock-ups that I saw before the new restaurants opened. There's a hint of The Matrix in the ultramodern new buildings that almost leaves you wondering if you are one of the computer people, happily enjoying the Roost's central, Shelburne-crafted counter/shuffleboard table. But, despite the slick surroundings, I was thoroughly impressed with the food I tried at both restaurants.
The culinary identity of Topnotch has been a moving target since I began writing for Seven Days in 2008. Mark Timms used the resort to showcase a mostly successful stab at molecular cuisine, but he departed, and Aaron Josinsky of Misery Loves Co. was brought in as a consultant. Then, in 2011, came Sicinski.
In Journey of Taste: Favorite Recipes from Mii amo Spa in Sedona, Sicinski, then sous-chef at the plush Arizona spa, sang the praises of "intelligent cuisine," which he defined as adding taste to dishes using flavorful, fresh ingredients rather than fat. When Sicinski became executive chef at Topnotch, his menu offered sparks of whimsy, such as kurobuta pork shortrib braised in root beer and chipotle. But, for the most part, I thought the food at Norma's was missing something compared with the dishes I'd enjoyed under Timms' regime. Now, Sicinski seems to have given new life to his notion of "intelligent cuisine" — extraordinarily well-thought-out combinations of local ingredients.
He has good backup. The one constant through most of Topnotch's changes has been chef de cuisine Cortney Quinn, a Todd English protégé whose work has never failed to impress.
Quinn runs the kitchen at Flannel, where the food she offered on a recent Sunday proved far more sophisticated than the too-literal Vermonty-ness that the wool-covered hostess stand might suggest. Quinn's presence in the open kitchen made anonymity impossible for me. As far as I could tell, however, the only special treatment I got from her was a free plate of multicolored tomatoes from Knee Deep Farm and Three Crows Farm in Jeffersonville.
But first, we tried some appetizers. Kale was covered in an anchovy-splashed dressing in an uncommon take on the Caesar salad. Shreds of Mt. Mansfield Creamery's Halfpipe cheese replaced the usual Parmesan for a creamier, perhaps more Vermont-like character. Though I enjoyed the salad, I was not a fan of the tomato-and-olive bruschetta on the side. The too-sweet combination of the tomatoes with uncharacteristically sugary pumpernickel toast clashed with the complex taste of the salad.
By contrast, I was blown away by the housemade gnocchi. The "small" plate of meaty little dumplings could easily have been a main course at twice its $11 price. Panfried for a touch of crispness, the gnocchi were dressed in a tangy pistachio pesto with wilted arugula and tiny, multicolored tomatoes. A blob of burratini (mini burrata) from Maplebrook Fine Cheese contributed a burst of cream that could be described as nothing less than sexy.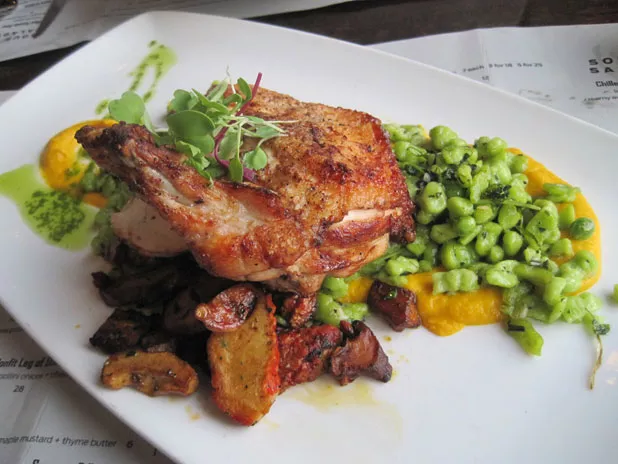 Above: Misty Knoll chicken at Flannel. Photo by Alice Levitt.
The Misty Knoll Farms chicken breast was a cerebral turn-on in its own right. I rarely order chicken at restaurants, but this dish warranted it. The salty, crisp-skinned chicken sat atop forest mushrooms and a bright-green sea of pea spaetzle. Fresh peas and pea tendrils amped up the flavor, but the play on peas and carrots found its most fulfilling taste in a vivid-orange carrot romesco.
If the Technicolor chicken dish, crafted from fresh meat and veggies, embodied Sicinski's old definition of "intelligent cuisine," the Flannel Burger may exemplify his new one. A burger topped with crispy pork belly, a farm egg, cheddar and Heady Topper-glazed onions sounds like a potential recipe for disaster — or, at the very least, for an undignified dinner too messy for a restaurant where several dishes cross the $30 mark.
But my fears were quickly allayed. The relatively thin beef patty made for a nice, flat surface on which to place the aforementioned ingredients. The well-seasoned egg was poached just to the point where it was slightly liquid but didn't run. The pork belly was cut thick enough to be meaty, but thin and flat enough to stay admirably in place. Even when I sliced the sandwich in half, including its fluffy, egg-washed bun, nothing popped out. I loved the combination of the beef and the caramelized, Heady Topper-flavored onions. Basically, it was a burger and a beer served in a bun. Intelligent, indeed.
If only dessert had equaled it. Rather than choosing homemade ice cream or pie, I ordered the most ambitious-sounding sweet, the Fruity Blonde. The soft-centered blondie had an odd flavor reminiscent of milk just before it goes sour, probably the fault of the "milk crumble" on top. I satisfied myself with the delicious honeydew sorbet and fresh berries on the side.
Later the same week, I tried lunch at bright, cheerful Roost. I sat inside, beneath the bird-shaped metal lights at a table with its own painted wooden bird peering at me as I ordered. Since it was right around noon on a workday, I didn't want to indulge in an alcoholic beverage, but the manager on duty was happy to whip up a virgin version of the restaurant's strawberry-rhubarb martini, a thick nectar that evoked an ultrafresh version of the pie. Another time, I'll try one of the grown-up cocktails, muddled with local mint, basil or thyme.
The largest segment of the Roost's menu is composed of small plates. It was hard to choose just a few from the 13 unusual options, including tempura chicken livers and broccoli with ginger sauce and sambal; pork-belly tacos with Serrano jam; and scallops with orange butter and curry salt.
But I couldn't resist the pull of fried avocado. At $7, it was a high price to pay for two pieces that amounted to less than half a fruit, but, hey, it was fried. And frying "nature's mayonnaise" is an inspired idea, especially with a gingery cashew sauce and pile of chewy green seaweed on the side.
Much as I love Americana, the Frito pie was my first-ever taste of the Southern dish. Instead of ground-beef chili or taco meat, Sicinski serves his version with lightly spicy braised pot roast over creamy, slow-cooked beans, cheddar and, of course, Fritos. The heavy little bucket of love was full of flavor that didn't for a moment make me think of Paula Deen. Not bad for a Connecticut boy.
The farmers'-cheese-and-fennel pierogi, with their perfectly chewy dough, were something to behold. I haven't seen my dining partner so awed since he ate his previous favorite pierogi, a pork-belly version, at a pub in Warsaw. Sicinski does his heritage proud with an addictively rich pair of dumplings resting in a sweet onion-anise cream that complements the fennel within.
Above: Porchetta sandwich at the Roost. Photo by Alice Levitt.
We skipped the meat and cheese boards in favor of saving room for a single sandwich, the roasted porchetta. Between the pillowy, sweet buns lay a pile of garlicky, fennel-flavored pork that melted in fatty ecstasy with each bite. Smoked mozzarella lent a nice chew and hint of smoke, but the tangy, spicy cherry-pepper relish made this sandwich worth a trip from Burlington.
All the sandwiches come with a side of hand-cut, skin-on fries. I upgraded to the Margarita fries on the small-plates menu. Smoky lime salt and delightfully acidic tequila salsa elevated the fries far above slightly under-crisped potatoes. But the layer of smoked, melted mozzarella seemed like overkill, especially because I already had one on my sandwich.
For a total of just more than $40, excluding tip, the indulgent meal validated Sicinski's hopes that the Roost "will grow into our adult-type restaurant." I now have a serious crush on the smart, fun pair of new restaurants at Topnotch — and saw kids thrilled by the food during my visit, too. Even dogs seemed to enjoy the wide-open spaces and mountain views of the outdoor decks at both restaurants.
Barn boards and Carhartts-clad waiters may set a scene, but isn't sharing scrumptious local food with loved ones, both human and canine, what Vermont is all about?
Flannel and the Roost, Topnotch Resort and Spa, 4000 Mountain Road, Stowe, 253-8585. topnotchresort.com
The original print version of this article was headlined "Intelligent Cuisine."