Late summer is a busy time for the Seven Days food team. It seems like half the people who open restaurants each year choose July and August to start serving the public. That means more fun options for diners and lots more reporting for us.
This year, we could barely find time to schedule reviews of all the buzzed-about new eateries opening across the state. As the weather cooled down, the two of us divvied them up and trekked from Newport to Stowe, from Woodstock to St. Albans, to separate the gourmet from the merely gourmand in just a couple of weeks. We hope our fuller waistlines aren't in vain, and that our short reviews will help you make informed decisions before you dig in. — A.L.
Valentine roll and sashimi martini. Photo by Jeb Wallace-Brodeur.
Sushi Yoshi
1128 Mountain Road, Stowe, 253-4135
Before opening his third Sushi Yoshi restaurant in Stowe last month, co-owner Nate Freund summed up his goal in an interview with Seven Days: "a rock-and-roll sushi bar with a comfortable design and feel."
Mission accomplished. Sushi Yoshi is a cool-looking place, with trees lining the indoor entrance area, tatami-room-style seating (sans the actual straw mats), orange paper-shaded lights and a hip, bright new sushi bar not far from the hibachi tables.
I was won over by the atmosphere, and again by our charming server, Jenna, who took us through the sizable menu with candor and a sense of humor.
Despite a surprisingly steady early-dinner crowd, our food emerged quickly. We started with a creation known as the Sashimi Martini. The $12.95 appetizer arrived in a twisty-stemmed martini glass topped by a mountain of cubed fish including two kinds of tuna, yellowtail, salmon and sea bass. Next came a layer of ultra-thin slices of avocado arranged like a laurel crown, followed by cubes of cucumber, strawberry, kiwi and critically unripe mango dressed in a yuzu-citrus vinaigrette.
Though the mixture was visually impressive, it suffered from a confusing excess of flavors. Fewer types of fish and a smaller, more carefully vetted choice of fruit might make the dish a winner.
Plain old sushi was better. Except that the kitchen of co-owner Kevin Zheng doesn't really produce plain old sushi. Flanked by slices of tobiko-crusted California roll, eight colorful pieces of nigiri-style fish reclined in a fishbone pattern on a banana leaf that was propped up with a pile of shaved daikon. The greatest hit was broiled unagi — crisp, flaky, but not too sweet. Overall, the fish was of good but unexceptional quality, tasting quite fresh with the one exception of unpleasantly fishy tuna.
The best dish I tried at this American-style Japanese eatery was potentially the kitschiest. At $21.95, the beef-teriyaki bento box was pricey but stuffed with well-executed food, beginning with the excellent beef. The potentially sugary sauce was thick and well flavored, and not too sweet. The pile of meat melted in my mouth, while the accompanying broccoli and carrots retained just the right amount of crunch.
In the opening below the beef, the mound of seaweed salad was as it should be, chewy and slippery with sesame oil. The tempura was admirably light and crackly, and the miso soup boasted lovely cubes of firm tofu. Even the pan-fried gyoza had more personality than I've come to expect from Americanized Japanese fare, with the moist pork slapped with ginger.
The meal brought me back to my favorite American-friendly Japanese place as a kid. Sometimes we all need the comfort of a perfect teriyaki, and Sushi Yoshi is now my destination for just that. — A.L.
Photo by Alice Levitt.
Twiggs: An American Gastropub
24 North Main Street, St. Albans, 524-1405. twiggsvt.com
The trend has made it from Burlington to Rutland — and now, finally, to St. Albans. And, like the cupcake, it will probably live on in the Green Mountains long after it's considered "over" on the coasts. I'm talking, of course, about the gastropub.
Twiggs is the Railroad City's first example of the genre, and it comes at an opportune time — just more than a year after the debut of 14th Star Brewing, the city's first nanobrewery. The beer finds its way not only into the taps at Twiggs, but also into many of the dishes.
There are plenty of choices on the menu at the orange-walled restaurant that used to be Chow! Bella. With whole sections devoted to grilled cheese sandwiches and grilled flatbread, it was difficult to choose just a few dishes for this review.
The 14th Star love began with an order of fish and chips. Though the beer batter was pleasantly boozy, the haddock all but disappeared within its bricklike walls. My companion who ordered the dish swapped out waffle fries for onion rings — an excellent decision. The same coating that overwhelmed the fish stood up admirably to the sweet onions.
I tried the cheese sauce, which also pops up repeatedly on the menu, in the "14th Star Mac'n Out." Having grown up on Velveeta's boxed mac, I found this eerily familiar, but with beer. I appreciated the meaty texture supplied by chunks of maple-smoked bacon, but was turned off by the vegetal crunch of undercooked onions, described on the menu as "caramelized."
Every pub needs a great burger, but my dining partners and I parted company on whether the "Twiggster" qualified. I found the fillings on the well-seasoned half-pound patty sloppy and gloppy, particularly the chipotle-adobo mayo, which tasted like sugar, not smoke. Pepper Jack cheese didn't add spice, either, and mashed avocado and a soft-yolk fried egg seemed to contribute to the mess rather than the flavor. I hoped that the warm, housemade chips on the side would help matters, but the dark-brown spuds tasted close to burnt.
Our meal still managed to end on a high note. The menu features only one dessert, the "Twiggie." It's a Smurfy name for a made-to-order pan cookie available in several different flavors, though the kitchen was out of chocolate chip on my visit.
The edges of my double-chocolate Twiggie were overcooked, but I still dove with gusto into a cookie hot enough to melt the vanilla ice cream on top. I could have done without the chocolate and caramel sauces, but they certainly didn't hurt.
What did hurt was the wait, and not just for this dish. The excessively relaxed service made our weekday casual meal last more than two hours, leaving me thirsty while I waited for someone to refill my water.
But, while I nitpicked, the St. Albans-resident guests were already planning their next visit. Though Twiggs didn't thrill me, it looks like it may hit the spot for the hometown crowd. — A.L.
Photo by Alice Levitt.
Vermont Tap House
70 Marshall Avenue, Williston, 879-7060. vermonttaphouse.com
Big, bold photos of Vermont farmers and their products brighten the walls, and the fried shrimp and buffet are things of the past. The first thing the owners of the Vermont Tap House want you to know is that you're not in Ponderosa Steakhouse anymore.
Not that the place has changed hands. Peter, Sam and Paul Handy have had a restaurant at 70 Marshall Avenue since they opened Evergreen Eddy's Wilderness Grill in 1991. That's long enough for the businessmen to be acutely aware of the necessity of changing with the times. Though the brothers still own a pair of IHOPs (in South Burlington and Rutland), they decided to take this Williston space in a more locavore direction.
Exhibit A: Near the entrance stand kegs emblazoned with names such as Drop-In Brewing Company, Fiddlehead Brewing Company and Champlain Orchards.
Our server took palpable pleasure in filling our order of water with lemon and displayed excitement at our food choices. If this was acting, Stanislavski must have come back to teach the eager kids who staff the restaurant.
The popcorn chicken with meat from Misty Knoll Farms exceeded my expectations. Initially, its unexpected blanket of melted mozzarella gave me shivers. But once I dipped the crisp, juicy nuggets in the side of relatively nondescript marinara sauce, I tasted the method to the madness of chefs Bob Castle and Bill Sawyer. These were chicken Parmigiana bites in all but name, and I couldn't stop eating them. Still, for 10 tiny pieces, $8.95 seemed pricey, regardless of the chicken's provenance.
The pizzas that followed were as soft and chewy as Indian naan bread — making them, for better or worse, stand out among local pies. I liked the uncommon texture. The Margherita was a surprise; instead of red sauce like the classic Neapolitan pie, it featured fresh tomatoes, basil and shaved Parmesan on a base of Maplebrook Fine Cheese mozzarella. I missed the tangy zip of sauce.
I preferred the El Camino, whose creamy butter-and-garlic base boosted the fresh array of roasted corn, black beans, chopped tomato and slabs of grilled chicken. I wished there had been more cilantro to brighten the veggies, but this was still a quality flatbread.
Priced between $8 and $12.95, the individual pies left every party I saw leaving with a box, unlike the overpriced apps. My colleagues thanked me for their slices the next day. — A.L.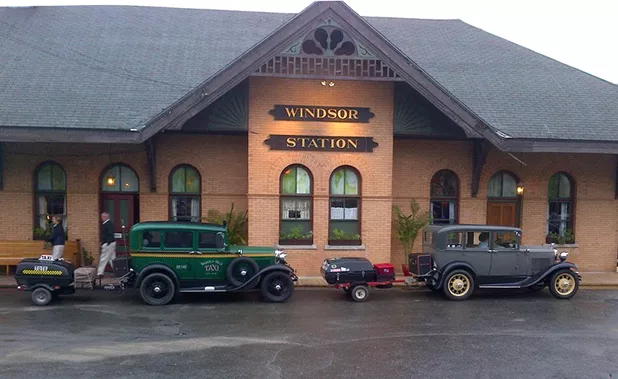 Courtesy of Windsor Station.
Windsor Station Restaurant & Barroom
26 Depot Avenue, Windsor, 674-4180. windsorstationvt.com
Twice a day, passenger trains still roll up outside the old railroad station in Windsor, just as they have for decades. But disembarking travelers no longer find wooden benches or a ticket window. This Beaux-Arts edifice became a restaurant long ago, albeit one that faltered after Tropical Storm Irene hit two years ago. When the previous Windsor Station restaurant closed last year, Windsor was left with few dining options besides pizza and Chinese takeout.
Stacy and Jon Capurso changed that last summer. After selling their beloved Hartland diner, Stella's Restaurant, in the spring, they turned their attention to rehabbing and reopening Windsor Station as a casual restaurant. They've done a stunning job of showcasing the building: Dark paints and rich finishes show off the inlaid-wood ceilings and other period details that make Windsor Station Restaurant & Barroom seem caught in another time when vaudevillians rode the rails. Yet it's still comfy enough that you might want to stop in often for a beer and a burger.
I mean that literally — the Depot Burger is a highlight of the menu here, with a patty whose juices may trickle down your arm as you eat. Topped with melted cheddar, browned shallots and a crisscross of bacon, it's a meal and a half, especially satisfying when washed down with a pint of local beer or a stiff, rye-based cocktail.
If Windsor Station's menu has two themes, they're gentle prices (entrées top out at $26, but most are below $18) and, well, bacon. Minced bacon tops the buttery stuffed clams, which are lightly breaded and served whole, not chopped. We suspected bacon also lurked in the smoky Portuguese fish chowder, a creamy elixir dense with chopped fish and laced with the slightest hint of sherry.
I had high hopes for the baconless Signal Light Salad, a pile of arugula tossed in a creamy cucumber dressing and topped with chopped egg and smoked trout. But the trout was dry, and the dressing needed more kick.
Jon Capurso, who hails from Rhode Island, clearly has a soft spot for Italian food: He has provided 10 choices, three of them Parmesans. His eggplant Parm was suitably cheesy, its red sauce slightly sweet. A half-portion of linguini with clam sauce was topped with whole bivalves and looked as if it could feed a family, though the buttery sauce was on the tepid side.
There are few surprises or powerful flavors on the menu at Windsor Station, but huge portions at decent prices make a winning formula. I just hope the chef lets himself go now and again — perhaps with specials — as I suspect he has bolder flavors up his sleeve. — C.H.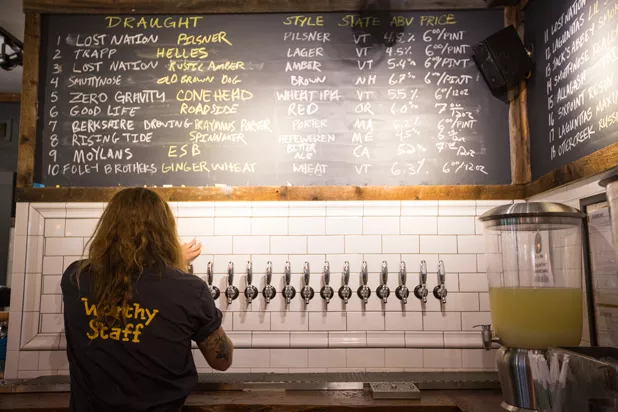 Photo by Justin Cash.
Worthy Kitchen
442 Woodstock Road, Woodstock, 457-7281
At Lombard Farms in the Upper Valley, the pigs are fed "10 wheels of [Vermont Farmstead Cheese Company] Lillé and four apples every day." So notes the handwritten chalkboard menu inside Woodstock's Worthy Kitchen.
Each week or so, a whole, locally raised animal arrives at the restaurant. Chef Scott Liberty repurposes it into vittles such as last week's "Worthy 'Wich" — a sage-and-pistachio-stuffed pork roll and puckery house pickles atop charred crostini. The Lillé-fattened meat was almost as tender as a stick of butter.
There's an earthy exuberance to all the food at Worthy Kitchen, the new venture from Jason Merrill, Dave Broderick and Kurt Lessard, the owners of South Royalton's hugely successful Worthy Burger. With dozens of taps — including a few dispensing wine and Prosecco — a compact menu, food served in baskets and counter service, this one bucks every fusty stereotype about Woodstock.
For a town awash in tourists by day, Woodstock can sometimes feel like a tomb after seven. But inside the cacophonous, industrial-chic Worthy Kitchen, it looks and sounds like an ongoing party. Motown blares, neighbors stand around swilling Allagash and orders arrive briskly at the pickup window. Many arrive wood-fired, too — such as the bacon and potatoes inside an ultra-smoky, creamy potato soup, and the singed local veggies that come alongside many plates.
Whatever isn't touched by flame is often anointed with some kind of fat — such as the spicy mayo atop the creamed corn on the cob, a Vermont take on Mexican corn. Buttermilk-fried chicken thighs sport a ridiculously crispy, salty skin that's a landscape of batter peaks and valleys. Shoestring-thin truffle fries, dusted with salt and parsley, are greasy but crisp. A plate of greens paints a picture in fats, too, slathered in creamy dressing and topped with a coral-like Parmesan crisp. A hunk of moist, flaky roasted cod bears a relatively conservative dollop of spicy remoulade, but its kale bed has been fired into salty kale chips. Crunch, crunch, crunch.
An ethos underlies the oily, salty madness. Liberty proudly cooks with beef tallow instead of vegetable oil. Though the Lard Donuts sound like they might block an artery, each cinnamon-showered pastry (three to an order, $4) is like a little puff of heaven — and lighter than you might think. — C.H.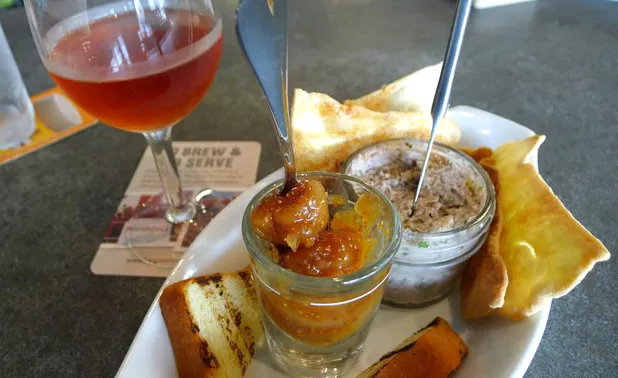 Brown Dog Bistro
150 Main Street, Newport, 334-1791
Newport's newest restaurant, Brown Dog Bistro, doesn't shout its presence to the street. Passersby may glimpse tables through its floor-to-ceiling windows, but the place's location inside the new Northeast Kingdom Tasting Center makes it hard to know it's there unless, well, you know it's there.
Evoking the nursery rhyme, the capacious Tasting Center houses a baker, a butcher and a cider maker, plus a smattering of local veggies and maple products. Brown Dog Bistro occupies one corner of this bazaar, behind a shoulder-high wall over which shoppers can peek into its shabby-chic interior and contemplate taking a seat at the L-shaped concrete bar or center banquette. A hulking antique breakfront cordons the dining room off from the open kitchen.
Brown Dog Bistro's co-owner, Steve Breault, also owns Newport Natural Market & Café down the street, and his restaurant reflects his ethos while drawing on the fresh-food sources in the hall. Local cheeses, meats and produce pepper the menu, and the drinks menu — beer and wine only — is predominantly locavore. I kicked off a meal with a bitter, juicy aperitif featuring Orleans Bitter from Eden Ice Cider, located in the Tasting Center's basement: a healthy glug of rosy-pink spirit with a splash of soda and an orange wedge.
Since Newport is 15 minutes from the Canadian border, the Francophile menu is tinged with Québécois elements. It's arranged so you can fit apps, charcuterie, salads, sandwiches and "Plats Principaux" into a leisurely Gallic feast.
A meal can be as simple as a snack of excellent, silky duck-confit rillettes with fig jam, or you can go whole hog with multiple courses of saucy, satisfying food. All the fare has a hearty, peasant feel, from a bowl of savory, mustard-tinged corned-beef-and-cabbage soup to a citrusy brown-rice salad chunked up with cashews and black beans. Cherry-glazed short ribs may be categorized as a "small plate," but they're actually a Herculean trio of midnight-dark short ribs in peppery gravy, served over mashed potatoes as creamy as a liquid cloud.
The ribs' moody flavors contrast with those of one of Brown Dog's most delicious dishes: sautéed calamari in a briny, ice-cider-spiked sauce, with golden raisins and slivered scallions offering alternating hits of sweet and sharp. I wiped every last bit from the plate.
The bistro has nine sandwiches on the menu, including the popular grilled-cheese-and-kimchi sandwich from Newport Natural Market. Equally delicious is the pork-belly sandwich, a mound of succulent, smoky, cider-glazed pork belly served on a roll with vinegary tarragon coleslaw. We worried the sandwich's sliced apples would render it too sweet, but to no purpose — chef Bill Small found the appropriate balance of flavors and textures.
Slightly less endearing was my roasted rabbit leg: It was served over more delicious mashed potatoes but was slathered in a peppery cider sauce that couldn't hide the slightly dry meat.
Brown Dog has its minor challenges: The space offers low visibility, and though it fills with golden light in the late afternoon, at night the incandescent lights cast a cold glow. Flies buzz over the low wall to land on shoulders, breadbaskets and glasses — a problem that might be solved with a firmer separation between the bistro and the market. Yet these are minor annoyances in a place that serves up some of the most imaginative and filling food in the Kingdom. — C.H.