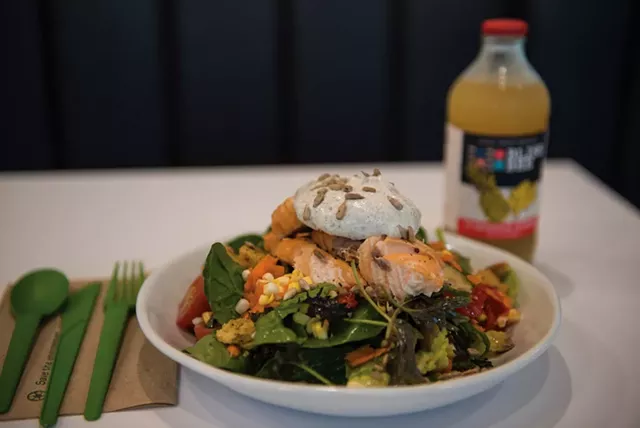 Daria Bishop
Salmon salad and a pineapple ginger Bliss Bee soda
When I visited Bliss Bee in Williston, a list of Vermont suppliers graced the wall, including the Northeast Kingdom dairy responsible for the creemee mix. Couples drank wine and Vermont beers with their burgers. Kids slurped chocolate milk paired with jumbo all-beef hot dogs as long as their forearms.
This family-oriented eatery is owned by Burlington Restaurateur Jed Davis and a small group of local investors. Davis is also founding owner and president of the Farmhouse Group, known for full-service farm-to-table restaurants Farmhouse Tap & Grill and Pascolo Ristorante in Burlington and Guild Tavern in South Burlington. The group also owns two locations of El Cortijo Taqueria y Cantina in Burlington and Winooski, as well as Farmhouse Group Events.
Yet cheery-hued Bliss Bee is located in the bustling shopping center of Maple Tree Place, next to a Starbucks. It runs ads aimed at hungry cinemagoers at the nearby Majestic 10. Service is only at the counter, and adult meals start at $8.49 and top out at $14.99. What's up?
Daria Bishop
Jed Davis
Jed Davis, founding owner and president of the Farmhouse Group for nearly a decade, opened Bliss Bee in mid-April. He described it as a play in the booming "fast casual" segment of the industry, where fast food meets casual dining. The category, which includes chains such as B.Good, Chipotle Mexican Grill and Shake Shack, promise cooked-to-order food made from fresher, less processed ingredients than traditional fast food.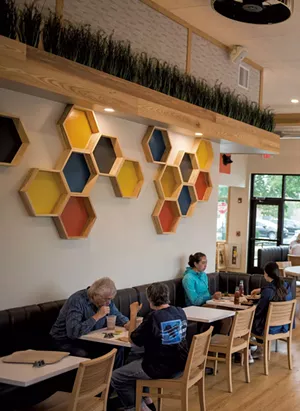 Daria Bishop
Patrons eating at Bliss Bee
Davis, 43, has had this type of restaurant in his sights for some time. In 2004, the Vermont native and graduate of Cornell University's hospitality management program was working in New York City for restaurant powerhouse Danny Meyer when Meyer launched Shake Shack.
"There was a line from day one," Davis said. "I've always wanted to do this. It's food people can afford and they can feel good about."
Davis and his wife, Noelle, made a sizable personal investment in Bliss Bee — something they didn't do with the other Farmhouse Group restaurants — and brought in several other local investors. He would share only that the total dollar figure so far is "a lot."
A second Bliss Bee will open this fall in the new Larkin Terrace complex in South Burlington, a preview of the group's ambitious plans. The bright, polished and friendly design feels ready to go big. "We wanted a happy, feel-good brand," Davis said. "We're hoping for a regional presence."
But there's a lot to learn first, the restaurateur acknowledged.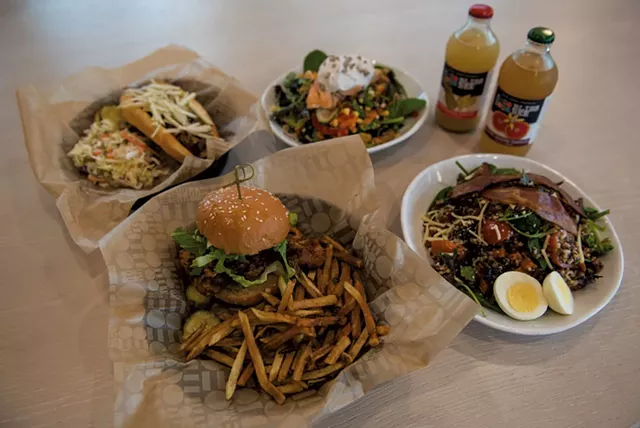 Daria Bishop
Clockwise from bottom: crispy chicken sandwich with hand-cut fries, Vermont hot dog, salmon salad, Bliss Bee sodas and a Sunrise grain bowl
In the two months since Bliss Bee opened, Davis has responded to customer feedback by adding gluten-free beer, reducing salt in salads, lowering key item prices by 50 cents to $1, and putting grilled cheese on the kids' menu, he said.
One surprise to him: More than half of the orders come in online, and most of those are to go. Davis learned quickly that the takeout packaging needed an overhaul and that French fries don't hold or travel well, he said.
That's why, when I showed up a few weeks ago after ordering online, everything was ready except for my fries. Davis, who was working the lunch rush, gave the kitchen the fry go-ahead. "I tell people to eat their fries in the car," he said. "That way they're nice and hot."
The fries were top-notch: rough hewn, some with the skin on, evidently cut fresh from real potatoes. I had ordered them with the chicken sandwich of moist, marinated dark meat encased in a gratifyingly crunchy crust. (One concession Davis will not make is switching to white meat, which he deems inferior in fried form.) "This is better than Chick-fil-A," praised my son.
His Sunrise bowl of roasted broccoli, sweet potatoes, tomatoes, cheddar, bacon and hard-boiled egg, served over mixed greens and grains, was satisfying and substantial, though we wished for more punch in the cider vinaigrette.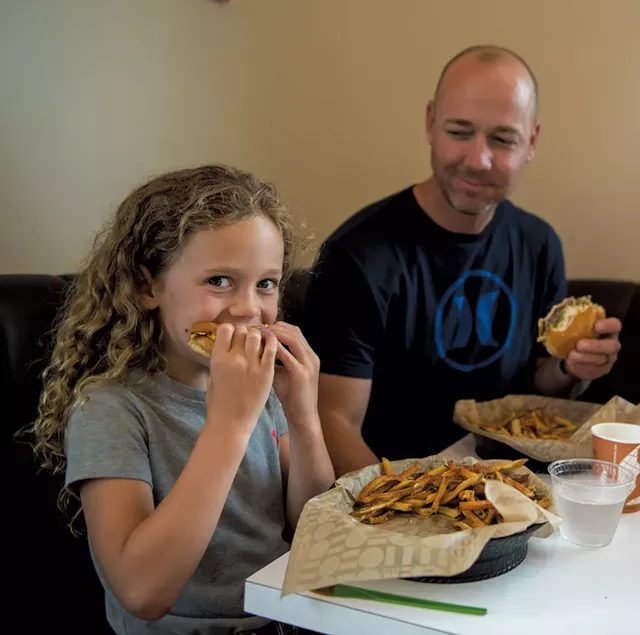 Daria Bishop
Samantha Pike eating with her dad, Cory Pike, at Bliss Bee
After watching those kids eat their hot dogs, I had hot dog envy. So, on a return visit, I ordered the Vermont, topped with cheddar, apple and Heady Topper mustard. It snapped under my teeth, as a good hot dog should. Fresh apple matchsticks added sweet crunch but felt a little out of place — maybe they would have been better used in a slaw? I also enjoyed the maple-glazed tofu grain bowl with roasted carrots and broccoli, served with citrusy sesame-tahini vinaigrette.
That vegan grain bowl is Noelle's go-to, her husband said. The menu reflects contemporary American dining preferences, and Jed Davis had only to look to his own family for guidance. His wife eats no meat, gluten or dairy. Their meat-free younger daughter loves the salmon, tomato, asparagus and roasted broccoli grain bowl. Davis and his older daughter are omnivores with soft spots for the Kansas City hot dog and the crispy chicken sandwich with added cheese, respectively.
At Bliss Bee, there's something for everyone. "This is the way we eat," Davis said.