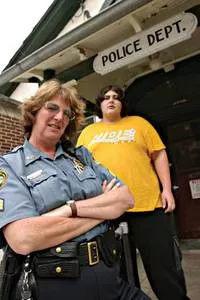 BRANDON — For 18 years, being a cop was Laurie Krupp's life. Now, she's suing the town of Brandon to get that life back.
On May 29, the Brandon Select Board notified Krupp, then a detective-sergeant with the Brandon Police Department, that she was being dismissed from her job for "conduct unbecoming an officer" and being "derelict in her duties." According to court documents filed in Rutland Superior Court on June 28, Krupp's dismissal stemmed from an early-morning incident on May 9 in which she failed to respond to a call about an open door at a local Chinese restaurant. Court documents indicate that Krupp, who was home but on-call at the time, had taken an over-the-counter medication for a severe sinus infection and had slept through the dispatch. Another police officer responded to the complaint instead and found that no crime had been committed.
Just one day before the May 9 incident, Krupp's attorney mailed a letter to Brandon Town Manager Keith Arlund requesting an investigation into alleged sexual discrimination within the Brandon Police Department. Then, on May 14, Krupp filed a class-action grievance alleging that a fellow Brandon police officer, who is male, was receiving pay and benefits in excess of the union's contract. One day later, on May 15, the Brandon select board convened an emergency session at 7 a.m. and immediately suspended Krupp without pay for the May 9 incident.
Krupp, who was the department's only female officer, is now claiming that her dismissal was the direct result of unlawful sex discrimination and retaliation by town officials for her filing a grievance.
Town Manager Arlund, Town Select Board Chair Bill Hatch and Acting Police Chief Chris Brickell all declined to comment on this case, citing the pending litigation. For his part, Arlund wouldn't even disclose the name of the attorney representing the town in the lawsuit.
Joseph Arduca was Brandon's police chief from 1986 to 2001. He hired and trained Krupp and describes her as a very good police officer and a top-notch juvenile sexual-assault investigator. Arduca says that town officials were "gunning" for Krupp the whole time she worked for him.
"Some particular board members — I ain't using any names — and some past town managers have wanted to see Laurie go for some time. They didn't like her," Arduca says. "I was asked on numerous occasions to get rid of her and I said, 'Fine. You give me a good reason to and I will.' You don't dismiss police officers without good cause."
Arduca says that the primary complaint he heard about Krupp was that she wasn't "ladylike" enough. "When we start dismissing police officers because we don't like them and think they don't act like 'ladies' while in uniform, we're going to lose the department," he adds.
This isn't the first time that Krupp has been at legal loggerheads with the town. In October 2002, Krupp filed a lawsuit against then-Police Chief Craig Hanson, fellow Officer Michael O'Neill, the Brandon Police Department and the town. In her suit, Krupp alleged nine counts of "inappropriate sexual behavior" and claimed that her fellow officers had created a hostile work environment for her. The case was settled out of court in the summer of 2003, and Krupp received an undisclosed cash payment and was promoted to detective. By the end of 2003, only two of Brandon's seven police officers were still on the force. Then-town Manager Michael Balch, who had been Hanson's boss at the time, also resigned later that year.
Leo Porter, a longtime Brandon resident, is one of Krupp's most vocal supporters. For years, Porter, 24, along with his younger brother, his terminally ill mother and a handicapped uncle, were the target of repeated threats, harassment and intimidation by several of his neighbors, presumably because the neighbors assumed that Porter was gay. In September 2004, Seven Days reported that Porter's repeated complaints to the Brandon police were routinely ignored by everyone but Krupp, despite compelling evidence that crimes had been committed. Krupp eventually obtained a hate-crimes protective order for Porter from the Vermont Attorney General's civil-rights unit.
"The sad thing is, this stuff is all happening again," says Porter, who believes the dismissal of Krupp is related to the "persecution" she received years ago. "To fire her is such an abandonment of everybody in this town."
Porter, who now works in online promotions, says that regardless of the outcome of her lawsuit, he's planning a party later this summer to honor Krupp's 18 years of public service. And, he's launched a website, http://www.GoKrupp.com, to get her reinstated.