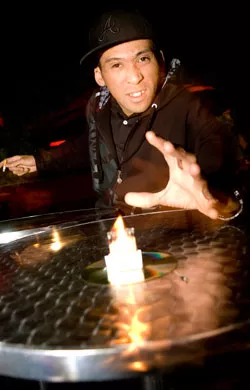 Matthew Thorsen
DJ A-Dog
Andy Williams' "Free Will Astrology" reading for the week of May 1, 2008, begins with the following line: "Whatcha gonna do with your freedom?" Had the local turntablist read his horoscope prior to that Thursday morning, he likely would have viewed its contents with the same quaint amusement most of us assume when discovering what the stars supposedly have in store for us on any given day. But May 1 was no ordinary day for Williams, a.k.a. DJ A-Dog. And on that day, the mystical ruminations of a California astrologist would seem eerily prophetic.
Early that morning, an apartment building on North Union Street in Burlington was consumed by fire, apparently the result of a carelessly discarded cigarette that smoldered for hours between two couch cushions before igniting. Williams had called the building home for the better part of six years and his apartment held virtually every earthly possession he owned. Nearly all of it fell victim to the fire, by heat, smoke damage or water damage from the firefighting effort.
At approximately 3 a.m. the previous night, Williams returned home from his weekly residency at Burlington's 1/2 Lounge. He awoke less than four hours later to frantic pounding on his door as his neighbor — who initially noticed the blaze — attempted to rouse the building's tenants. "I had only been awake for, like, two minutes, so at first I didn't understand," says Williams, recalling the morning. "Then I saw these crazy flames coming through the window and was, like, 'Whoa. Should I try to put it out?'" Williams wisely decided to evacuate and fled the building.
"I got outside and saw the entire side of the building, both porches ablaze," he says. As he reached safety, he could hear fire engines approaching and briefly entertained notions that the building could be saved. "I never realized the extent of what could go on [in a fire]."
The extent of the damage was almost total, including clothing, equipment and more intimately personal effects such as scrapbooks and photo albums. Worse still, Williams' two cats perished in the blaze.
Williams is a self-professed "collector." While most of his various collections, such as skateboarding magazines and design work, urban artwork and show posters were destroyed, one collection in particular managed to survive the ordeal: his records.
DJ A-Dog was back in business by that Saturday night. And last Thursday, he was scratching and cutting with the Dave Grippo Funk Band and his VT Union cohorts in front of an enthusiastic and appreciative crowd for an impromptu benefit in his honor on the outdoor stage at Red Square.
"Sometimes I think it's more traumatic to everyone else than it is to me," he says, speaking to the outpouring of support he's received since the fire. "It's overwhelming, but I've had to swallow a big part of myself and say, 'You know what? I do need this.' I just can't believe that I impact people on that level."
But Williams does impact people. Over the years, he estimates that he's played more than 40 benefits and made countless other appearances at events that DJs with far lesser reputations would likely turn down. His willingness to lend his talented hands is currently being repaid in spades.
This Wednesday, Higher Ground is hosting a massive benefit featuring the cream of the local DJ crop, as well as giveaways from Analog, Maven, Status Kicks, 1/2 lounge and longtime A-Dog sponsor Burton Snowboards.
Through it all, Williams has maintained a near Zen-like state of mind, perhaps best reflected by the words of his curiously timed horoscope. The afternoon following the fire, a friend called his attention to the ethereal prediction, which he hadn't seen. "I just laughed," he says before repeating the first line, "Whatcha gonna do with your freedom?" He pauses before adding, "I don't know if there's a handbook that tells you how to deal with this stuff. Maybe you should break down and cry or something. But really, I'm OK with this," he concludes. "And in a weird way, that's just how I feel. Free."