Courtesy of Charlotte Harris
Smuggles Notch Road (Route 108)
Want to take an epic road trip? Easy. "Here's how to get to a beautiful patch of Vermont: Take the highway; get off at Exit whatever; make a couple of random rights and lefts; and there you are," instructs Burlington cabdriver Jernigan Pontiac (and, yes, that's a pseudonym). "What I'm saying is, if there exists a non-ravishing part of the state, I have yet to discover it."
He would know. Pontiac has been crisscrossing Vermont for more than 30 years — and chronicling his adventures in Seven Days' bimonthly Hackie column, as well as in two books. "When I do the math," he says, his drive time "totals hundreds of thousands of miles road-tripping throughout the Green Mountains. Ayup."
Here, he shares two routes that particularly thrill him.
East Middlebury to Ripton
What Pontiac says:
"Streams kill me. Maybe it's the layered sound of water moving over rocks. Streams and rivers abound in Vermont, one of many ways our state is blessed.
Just south of Middlebury, take Route 125: The Middlebury River streams parallel-ish along the route from East Middlebury up through Ripton. It's tucked among the abundant foliage, the platonic ideal of a stream with fast-moving water at stretches and abundant rock life. There's plenty of wide shoulders to pull over and park the car. Then you pull off your shoes and socks, roll up your jeans, and partake in the visceral pleasure."
What's nearby:
A&W All American Food
Hit up A&W's last carhop-assisted drive-in in New England; servers come right to your window to take your order. "They used to be on roller skates, but even un-wheeled, it's nifty," says Pontiac. "You haven't lived until you've tried their root beer floats with a side of French fries." Open May through October.
Middlebury College & Museum of Art
Courtesy Of Middlebury College
From modern graffiti (Banksy) to classic pop art (Andy Warhol) to ancient Chinese ceramics, the free museum on this "Hidden Ivy" campus exhibits a wide range of incredible art. Don't miss the 20 public sculptures sited all over campus.
Robert Frost Interpretive Trail
Route 125, Ripton
File: Sally Pollak
Robert Frost Interpretive Trail
If two roads diverge in a yellow wood, take this one. The trail commemorates Robert Frost's poetry and the landscape that inspired him — Frost spent 39 summers writing from a cabin on this land. Stroll by blueberry bushes and a beaver-pond boardwalk, pausing to read poems posted along the way.
Marquis Theatre
Before catching a blockbuster flick in the heart of downtown Middlebury, duck into the cinema's Southwest Café: You can take your tacos, Tecate or tequila drink right into the theater. Check the calendar for trivia nights, comedy battles and movie roasts, too.
Middlebury Tasting Trail
Sipping spots abound in Middlebury. Download a map at middtastingtrail.com, then point your car toward the grapevines at Lincoln Peak Vineyard, shuffleboard and classy cocktails at Stonecutter Spirits, and adult apple juice at Woodchuck Hard Cider, among other stops. Bring your ID and a DD!
Jeffersonville to Stowe
What Pontiac says:
"Vermont has a number of 'notch roads,' which carve passes over various sections of the Green Mountains. Take a day trip up and over Route 108, aka the famous 'Smugglers' Notch Road,' where Vermont pirates used to smuggle bootleg liquor down from Canada. (OK, maybe they weren't technically pirates.)
The road up toward the apex is skinny and scary steep (and closed in winter), but that's all part of the fun. It cuts through the mountainside, replete with roadside boulders and mini waterfalls. If there is a beating heart to the Green Mountains, I think this is it. For reals: It is mystical and magical and soul-stirring up there."
What's nearby:
Trapp Family Lodge
The hills are alive with hiking, mountain biking, disc golf and, in winter, cross-country skiing and snowshoeing at this Alpine-style resort founded by the famous Trapp Family Singers. Make sure to visit the on-site bierhall for lagers and Linzertortes.
Stowe Recreation Path
Various locations in Stowe, stowerec.org
Hop on a bike down in Stowe Village and spin your wheels on 5.3 miles of paved trails and wooden bridges along the west branch of the Little River. Hit the brakes for restaurants, galleries and gorgeous scenery along the way.
West Branch Gallery & Sculpture Park
Awe-inspiring contemporary art graces the walls and the grass at this indoor/outdoor gallery. After feasting your eyes inside, follow the large-scale sculptures — made of stone, steel and bronze — down to the river, where you can throw your shoes on the rocks and go wading.
Stowe Bowl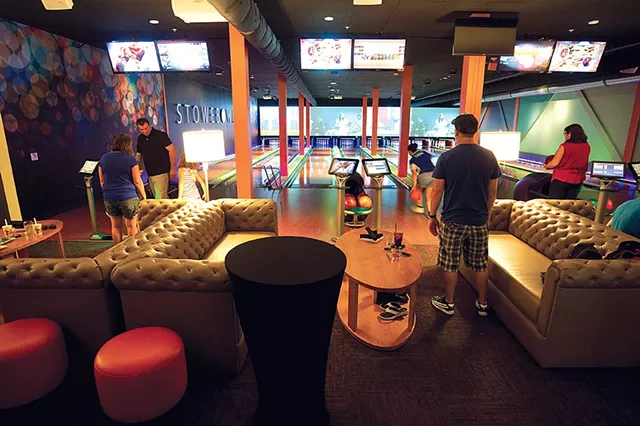 File: Jeb Wallace
Stowe Bowl
Get your game on at this retro-style bowling alley, which strikes it big with eight lanes, swanky leather seats, a full bar, and a menu of burgers, sandwiches and flatbreads. When you're done, have a mini-adventure at Stowe Golf Park next door.
Ben & Jerry's Factory
1281 Route 100, Waterbury, benjerry.com
On the way home, turn south on Route 100 for a cone from Ben & Jerry's — "because duh," says Pontiac. Yes, it's super touristy. But it's also delicious, and a factory tour will give you the inside scoop on Vermont's homegrown ice cream empire.
Read Jernigan Pontiac's Hackie column.