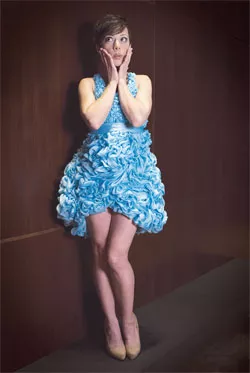 If you read up on jazz singer Gretchen Parlato, you'll inevitably encounter some variation of the phrase, "She uses her voice like an instrument." That may be the ultimate compliment in a genre that historically has placed a premium on musicality over flash, and has tended to view vocalists more as entertainers than serious musicians. For example, consider that it took the prestigious Thelonious Monk Institute of Jazz Performance at the University of Southern California 15 years to admit its first vocalist. And that vocalist was Gretchen Parlato.
Increasingly, savvy jazz fans have become smitten with the 37-year-old Parlato, who will perform on Saturday, June 8, as part of this year's Burlington Discover Jazz Festival. Vermonters will then have the chance to hear for themselves why she annually ranks at or near the top of critics' polls of the world's finest jazz vocalists. For five years running, Parlato was named one of DownBeat magazine's "rising star" female vocalists, before being named the No. 2 Best Female Vocalist in 2012. That's the same year she was named the Best Female Vocalist by the Jazz Journalist Association. But these lofty accolades only tell part of Parlato's story.
Famed producer Quincy Jones has said that jazz is equal parts soul and science. That notion goes a long way toward describing Gretchen Parlato's appeal. Some singers amaze with virtuosic technique, profound displays that seem to defy the very limits of the human voice. Others petition more directly to our emotional sensibilities, thoughtfully tugging our heartstrings with a sly turn of phrase or a gentle croon. Rare is the singer who can do both. And when they come around, we tend to refer to them familiarly: Billie, Ella, Frank.
"Gretchen" may not be there yet, but she gives us every reason to believe that her day will come, and soon. Combining the ability and elegance of a classic jazz diva with the curiosity and vision of the genre's forward-thinking pioneers, Parlato represents a bold evolution of the jazz singer. No, she is not the next Billie Holiday or Sarah Vaughan — and she would be the first to say so. She is Gretchen Parlato. And she is the face of a new generation of vocalists who are challenging our perceptions of how the human voice can be instrumental — literally and figuratively — in jazz music.
Parlato was born and raised in Los Angeles and grew up in an eminently musical household. Her father is Dave Parlato, a respected jazz bassist who played with Frank Zappa in the 1970s, as well as with Barbra Streisand and Henry Mancini, among others. Her grandfather, Charlie Parlato, was a singer and trumpet player who performed with Lawrence Welk. Parlato's mother is a musician, artist and graphic designer — she designed Gretchen's website.
"My family was really big on exposing me to all types of music and art. Very early on there were all types of sounds in the house," says Parlato in a phone interview from her current home in New York City. "It was a beautiful way to be spoiled."
Parlato attended the Los Angeles County High School for the Arts, a public school that specializes in conservatory-style artistic training. There, she realized that music would become more than a casual pursuit.
"I realized I needed and wanted to thrive off of an artistic community," she says of her high school experience. "That was when the realization happened that music wasn't just a hobby, that this was what I have to do with my life."
It was also when Parlato began to approach her voice as an instrument.
Grammy-nominated jazz singer Tierney Sutton was her private voice teacher while Parlato was attending LACHSA in the early 1990s, and worked with the young singer over the nine years following. Parlato also worked as nanny to Sutton's son, and the two women have remained close ever since, with Sutton advising and appearing on Parlato's early recordings. Sutton says Parlato's unique talent was obvious from the outset.
"My immediate impression of Gretchen was that she had something special," she says by phone from California.
Sutton explains that when meeting new students for the first time, she asks them to bring in a recording of themselves singing so they don't have to perform for her cold. Parlato chose a school recording in which she sings a note-perfect rendition of Stan Getz's saxophone solo on "Desafinado" (which, ironically, means "out of tune" in Portuguese).
"I just went, 'Holy shit. What am I going to do with this girl? How can I not screw her up?'" Sutton recalls.
She says she put Parlato on a "no-vocalist diet," prescribing a listening regimen solely of instrumental music.
"I knew from my own experience that if I had continued to listen to Sarah Vaughan, I'd be a dental hygienist now," quips Sutton. "The quality of my voice was different, so I listened to horn players for their musical ideas. "
Like Sutton, Parlato sings in a natural register that is higher toned than that of classic songbirds such as Vaughan, Ella Fitzgerald or Nina Simone — the most famous female tenor in jazz. Sutton says she encouraged her star pupil to embrace the unconventional qualities of her own voice.
"I had been through that rodeo before," says Sutton. "But there is nothing you can do but be who you are. So I didn't want anybody to mess with the sensibilities she already has vocally. And I could tell she had the ability to listen to serious instrumental stuff."
One of Parlato's hallmarks is her ability to incorporate styles from beyond the traditional parameters of the jazz idiom into her own work. In particular, she is greatly intrigued by the rhythms of Brazilian music, and counts bossa nova legend Astrud Gilberto among her most significant influences. That multicultural aspect of Parlato's style was nurtured at the University of California at Los Angeles, where she majored in ethnomusicology and jazz studies.
"That was a breakthrough that exposed me to what was possible in art and music," Parlato says. "To hear singers from all over the world, what they're doing with their voices and what they have been doing since the beginning of time, it opens you up."
In 2001, Parlato entered the Monk Institute at USC, which had been an instrumental program since its inception in 1986. Sutton was teaching there at the time and had recommended Parlato apply. The young singer auditioned for a panel that included jazz luminaries Wayne Shorter, Terence Blanchard and Herbie Hancock. Under the guidance of those masters and alongside fellow students such as guitarist and vocalist Lionel Loueke, she began to unearth and hone the traits that would come to define her, both personally and as a musician.
"It was an intense experience," says Parlato of her two years at the Monk Institute. "It's not just about music. It's about your own soul searching and development. You go through a huge transformation, a breakdown, break-through process.
"You come out knowing much better what you want to do, and how you want to do it," Parlato continues, using words that evoke a certain famous Sinatra song. "It allows you to look into yourself and discover how you want to present yourself, to do things your way."
Parlato says part of her independent spirit stems from her time with Loueke, who would become a frequent collaborator at the Monk Institute and was later a driving force on her 2009 album, In a Dream. Parlato credits the West African musician with exposing her to atypical global rhythmic patterns, which she has incorporated into her style.
"To just keep time with Lionel can throw people off, including me," she says. "But he's such a beautiful musician. I've learned so much about texture, melody and harmony from him. He's very special."
Sutton recalls of the Monk Institute, "the influences of all the players there were really diverse — it wasn't just jazz as usual."
Nor was Parlato's performance at the 2004 Thelonious Monk International Jazz Vocals competition in Washington, D.C., which she won as something of a dark horse. Having recently graduated and moved to New York City, Parlato was a relative unknown, in part because she had yet to record a project as a solo artist. Over the years since, she's been a guest vocalist on more than 50 recordings by artists including Shorter, Loueke and Esperanza Spalding.
Parlato now has three albums of her own, including two on the cutting-edge indie label ObliqSound, based in New York and Hamburg, Germany. But she didn't record her first solo album until her self-titled debut in 2005.
"I used to get frustrated with her," admits Sutton, who urged Parlato to record her own music from an early age. "It took her a long time to put something out for real. But she told me, 'I just don't think I've found my voice yet. I don't feel like I've got something to offer that is really my own,'" Sutton explains. Then she adds, "God bless her, she was right. I give her a lot of credit for not taking my advice."
It's difficult to find much negative criticism of Gretchen Parlato. What little there is tends to parrot an age-old — and, frankly, tired — argument about what should and shouldn't be considered jazz. Can someone who reinterprets Duke Ellington's "Azure" alongside the breezy, 1990s new-jack swing of SWV's "Weak," as Parlato did on In a Dream, really be called a jazz singer? And what about those covers of Mary J. Blige's "All That I Can Say" and Simply Red's "Holding Back the Years" on her 2011 album, The Lost and Found? This is the leading voice of jazz in the 21st century?
Yes. And no.
"For me to say I'm a jazz singer could be a stretch to a traditionalist," concedes Parlato. But that statement comes with a caveat.
"It's a broader term now," she continues. "We can incorporate any influence or any genre and redefine it."
Reuben Jackson is the host of "Friday Night Jazz," a jazz radio program that airs weekly on Vermont Public Radio. He assumed the post from longtime host George Thomas last year after having spent 20 years as the curator of the Duke Ellington Collection at the Smithsonian Museum in Washington, D.C. He says Parlato's willingness to push boundaries is simply part of a longstanding tradition of innovation in jazz.
"In order to be someone's central-casting version of a jazz singer, it seems like you have to say it every third sentence to let people know your jazz credentials as a singer," Jackson says. "It's refreshing to hear someone who is so obviously musically committed to a breadth of material," he continues, citing as an example Parlato's stunning, unlikely interpretation of the Miles Davis and Bill Evans staple "Blue in Green" from The Lost and Found.
"The original versions of those songs are already the definitive versions. So I don't want to imitate anything. There's no point," says Parlato of her approach to deconstructing established, sometimes iconic compositions. "But a beautiful song is a beautiful song," she continues. "So you break it down and then add your own story. You want to honor the beauty of the original but do something new."
Parlato's version of that Kind of Blue centerpiece is an impressionistic digression that is almost unrecognizable from the original. However, Parlato evokes the Prince of Darkness' somber cerulean melancholy with breathy, yearning tones that kind of sound like a trumpet, even as she's singing the lyrics written by jazz vocalist and composer Meredith d'Ambrosio.
"It's the power of nuance," explains Jackson of Parlato's innovative bent. "Someone like Billie Holiday or even Miles Davis, who could recast a melody in a subtle way. It's reinvention, but it's not hitting you over the head with scat singing. Gretchen has that sublime power, where it's like being knocked over with a muted trumpet."
Indeed, subtlety has long been a key to Parlato's approach. Even in conversation she is soft-spoken and thoughtful. In concert, she often favors a sleek, understated black dress that renders her almost indistinguishable from her bandmates, rather than call attention to herself as a front person.
In his review of a 2009 concert for the Boston Globe, jazz critic Steve Greenlee writes that Parlato presented herself as a "fully integrated member of her band," who "appears to see herself less as a singer than as a musician whose instrument happens to be her voice." He adds of her hushed delivery that Parlato "softly moans some lyrics, stretches out syllables for two and three bars, and adds wordless vocals that are more like sax solos than scat." He likened her voice to a cello. And a muted trumpet. And a trombone.
"She doesn't see the band as a supporting character," reiterates Greenlee, speaking by phone from Portland, Maine, where he is now managing editor of the Portland Press Herald and Maine Sunday Telegram. "She's part of the band, and she incorporates her voice as if it were another instrument. She interacts with her voice like piano would with a bass. In some ways, she's more of an improviser than most jazz vocalists are."
Critic Larry Appelbaum agrees that Parlato is unique among modern jazz vocalists, calling her sound "instantly identifiable" in a recent email. Appelbaum is a regular contributor to several publications, including JazzTimes. He also hosts a jazz radio program in Washington, D.C., and serves as the senior music reference specialist in the music division of the Library of Congress. Appelbaum says Parlato's technical skill, combined with her profound musicality, set her apart not merely as a vocalist but as a musician.
"She doesn't have a large voice, but her ear and intonation allow her to sing in tune without resorting to studio production tricks," writes Appelbaum. "I think that's also why so many musicians call her for recording dates. She has the discipline and precision control of a studio singer who can nail difficult intervals and phrasing. Her sound, approach and sensibility help make her a musician, not just a singer."
"The defining characteristic of a jazz singer is someone who doesn't approach a song the same way every time," adds Greenlee. "The essence of jazz is improvisation. She improvises every time she sings."
Parlato seems to have little use for definitions of her music or whether what she does fits neatly into classifications of jazz.
"To me, it's not even anything to argue about," she says. "Jazz is a style of music that was the popular music of the day at a certain time and now has grown and transformed. We're moving with it and it's moving with us. There is room for someone who wants to carry that tradition and honor that. And there is room for other people to push it in a new direction."
VPR's Reuben Jackson agrees.
"You could put her under a microscope and pick apart every little detail," he says. "But it's really about what you do with the material. It's about curiosity. That's what keeps pushing jazz forward."
Parlato's next project is a live album, her first. Due out this summer, it was recorded over a series of New York City shows in December 2012 and features two different bands. One includes Taylor Eigsti, Burniss Earl Travis and Kendrick Scott; the other has Eigsti, Alan Hampton and Mark Guiliana. All are longtime collaborators with Parlato.
She says that record is primarily composed of songs from her previous albums, but that the live versions will be markedly different from the studio cuts, capturing a chemistry that can only happen in concert.
"These songs open up and there is a lot of space around them," Parlato explains. "They change in the moment when we play them live."
That's an enticing prospect for fans, particularly considering that, according to Sutton, Parlato's beguiling live persona is perhaps her most impressive trait. And it was the last part of her musical soul to fully bloom, Sutton adds — the final discovery in a complex and challenging science.
"Because Gretchen has such a pure instrumental quality, translating that into a performance persona took her a minute," explains Sutton. "To watch her, in every aspect, say she has to do this her own way, be her own person, bring in influences that are most dear to her — that was a lesson to me to tell other students. When you really take those risks, it takes a while for people to understand it and frame it in a way an audience can absorb."
As her reputation grows, more and more audiences are doing just that: absorbing the brilliance of Gretchen Parlato.
"The only thing I can do is to continue to create and offer my own music, and for it to come from a genuine place," Parlato says. "I don't know how to define that. But as long as it's honest, who cares what you call it?"
Gretchen Parlato performs at the 2013 Burlington Discover Jazz Festival Saturday, June 8, at the FlynnSpace in Burlington, 8 and 10 p.m. $25. flynntix.org