Ethan de Seife
Tail O' the Pup
An irony in the Adirondack Park's developed areas is that countless trees have been razed to clear the way for tourists. Somewhat perversely, numerous restaurants and hotels are made of rough-hewn logs; even the signage for many local businesses has been constructed of rugged timber. But hungry visitors will be pleased to learn that some local restaurateurs have found a better use for timber: burning it to cook barbecue.
Though it's commonly associated with southern states, barbecue has found a comfortable home in the Adirondacks. Clustered around Lake Placid — just two hours from Burlington (including the ferry ride) — are no fewer than five BBQ joints, ranging from sprawling roadside attractions to upscale lakefront restaurants with fancy cocktails.
Maybe these places have sprung up around the former Olympic hub because of the availability of timber. Or maybe demographic research has indicated that vacationers love baby back ribs. Whatever the reason, their presence is good news for carnivores. Vermonters need only cross the lake on the Charlotte-Essex ferry and follow the winding roads through the Adirondack Park to reward themselves with a heaping mess o' BBQ.
That's what I did on a recent afternoon, hopping from one restaurant to another in a pork-fueled frenzy. As connoisseurs know, barbecue is not a monolithic entity. Everyone does it a little bit differently from everyone else — even among the small clutch of BBQ chefs around the tourist town of Lake Placid.
1152 Route 86, Ray Brook, 518-891-0777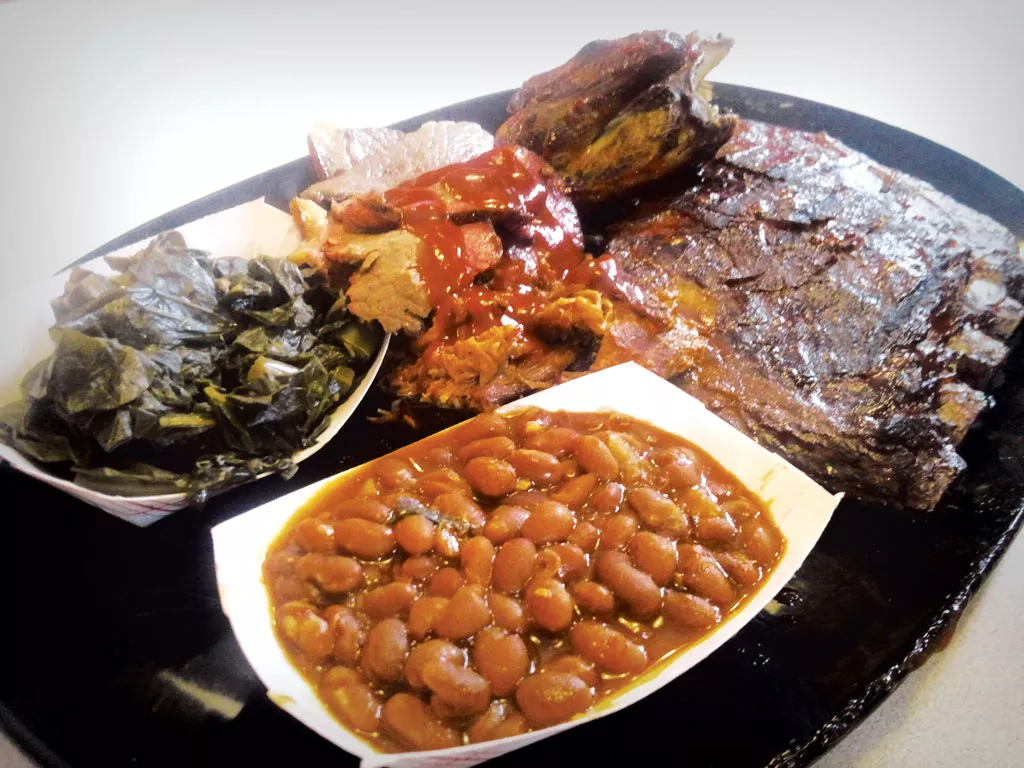 Ethan de Seife
The BBQ Lovers Who Want It All dish at Tail O' the Pup
One of my first stops, Redneck Bistro, BBQ & Grill, was closed when I visited. Look up the place on Facebook or Yelp, and you'll understand my disappointment. Photos of the triple-decker Fat Bastard Burger make it seem about 12 inches tall, and online reviewers offer raves. Next time.
Tail O' the Pup, located halfway between Lake Placid and Saranac Lake, beckons travelers with friendly, homespun signs, one in the form of a giant red lobster rearing up on its tail. Open only during tourist season, the nearly 100-year-old Tail O' the Pup is more of a compound than a BBQ joint. It includes a restaurant, a bar, an ice cream shop, rental cabins, an informal fireside music venue and loads of picnic tables. And a gift shop, natch.
Owner Eddie Yanchitis, a voluble, likable fellow, eagerly stuffed souvenir bumper stickers and magnets into my hands and surveyed his red-and-white recreation enterprise. "Yeah, it is a little compound," he agreed when I suggested it. The term seems apt for a restaurant that, when it's really buzzing, can seat 650 and goes through 23,000 pounds of pork in a summer. Since 1982, Yanchitis has had a wintertime business hauling Christmas trees down to Palm Beach, Fla. This time of year, he's less invested in pines and firs than in hickory, burning cords of it in Tail O' the Pup's smoker.
The restaurant, Yanchitis said, was initially a hot dog stand, hence the name. As the place changed owners over the decades, its menu grew; today, it bursts with barbecue and burgers, as well as seafood. That lobster out front isn't a joke: Yanchitis flies in the crustaceans from Boston every other day, and the Pup hosts frequent clambakes.
The BBQ Lovers Who Want It All dish lives up to its name, offering ribs, chicken, pulled pork and brisket, along with a couple of sides. The meal could easily feed three. The meats' smoky saltiness paired beautifully with an ice-cold Saranac Root Beer. (The menu's fruity margaritas and daiquiris enticed, but I had quite a bit more driving to do.) It is surely impossible to leave this place not sated and content.
2525 Main Street, Lake Placid, 518-523-2388
Ethan de Seife
The All-American Burrito at Wyatt's BBQ
The slogan "Where Tex Meets Mex" is painted on the glass of Wyatt's BBQ, which occupies a small, colorful storefront in downtown Lake Placid. It's no lie. The menu is divided into sections labeled "Tex" (brisket, pulled pork); "Mex" (burritos, quesadillas, tacos); and "The Borderland." The latter includes the All-American Burrito, in which brisket, traditional taco toppings, a mustardy BBQ sauce, and mac and cheese are wrapped inside a tortilla.
Unable to resist this curiosity, I ordered it — inside a cheddar-jalapeño tortilla, to boot. When I described it via text message to my colleague Hannah Palmer Egan, she referred to it as "flavor country." I replied: "more like flavor United Nations." The burrito was indeed a taste bonanza, and one of the weirdest dishes I've had in a while. It took a few bites to acclimate to the burrito's Carolina-style sauce, but I came around.
Wyatt's owner Rory Lustberg, who named his 3-year-old restaurant after his young son, smokes all his meats in a small, stainless steel device parked in the corner of the kitchen's tiny prep area. I've never seen a smoker so small, but size apparently does not matter, as the brisket was moist and flavorful. Its fatty richness provides the means by which the All-American Burrito crosses the border.
"I have a very picky dad who loves barbecue but would never set foot into a burrito shop," Lustberg said. When he and his wife opened Wyatt's, he noted, "We had this freedom and opportunity, so we thought, Why not do both?"
OK, but mac and cheese and brisket inside a tortilla? Smiling, Lustberg said, "For the people who go for it, I think it's something of a transcendent experience. For us, it was just a matter of time. We had mac and cheese as a side, and if you spend enough time in a room with tortillas and all of the barbecue supplies in the world, you're going to mash them together."
2520 Main Street, Lake Placid, 518-523-1818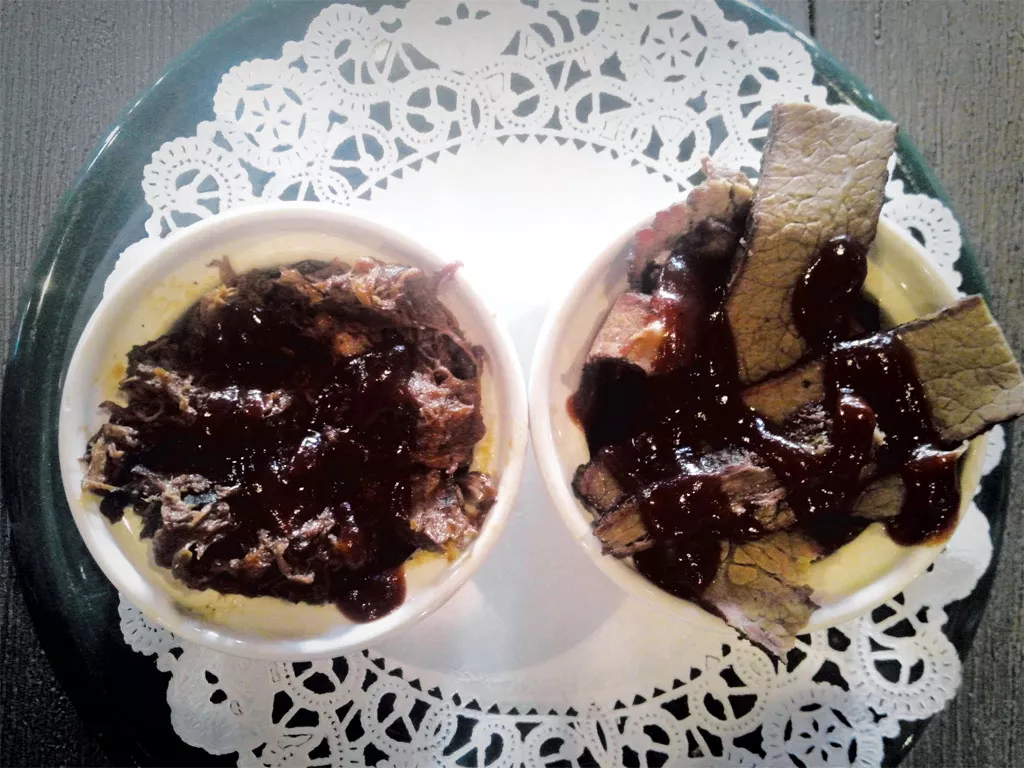 Ethan de Seife
Pulled pork and brisketat Delta Blue
Delta Blue, a BBQ restaurant on the first floor of Hotel North Woods, is as traditional as Wyatt's is unusual. It serves up everything you'd expect to find at a place with a Mississippi Delta/Cajun theme: pulled pork, po'boys, étouffée — even fried or blackened nuggets of alligator.
The place works hard to drive home its semi-punning name. Blues bands play every weekend on a small stage near the bar. The satellite radio is tuned to a blues station. Pastel portraits of blues musicians adorn the walls.
Despite limiting myself to just a few bites of each dish so far, I was feeling the bloat by the time I hunkered down at Delta Blue. My friendly server arranged for the kitchen to prepare two small dishes of BBQ staples: brisket and pulled pork. I also raised my glass in the direction of Vermont and ordered the Gumbo Poutine.
Though made unctuous by a too-sweet sauce, the pulled pork was pleasingly tender. The other dishes ... not so much. The brisket was dry and tough, the andouille sausage — discs of which dotted the poutine — was oddly flavorless. Time to move on.
2489 Main Street, Lake Placid, 518-523-2271
Ethan de Seife
Brisket at Smoke Signals
I didn't have to go far: Smoke Signals is only about 200 paces from Delta Blue, and its stellar food is complemented by incredible views of Mirror Lake from the terrace. This place takes an upscale approach to its barbecue. Its menu notes local sources for ingredients, drink specials incorporate seasonal flavors and all sauces — even the ketchup — are made in-house.
The restaurant's married owners, Jason and Layla Stoltz, scored some primo property for Smoke Signals, which they opened in 2013. All done up in reclaimed wood, a wide bar area gives way to the several tables that look onto the lake and across to the mountains. Upstairs, in a vaulted-ceilinged space that once housed a church, the Stoltzes have built a large, comfortable concert venue, as well as a smaller room for private functions.
Layla said she wasn't surprised that the Lake Placid area has become a barbecue hot spot. "You think, cold weather, so what could be better than heavy, warm comfort food?" she said. "Barbecue."
In the building's basement, Layla showed off the restaurant's huge, new, state-of-the-art electric smoker. Running on wood pellets, it provides the low temperatures and smoky flavors that are the twin necessities for good barbecue. "It's really consistent," Layla said. "We can have a similar product every time."
All the food I sampled here was excellent, including the fried pickles, a dish that requires some know-how to get the batter to cling to the pickles. But the real standout was the brisket, which was by far the best of the four I sampled. It was thick, juicy and meltingly rich, and packed an intense but not overwhelming meaty flavor. This brisket is well worth the trip from Vermont.
Actually, this entire Adirondack excursion is worthwhile for the sheer geographical concentration of barbecue goodness. Hop on a ferry, Vermonters, and get yourself some ADK BBQ.