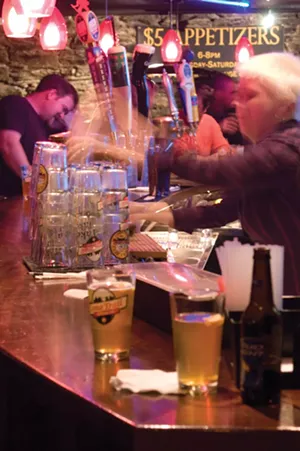 Matthew Thorsen
Two Brothers Tavern
Middlebury is a college town, but for years — since the drinking age went from 18 to 21 — it's lacked for nightlife. Two Brothers Tavern changed that when it opened in 2008. A steep flight of stairs leads to the "lounge & stage," which features big-screen TVs, a lengthy bar and leather couches. Townies and students alike come in to enjoy the bountiful musical acts, karaoke and trivia night.
But there's food here, too, and it's not the freshman fare you might expect. For one thing, the eatery is a member of the Vermont Fresh Network, which is code for "serious restaurant." The menu features all kinds of area food producers, including Vermont Butter & Cheese Co., Misty Knoll and Boyden Farms.
Happily, the local items get star treatment. A Boyden top sirloin is grilled to perfection, drizzled with a rosemary and blue cheese sauce and served with a mound of rustic, Cabot-cheddar-laced mashed potatoes. "Chicken & Dumplings" features a creamy, garlicky stew dotted with vegetables and chunks of meat from Misty Knoll. The dish is homey yet flavorful.
86 Main St.
Middlebury Area
Middlebury, VT
802-388-0002
American (Traditional) and Pub Food
The chefs at Two Brothers are big on DIY. The meat used in the smoked-pork sandwich gets its hickory bath right at the restaurant. So does a rainbow trout filet, which comes as an appetizer with mounds of local chevre, baby spinach, lemon wedges and pieces of warmed, extra-puffy pita.
The homemade chocolate porter cake? It's one more reason to get off campus.