Matthew Thorsen
The INN, Montgomery Center
People still talk about a kitschy Montgomery Center restaurant that closed a dozen years ago. Zack's on the Rocks was less celebrated for its food than for its namesake, a purple-robed proprietor who presided over the dining room wearing a crown and ermine-lined robe.
Location Details
The Inn
241 Main St.
Champlain Islands/Northwest
Montgomery Center, VT
802-326-4391
American (New)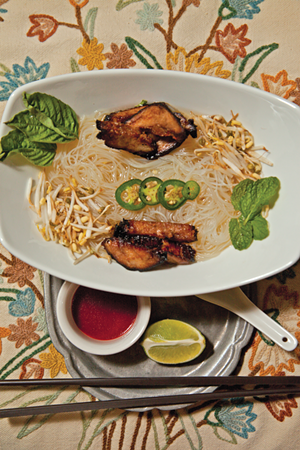 Matthew Thorsen
The INN, Montgomery Center
Jon Payne "Zack" Zachadnyk was a tough act to follow. But Nick Barletta and Scott Pasfield are pulling it off with a two-man show at The INN. The couple credit Jay Peak's close-knit community of big-city expats for luring them north. Barletta, a former vice president of operational risk at American Express, lent his financial acumen to the project. Pasfield, a photographer famous for his groundbreaking book, Gay in America, added a passion for art. The pair share a culinary aesthetic that would be unusual anywhere, much less in rural northern Vermont.
Just like at nearby townie pubs, diners can sidle up to the bar at The INN and order a plate of wings. But there's always a twist: The Buffalo sauce dressing on the wings is combined with hoisin. The blue-cheese dipping sauce isn't made with some nameless supermarket crumble — it's Roquefort. Drink with that? The bartender is ready to mix up something equally eclectic, such as a cocktail that includes floral St-Germain, fresh cilantro and ginger.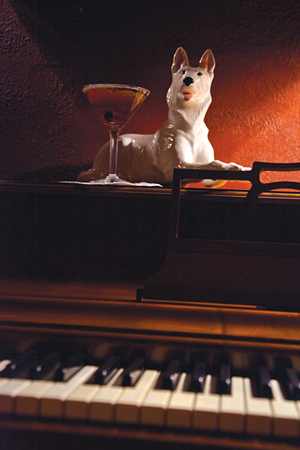 Matthew Thorsen
The INN, Montgomery Center
At dinnertime, guests eat in one of a warren of dining rooms adorned with antlers and idiosyncratic objets such as a wax bust of Elvis and a couch stenciled with silhouettes of automatic weapons. They feast on fusion food that spans the globe, not only from dish to dish but on each individual plate. One main course, St. Louis pork ribs, combines Vermont and Japanese flavors with a maple-miso glaze emboldened by the crunch of a brussels-sprout-and-apple slaw.
The best blend of all? At The INN, New York flair meets small-town Vermont. Pasfield and Barletta have restored quirky quality to Zack's beloved "Monkey Center."