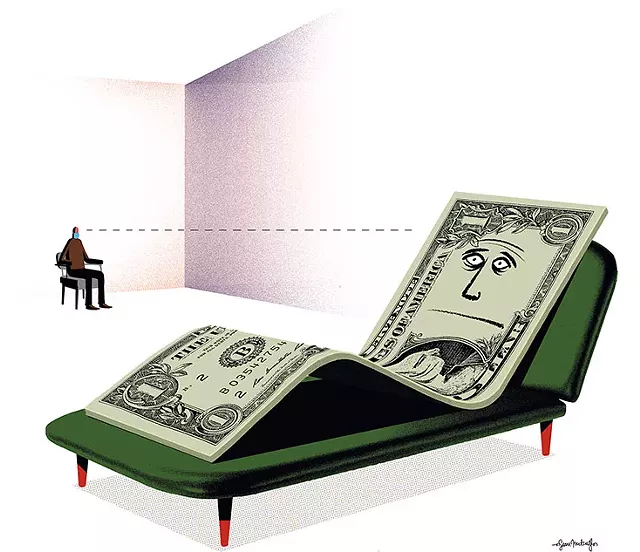 Recently a friend admitted that, in a pandemic-anxiety-induced fugue state, she aggressively stocked up on hot sauce. "My afterschool snack was Tabasco on crackers," she revealed. "Definitely a comfort thing." Another friend confided that she bought a printer so she could make collages at home: "I don't even have glue!" she lamented. Yet another confessed to purchasing a pair of Carhartt overalls, in case he found himself having to perform survival-related manual labor.

The coronavirus crisis has hijacked the economy and our amygdalae, sending us into a fight-or-flight tailspin that brings our dysfunctional relationships with money into embarrassing relief. Collectively, we seem to be seeking utility and comfort in erratic measure, bracing ourselves for some absurdist futurescape in which we chop down a tree for warmth and then decompress with a puzzle and three martinis.
"What we're all looking for right now is a greater sense of control," said Kathleen Burns Kingsbury, a wealth psychology expert based in Waitsfield. She's one of Vermont's two licensed members of the Financial Therapy Association, a national organization of financial and mental health professionals who specialize in the emotional, psychological and interpersonal factors that drive people's financial behavior.
The field of financial therapy first coalesced in the 1990s with the Nazrudin Project, an informal group of financial planners who met annually to explore the connection between the psyche and the wallet. Over the decades since, the movement has attracted a wider, though not exactly mainstream, following: There are more than 86,000 certified financial planners in the country, but only 36 members in the Financial Therapy Association database.
But that small figure doesn't capture the finance industry's growing awareness of the synergy between emotional and financial well-being. Nor does it account for the philosophy's early adopters, such as certified financial planner Christine Moriarty of Bristol. Through her company, MoneyPeace, Moriarty has been providing holistic counseling to her clients for almost 30 years.
Moriarty attributes financial therapy's increased visibility to millennials, for whom the Great Recession of 2007 to '09 and overwhelming student debt have served as cautionary tales against the perils of fiscal oblivion.
"Institutions that never would have thought about this approach before are starting to do it, because the people who are next in line to inherit assets care," said Moriarty. "If you go to a traditional financial planner, they'll ask you how much money you have and where it is. And if you tell them you only have $25,000 to invest, they might not even talk to you. In a holistic approach, that first meeting is about your history around money, your mistakes, your goals and dreams. I look at people's individual roadblocks, what their life encompasses."
Moriarty isn't a mental health professional, and she doesn't necessarily identify with the "therapist" part of the financial therapist label: "I think therapists do therapy, and what we do is look at finances from the perspective of a whole person," she said. But even the suggestion of catharsis can encourage people to be vulnerable. "If someone thinks of it as therapy, it gets them to be more honest about their struggles," she explained.
Like Moriarty, Kingsbury embraces the idea that financial counseling should address people as whole beings; she was a licensed therapist for 15 years in Quincy, Mass., specializing in body image issues and eating disorders, before she started her wealth psychology business in 2007. Most of her work these days involves virtual speaking engagements, webinars and consulting within the financial services sector, which includes banks, financial planners, stockbrokers and other entities responsible for stewarding people's money.
Kingsbury, too, has reservations about the "financial therapist" title.
"Unfortunately, the word 'therapy' still has a stigma attached to it, and people think that if they go to financial therapy, they're disordered in some way," she said. But in her view, the disorder is endemic to the culture at large. "We live in a society where we don't talk about money and, even now, in this unprecedented situation, it's hard for people to do it. But it's healthy, and we should absolutely be doing it."
Montpelier psychotherapist Jennifer Calder, another member of the Financial Therapy Association, helps her clients untangle the roots of their subconscious attitudes toward money.
"Money represents so many things — it's safety, security, power, influence, identity, social status," she said. "The experiences we have as kids, and the beliefs created around money in our families, inform our decisions as adults."
Calder has been a psychotherapist for more than two decades; in 2018, she earned a certificate in financial psychology and behavioral finance from Creighton University and launched an independent financial therapy practice.
"After hearing so many people talk about the stress and anxiety money brings into their lives, I wanted the tools to be able to help them," Calder said. (She maintains her general psychotherapy practice and emphasized that she doesn't cross-refer her own clients.)
People seek out Calder for numerous reasons: They're struggling with credit card debt; they're about to get married and want to establish healthy communication patterns around money; they've been married for years and have never established healthy communication around money. Unlike psychotherapy, which tends to focus on achieving emotional clarity and self-awareness over the long term, financial therapy is a solution-oriented, shorter-term process, according to Calder.
Her new clients complete an assessment of money-related beliefs and behaviors, called the Klontz Money Script Inventory, to determine their most persistent forms of financial self-sabotage. Per the assessment, these fall into four general categories: money avoidance, money worship, money status — the conflation of money with virtue and prestige — and money vigilance, which can manifest itself as a self-righteous frugality. For some people, said Calder, two or three sessions can be a sufficient detox; others come to her sporadically when issues flare up.
As the economy has nose-dived in response to the coronavirus pandemic, Calder has been helping her clients manage their anxieties by gently pushing them to identify what they can control — their own spending habits, their response to fear. "When anxiety gets triggered around money, it usually takes the form of one of two extremes: avoidance and overreacting," she said.
Avoidance, said Calder, can take the form of overindulging in otherwise benign activities: compulsive online gaming, knocking back Ina Garten-size cosmopolitans, minding the sourdough starter more than the sentient organisms in our lives. Overreacting usually takes the form of obsessive monitoring — of the news, the stock market, the status of your 401k — and catastrophizing the information.
The stock market's moodiness can be especially terrifying: "When the market really started to drop, people were getting frantic and wanting to take all their money out," said Calder. "So I encouraged them to check in with their financial advisers and get information, because information can be extremely helpful in giving you a sense of control."
Kingsbury concurs that nothing good can come from constant surveillance of the stock market. "On a day-to-day basis, nobody should worry about it," she said. "It's not about making money right now — it's a long-term strategy."
Like Calder, Kingsbury recommends making a list of actionable items as an antidote to existential wallowing. "Look at your stress management strategies and consider how you can still do them now, given the restrictions: You can go for a walk; you can call a friend. And then recognize the things you can do right now, even if everything looks horrible. Maybe you can still organize all your internet passwords in one place. There's always a small step you can take to feel more in control."
But feelings have a sneaky way of asserting themselves, despite our best efforts to placate them with well-intentioned strategies. Given the magnitude of what we're facing and the unpredictability of the pandemic's long-range consequences, Kingsbury suggests that we get comfortable with emotional turbulence — and give other people room to have bad days.
In the last two weeks of March, the U.S. Department of Labor processed nearly 10 million unemployment filings, shattering all previous records. Vermont received more than 50,000 jobless claims over that same period, according to the state's labor department. For those who have recently been laid off, with limited prospects of finding new jobs in a still-contracting economy, the standard rhetoric of perseverance feels particularly inadequate.
"Everyone right now should take the time to identify what they're feeling and find a way to express that. It could be journaling, talking to somebody, drawing a picture," Kingsbury said. "I think we often try to cheer people up, but, right now, we need to validate everyone's feelings, no matter what they are. We can't fix this, but we can try to help each other cope."
When stocks began to plummet, Kingsbury found herself wanting to sell the extra shoes in her closet for $20 each. "I grew up a thrifty Yankee, and even though I have a successful business now, I still have this scarcity mentality," she said. "How we react in times of financial stress often has very little to do with the actual numbers. It's always about us, the money stories we grew up with."