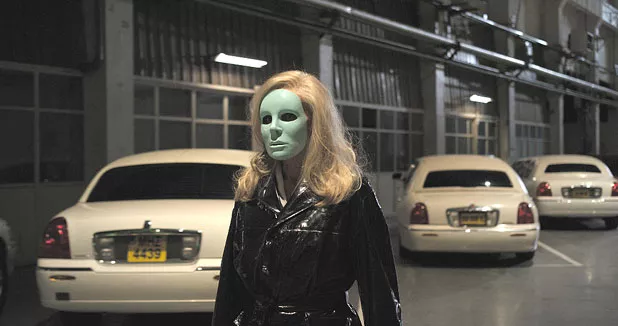 Holy Motors, Batman! One of the oddest films of 2012 — and my personal favorite — will be screened this Thursday by the Burlington Film Society at Main Street Landing Performing Arts Center. (The movie was also shown in December at Catamount Arts in St. Johnsbury.)
Directed by Leos Carax, the French film has a surreal premise: Over the course of one day, an actor plays an increasingly bizarre succession of "roles" on the stage of real-life Paris. The resulting vignettes can be appreciated as absurd comedy (and sometimes tragedy), but they're also rich in allusions to French cinema, past and present.
Carole Zucker, a Burlington acting instructor and former film professor at Concordia University in Montréal, says she noticed references to Godard's Alphaville, Cocteau's Beauty and the Beast and the musicals of Jacques Demy. Classic horror fans should note that Holy Motors gives a central role to actress Edith Scob, famous as the young woman who wears a mask to hide her deformity in Georges Franju's 1959 Eyes Without a Face (yes, it inspired the Billy Idol song). Franju, as it happens, is the subject of a retrospective also starting this Thursday, at Montréal's Cinemathèque Française.
'Holy Motors' followed by discussion: Thursday, January 17, 7 p.m. at the Main Street Landing Film House in Burlington. Free, donations accepted. burlingtonfilmsociety.org
*****
Another screening this Thursday night will give you the opportunity to meet and greet one of Vermont's most famous denizens, Luis Guzmán. Williston's Majestic 10 is hosting a special preview of the character actor's latest film, The Last Stand, with Guzmán in attendance and all ticket proceeds going to Hunger Free Vermont. The movie marks Arnold Schwarzenegger's return to action stardom and is directed by Korean art-house favorite Kim Jee-woon (I Saw the Devil). It opens everywhere on Friday.
UPDATE: Due to illness, Luis Guzman won't be attending the screening on Thursday. But the screening and fundraiser will go on as scheduled, and Hunger Free Vermont officials say Guzman will reschedule for "another event in the near future."
'The Last Stand' benefit preview screening: Thursday, January 17, 6 p.m. meet-and-greet with Luis Guzmán; 7 p.m. screening at Majestic 10 in Williston. $10. hungerfreevt.org
*****
Perhaps you read last week's Seven Days article about Hide, a documentary from Middlebury College first-time filmmakers Peter Coccoma and Elori Kramer. The film exploring the lives of Vermont's migrant farm workers will screen twice at this year's MountainTop Human Rights Film Festival, which runs for a week, starting Friday, at Waitsfield's Big Picture Theater. Also on offer are socially conscious flicks such as The Atomic States of America; Betting the Farm; the disturbing climate-change doc Chasing Ice; and drug-war exposé The House I Live In, complete with a Q&A with its Vermont-based director and the Big Picture's cofounder, Eugene Jarecki.
MountainTop Human Rights Film Festival: Friday through Thursday, January 18 to 24, at Big Picture Theater and Café in Waitsfield. $6-10 per film. Schedule and ticketing info at mountaintopfilmfestival.com.