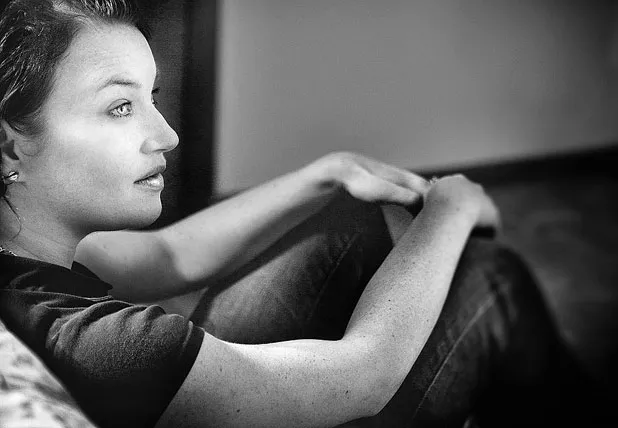 Taryn Noelle in American Vinyl
More good news for A Band Called Death, the little Vermont-made rockumentary that could. Drafthouse Films has announced plans to distribute the doc from directors Jeff Howlett and Mark Covino, which will screen at SXSW next week. A summer theatrical release is planned, so we hope to see the flick on local screens.
*****
The success of Death reminds us that rock and roll is a perfect setting for underdog stories. Next Tuesday at Nectar's, Burlington director David Metzger will premiere his fictional take on the theme of talent struggling to be heard, a narrative feature called American Vinyl set in the Burlington music scene.
Metzger, a 2005 graduate of Burlington College's film program, says his love of local live music inspired the film. "Most films about musicians are from the point of view of the wide-eyed up-and-comer … or the has-been seeking redemption," he writes in an email. "I wanted to make a movie about a middle-aged woman who is just starting ... going into that local bar and getting on that stage hoping that someone will enjoy her music."
That tentative singer-songwriter is played by local chanteuse Taryn Noelle, who based the character on one she's been developing for a stage musical. John J. Kross is a charismatic singer-comedian who asks her to join his tour, and Natalie Miller of Spark Arts plays his acerbic bandmate, who isn't so sure about the newcomer's potential. Interspersed interviews with local musicians, including Brett Hughes and Justin Levinson, underline universal aspects of the story.
Metzger shot American Vinyl in 18 days last summer on his Canon T3i — much of it at Nectar's and Metronome. Washes of color from the stage lights create a dreamlike atmosphere, familiar to all those who've worshipped at the temple of local music — or tried their luck on stage.
"American Vinyl" premiere screening. Tuesday, March 12, doors at 7 p.m. at Nectar's in Burlington. Free.
*****
Miss the Vermont International Film Festival? This weekend, you have another chance to see four hits from last fall's fest on a big screen, including the acclaimed global-warming documentary Chasing Ice. See more info below.
Vermont International Film Festival Showcase. Saturday, March 9: "Chasing Ice" (1 p.m.), "Green" (3 p.m.). Sunday, March 10: "Detropia" (1 p.m.); "Where Do We Go Now?" (3 p.m.). All at the ECHO Lake Aquarium and Science Center, Burlington. $5-10 per film.
*****
Calling all comics fans: The makers of Cartoon College, a documentary about the Center for Cartoon Studies in White River Junction, hope to screen their film at Merrill's Roxy Cinemas on April 6. But first they need to sell enough tickets via Tugg.com. Tix will go on sale March 8 for the effort to bring the film — and a Q&A with cartoonists such as James Sturm — to the Queen City.
Cartoon College Tugg.com campaign: tugg.com/events/3037. cartooncollegemovie.com.
*****
Cute, or über-cute? Royalton couple Myra and Jim Hudson used their natural resources — kids and ponies — to make a feature-length Western with a cast composed entirely of youngsters. Watch the trailer for Pasghetti Western on YouTube.
*****
Want to appear in a documentary? This Friday and Sunday, Burlington's Dreamlike Pictures will be at Off Center for the Dramatic Arts to film two performances of a one-man show by nonagenarian Garry Davis, who lives in Burlington but considers himself a citizen of all nations. Footage from the performances will feature in a full-length documentary about Davis from California-based director Arthur Kanegis.
"My Country Is the World and the World Is My Stage: The True Story of Garry Davis." Friday, March 8, 7 p.m. (in English) and Sunday, March 10, 2 p.m. (in French) at Off Center for the Dramatic Arts in Burlington. $5 suggested donation. No late seating.