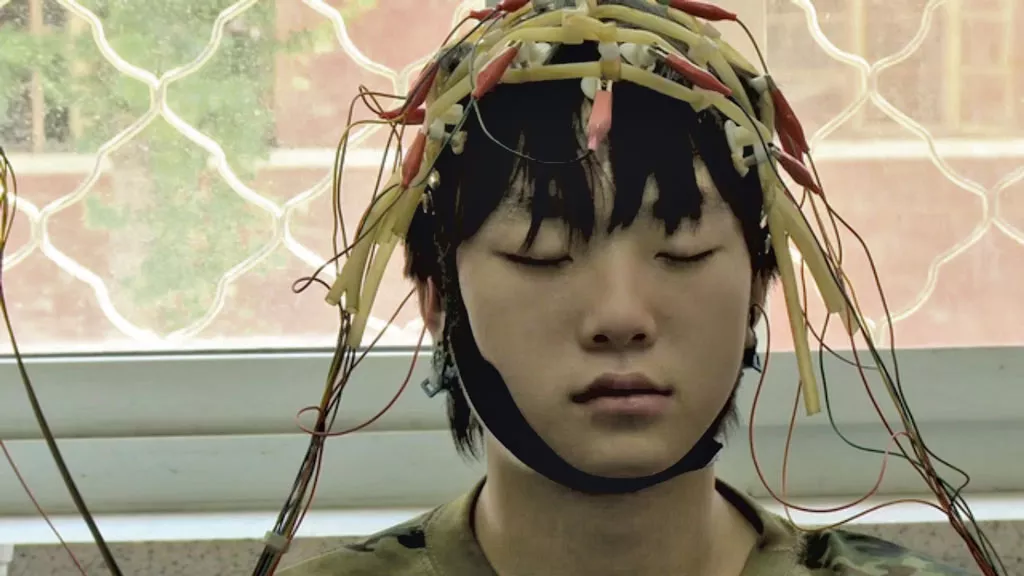 Courtesy of VTIFF
Web Junkie
A teenage boy sits on a dormitory mattress in a dim room on the outskirts of Beijing, his body shaking with uncontrollable sobs. "What did you do?" a man asks him. "I used the internet," the boy replies.
That's a scene from Web Junkie, a 2013 documentary film that takes viewers inside Daxing Boot Camp, a rehabilitation facility that treats teenagers for internet and gaming addictions. It's one of more than 400 such boot camps reported to exist in China, which became the first country in the world to declare internet addiction a clinical disorder in 2008.
"My dad brought me here to see the doctor," the boy on the mattress continues. "But he locked me in here instead. They tied my hands."
Life at boot camp is no walk in the park. The camera follows a group of boys through exhausting calisthenic routines and therapy sessions. They appear to be routinely medicated with pills that the camp's staff refuse to identify to them. Many tell the cameras that their parents drugged them with sleeping pills and brought them to the facility against their will.
The absence of screen time, too, clearly causes the boys significant existential distress: Tantrums and sobbing are depicted as routine occurrences. These are kids who, by their parents' accounts and their own admission, habitually stayed up all night playing games, sometimes wearing diapers so they wouldn't need to leave their seats. They express their preference for virtual reality over the real world. "Everyone in the real world is fake," one boy tells the cameras, echoing the sentiments of 15-year-olds everywhere.
Web Junkie premiered at the 2014 Sundance Film Festival; in the coming weeks, it will screen twice in Burlington, hosted by the Vermont International Film Foundation. The first screening, at the Vermont Tech Jam on Friday, October 24, will be followed by a panel discussion with local game designer Marguerite Dibble and Champlain College mental health counselors Skip Harris and Lukas Lewis. The second screening, which takes place on Saturday, November 1, during VTIFF, is accompanied by a panel with psychology professors Kimberly Quinn Smith of Champlain College and David Landers of Saint Michael's College. Those panelists will contextualize the issues the film raises and facilitate a discussion that brings them closer to home.
And that's needed. While Web Junkie raises thought-provoking questions about how screens change our relationships with one another and the world, it indisputably paints an extreme picture. The directors make little effort to place the experience at Daxing in a wider context. The boot camp's treatment practices, for example, seem unlikely to be tolerated by the Western counterparts of the middle-class Chinese parents shown in the film. The distress on those parents' faces is evident — and particularly unsettling when one considers China's mandatory one-child rule.
Internet dependence is not classed as a clinical addiction in the United States as it is in China. In the 2013 revision of the Diagnostic and Statistical Manual of Mental Disorders — the official reference for psychiatric illnesses — internet addiction is relegated to the appendix as an area requiring further study. In practice, that means a psychiatrist can't diagnose and treat a patient for the problem, even if that patient is up all night in diapers playing World of Warcraft.
Nonetheless, says Lewis, behavioral issues arising from excessive game time are common here, too — perhaps particularly in the student demographic that he and Harris work with at Champlain. The issue received an international spotlight last week when a patient in an alcohol rehabilitation facility was treated for symptoms of withdrawal from his Google Glass.
"I haven't seen the film, but with students I've worked with before in the past who we've identified as playing video games too much or using the internet too much, I try to determine what it is in the internet or games that's reinforcing the habit," Lewis explains.
"For some students, it's a way of escape; for some students, it provides them with an opportunity to have a level of mastery," he continues. "There's a reward if there's reinforcement, like gambling. It's also a means of social connection."
Lewis cautions that such behavior may not be an addiction in itself, but the symptom of other disorders. "We have to sort out whether the internet or video game is the real problem or a symptom of another problem," he explains. "A lot of times, it's a way of coping with another primary issue."
As a counselor — not a psychiatrist who can diagnose — Lewis says he and Harris "look at it on a case-by-case basis, dependent on [the student's] diagnosis."
Dibble, a 24-year-old Champlain College graduate who owns Burlington-based gaming company GameTheory, suggests that industry practices can foster addictive behavior by monetizing it.
"We work and trade in the psychology that makes games that people want to interact with in ways that could be seen as addictive," she says. After reflecting on those implications, Dibble adds, she switched her own business model to one of consulting.
The rise of mobile apps in particular, Dibble observes, changed the game — so to speak — a few years ago. Before, the industry standard was to have users pay a flat rate for a game. Now developers make free games (because no one wants to pay for a mobile app) and embed psychological incentives to pay up within the game itself.
"I don't think that games in particular are malicious in any sense," Dibble says. "I would really encourage people to see [extreme behavior] as a result, not the cause, think about why that's happening, and try to come at it from a place of understanding and camaraderie rather than attack."
Web Junkie screens at the Vermont Tech Jam on Friday October 24, 3 p.m., at Memorial Auditorium in Burlington. Free. It also plays at the Vermont International Film Festival on Saturday, November 1, 3 p.m., at Main Street Landing Black Box Theater in Burlington. $5-10.
The original print version of this article was headlined "Vermont International Film Festival Screening Highlights Internet Addiction"