So many records, so little time. Seven Days gets more album submissions than we know what to do with. And, given the ease of record making these days, it's difficult to keep up. Still, we try to get to every local release that comes across the music desk, no matter how obscure.
To that end, here are five albums that likely flew under the radar of your average Vermont music fan. In some cases, they represent the outermost boundaries of local music. Others simply slipped through the cracks. But each is deserving of a listen.
Deb Flanders, The Female Highwayman
(Self-released, CD, digital download)
In 1930, the Vermont Commission on Country Life tasked Helen Hartness Flanders with collecting traditional folk songs of rural Vermont — songs that were largely undocumented, passed down orally through generations. Given the rise of radio as a primary source of entertainment, they were also songs at risk of being lost. Flanders traversed the state, recording the songs to wax cylinders, acetate, aluminum discs and reel-to-reel tape. Eighty years later, those songs — some 4500 in all — were again on the verge of disappearing, as the mediums on which they were recorded had begun to disintegrate.
On The Female Highwayman, local folk singer, and Flanders' great-niece, Deb Flanders has given 12 of those songs new life. She culled the archives at Middlebury College and, enlisting the help of family members and a few notable local players — fiddler Pete Sutherland and guitarist Paul Asbell among them — has created an audio time capsule that preserves a critical piece of Green Mountain musical heritage for generations to come.
Pliable Tones, Pliable Tones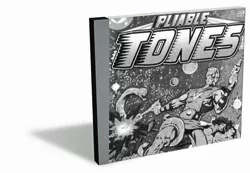 (Robot Octopus Vs. Zombie Teddy bear Records, LP, digital download)
There's something strange afoot in the sleepy Upper Valley region of Vermont and New Hampshire. And it is being soundtracked by newish experimental pop label Robot Octopus Vs. Zombie Teddy Bear Records.
The label's latest release comes from the aptly named Pliable Tones, a prolific solo artist from Lebanon, N.H., whose canon includes 20 releases. This one is a hefty, self-titled sampler LP. Featuring some 43 tracks in just under 60 minutes, the record is a dizzying collection of electronic beats, bleeps and samples that defies categorization. Though not for the faint of heart — or ears — it is a fascinating glimpse into the outer edges of local music.
Samuel ampersand Matthew, Dogs on Wheels EP
(Self-released, digital download)
Though Carnivore serves as the duo's inspiration, Plattsburgh's Samuel ampersand Matthew are well aware that they will never be as good as that late, and underappreciated, 1980s thrash-metal band. And that's OK. The duo's shabbily recorded debut EP, Dogs on Wheels, while hardly thrashy, is a curious and oddly entertaining little nugget in its own right. Mostly acoustic and decidedly unhinged, it's the sort of thing Neutral Milk Hotel's Jeff Mangum might have written on a methamphetamine bender. Or maybe what Carnivore would have penned after a cocktail of Valium and sparkling wine. Whatever. Just frigging listen to it.
samuelampersandmatthew.bandcamp.com
Dead Creek Singers, Dead Creek Singers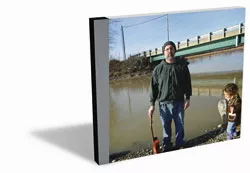 (Self-released, digital download)
The Dead Creek Singers are the self-described "lo-fi digital vanity project of Vermont singer-songwriter Josh Brooks." Vain or not, DCS' self-titled debut is also a pretty compelling listen from one of the state's truly underrated and versatile writers. Less country and rock focused than his eponymous solo work, and not as blues oriented as his garage-rock side project Grant Black, DCS finds Brooks expanding his palette into ethereal musings evocative of Mutations-era Beck — which ain't a bad thing.
The Plain Healers, Untitled
(Self-released, digital download )
Here's what we know about the Plain Healers: not much. Some cursory digging suggests the band is based in New Jersey, though at least one member, Kurt Van Hook, currently resides in Hinesburg, Vt., and is a pretty fair hand at Words With Friends, FYI. The band's untitled 2012 release — which comes with no cover art, let alone liner notes — is an eight-song snippet of a much larger catalog and represents an agreeable collection of literate folk-rock fare. It aligns well with the likes of Camper van Beethoven and/or Cracker and, in moments, boasts a bit of Violent Femmes-ish attitude. It's a nifty, if mysterious, suite of tunes that whets our whistle for more.