Seven Days gets more album submissions than we know what to do with. And, especially given the ease of record making these days, it's growing increasingly difficult to keep up. Still, we try to get to every local album that comes across the music desk, no matter how obscure.
To that end, here are five albums that likely flew under the radar of your average Vermont music fan. In some cases, they represent the outermost boundaries of local music. Others simply slipped through the cracks. But each is deserving of a listen.
Bedeviled Eggs, Bedeviled Eggs
(State & Main Records, cassette, digital download)
In order to listen to the self-titled offering from Bedeviled Eggs, we first had to borrow our friend's 1986 Toyota Tercel, as it was the only way we could get our hands on a freakin' cassette player. It turns out that hitting the open road — albeit at a shaky 48 mph — is a fine way to experience the Montpelier duo's debut. (For those without a tape deck, or a buddy's old ride, it is also available via digital download.)
Aggressively lo-fi, these seven songs are lean and gritty, and bristle with blues-punk attitude. The White Stripes corollary is probably a little too convenient. But drummer Jeff Thomson is something like a more precise Meg White, laying down gleefully simple but energetic beats that smash headlong into Robert Morgan's overdriven bass rumble. Morgan's vocals are equally distorted as he howls on topics from life in an impossibly quaint hamlet ("Small Towne") to unrequited love ("Want You Anyway"), all with a prickly sneer that owes as much to Charles Bukowski as Jack White.
stateandmainrecords.bandcamp.com/album/bedeviled-eggs-ep
Ruin/Renewal, Chess Club
(burst & bloom records, CD, digital download)
The latest release from Ruin/Renewal, Chess Club, was originally recorded in 2006-2007, but didn't see the light of day until earlier this year. The band is a project of Vermont-based drummer John Pritchard — a former contributor to these pages — and his brother, songwriter, vocalist and multi-instrumentalist Josh Pritchard. Presumably life — family, jobs, etc. — got in the way of the duo releasing the record any earlier, which is too bad. At a brief six songs, the album is a short and undeniably bittersweet collection.
Josh Pritchard sings in a sleepy baritone rasp not unlike that of Mark Kozelek in his Red House Painters days. But unlike that stark work, he surrounds himself with cozy arrangements flecked with arcing pedal steel, atmospheric electric piano and swooning violin. Though melancholy, these songs warm like a down comforter, bracing against a wintry chill in fading late-afternoon light.
burstandbloom.bandcamp.com/album/chess-club
KiKi's Lost Nation, KIKI's Lost Nation
(Self-released, CD)
If you google "apoca-decadent," the first results that come up are mostly concerning the destruction of Pompeii. We're not entirely sure what that has to do with KiKi's Lost Nation, who bill themselves as "Vermont's first apoca-decadent band," but whatever. Occupying a branch on the Wards' family tree of local punk bands, KLN deliver a no-frills take on hard rock and early metal that bears many of the same no-fi trademarks as their BTV punk forebears. Less concerned with virtuoso playing than snarl and attitude, the band's debut mix of originals and covers is seriously rough around the edges. But, as with the Wards and their various offshoots, that's just part of the fun.
Masako, Masako
(Self-released, CD, digital download)
New-age music doesn't get much play in Vermont, which is a little surprising when you consider our surroundings. Is there any landscape better suited to the sorts of pastoral compositions made famous by George Winston and his ilk? The self-titled debut from Japanese-born, Glastenbury, Vt.-based pianist Masako shares notable similarities with Winston's sonic watercolors. That's likely due to the fact that Windham Hill Records founder Will Ackerman produced her recording. Light, complex and brimming with Vince Guaraldi-like personality, the album is a soothing ode to the Green Mountain State. With little more than meandering piano progressions — and the occasional wind synthesizer, of course — Masako effortlessly evokes the serene natural beauty found by simply going for a walk in the countryside.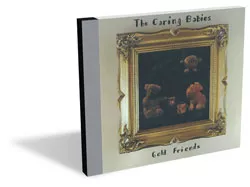 The Caring Babies, The Gold Friends
(Robot Octopus VS. Zombie Teddy Bear Records & The Case of the Missing Records, 7-inch vinyl, Digital Download)
Considering that it checks in just under five minutes, Gold Friends, the latest EP from Matt Mazur and Redgei's the Caring Babies may have set a new local record for the smallest ratio of music to number of record labels involved. It's an absurd distinction, but an oddly appropriate one. Co-released by Robot Octopus VS. Zombie Teddy Bear Records and the appealingly Hardy Boys-esque-named imprint the Case of the Missing Records, the Caring Babies' new 7-inch is indeed an exercise in the absurd — and an absurdly entertaining one at that. Broken into four quirky, electro-pop vignettes, the EP further explores the gentler side of experimental pop first brought to our ears by the duo's debut, The Gold City Singer's Companion Forgets, released earlier this year. Like that album, the EP is a pleasing slice of unconventional pop that both provokes and charms with playful humility and an endearingly juvenile innocence.
thecaseofthemissingrecords.blogspot.com