So many records, so little time. Seven Days gets more album submissions than we know what to do with. And, especially given the ease of record making these days, it's growing increasingly difficult to keep up with the flood of requests for review — there's only so much space in the paper. Still, we do try to get to every local album, no matter how obscure, that comes across the music desk.
To that end, here are four albums that likely flew under the radars of most Vermont music fans. (Most were under ours, too.) Some represent the outer boundaries of local music; others simply slipped the through the cracks. Each deserves a listen.
Harry J. Anslinger, Afterbirth of the Cool
(Self-released, CD)
We'll be honest: This one is a total mystery. The namesake for this project, the late Harry J. Anslinger, served as the commissioner of the Federal Bureau of Narcotics from 1930 to 1962. Aside from that and the group's pair of appearances in the 2012 Burlington Discover Jazz Festival, we have almost no information about it. Anslinger, an ardent crusader against marijuana, was renown for reefer-maddening statements like this one: "There are 100,000 total marijuana smokers in the U.S., and most are Negroes, Hispanics, Filipinos and entertainers. Their satanic music, jazz and swing, result from marijuana usage. This marijuana causes white women to seek sexual relations with Negroes, entertainers and any others." Preach on, brother.
The often-grating, narcotic sounds found on Afterbirth of the Cool would likely make Anslinger's head explode, if he weren't, you know, dead. The CD — apparently the side project of BTV expat Otis Cleveland, formerly of Joe Adler and the Big Benson Beaver Band — features a septet of jazz standards seriously effed up. Tunes such as "How High the Moon," Miles Davis' "Budo" and the standard "Willow Weep for Me" are so maniacally deconstructed with tinkling chimes, feedback, distortion and — cue bong rip — digeridoo that they bear little resemblance to their source material. And that, apparently, is the point. This just may be the "devil music" about which Anslinger warned us.
The Junkman, Nat Res + Mo Na + Man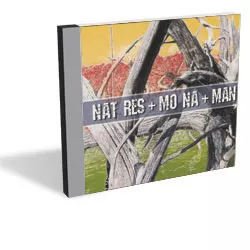 (The Moo Group, CD, digital download)
Long before there was a green movement, Vermont composer and percussionist Donald Knaack, aka the Junkman, was recycling trash into treasure, building musical instruments out of garbage. A disciple of famed American composer John Cage, the classically trained Junkman crafts provocative, eco-themed suites befitting his makeshift tools.
On his latest album, Nat Res + Mo Na + Man, released in 2011, the Junkman traverses the littered landscapes (landfills?) of pop, rock and avant-garde and finds beauty in discarded sounds. While the album presents a challenging and often-rewarding trove of ear candy, an urgent message runs to the core of Knaack's compositions. Namely, that the world as we know it cannot survive unless we find ways of using the resources at our disposal — like, say, trash — in a more thoughtful and sustainable manner.
Rick Lincoln, The Great American Drum Solo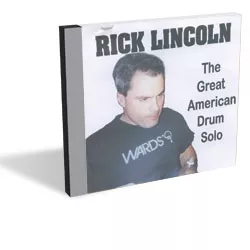 (Self-released, CD)
You know how you're always looking for an album composed solely of some random dude wailing away on the drums but can never find one that doesn't have all those pesky guitars, basses and keyboards? Well, you're in luck. On The Great American Drum Solo, drummer Rick Lincoln (the Wards, Gas and Oil) has delivered a five-"song" opus that is, as its title implies, pretty much a 20-minute drum solo. Just a guy and his skins.
In the CD's liner notes, Lincoln claims influences from a number of 1960s- and '70s-era rock bands, including Deep Purple, Sir Lord Baltimore and Iron Butterfly. In essence, the album is an extension of the last band's classic "In-A-Gadda-Da-Vida" and that song's famed epic drum solo. Here's the thing, though. Contrary to popular belief, that solo is actually just two and a half minutes long. So if you're the kind of person who loops Ed Gallagher's solo five times to get your percussion fix, The Great American Drum Solo might be the record for you.
Panhandlers Steel Band, Live! at the Tupelo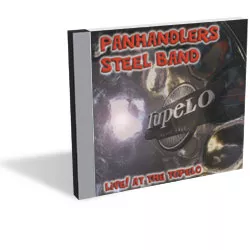 (Self-released, CD)
You know how you're always looking for a record composed solely of 11 steel drummers playing pop and reggae covers but can never find one without all those pesky guitars, basses and vocals? Well, have we got a band for you!
Live! at the Tupelo, the debut record from Panhandlers Steel Band, is a collection of some 17 popular tunes, rearranged for an 11-piece steel-drum ensemble — with an assist from a traditional kit drummer — recorded live at the late Tupelo Music Hall in White River Junction. Selections range from the semipredictable — "Jump in the Line," "Hot Hot Hot" — to complete curveballs such as George Harrison's "Here Comes the Sun" (oddly reassuring amid a cacophony of ringing steel) and Todd Rundgren's "Bang the Drum All Day." There's plenty of island sway, too, including Bob Marley's "Could This Be Love" and Lord Burgess' "Jamaica Farewell."
Sure, the album is something of a novelty and, in moments, the performances are uneven. Still, there are worse records you could turn to once the winter comes howling.