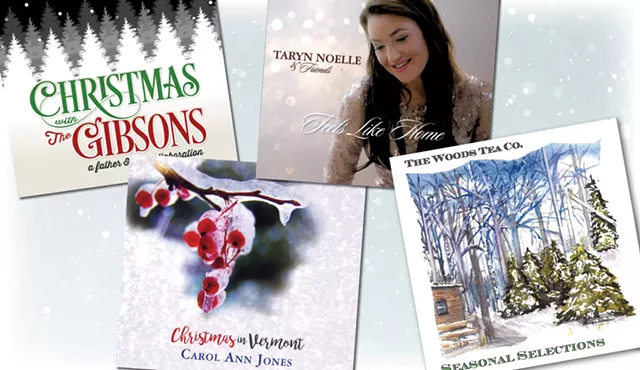 Few things in the realm of popular music are as divisive as Christmas music. For Clark W. Griswold types, the cheery jingles start ringing out like silver bells by Thanksgiving, if not earlier. For those with more Grinch-ian inclinations, all they want for Christmas is to stay the hell out of earshot of Mariah Carey. And then there are the people who, whether for religious or personal reasons, couldn't care less about Rudolph or Frosty or baby Jesus — yet are still deluged with seasonal songs every time they hit the mall, marketplace or grocery store.
Perhaps owing to its North Pole-like climate, Vermont suffers no shortage of homegrown Christmas music. So, if this is your thing, here are four examples of locavore yuletidings released this year.
Lane Gibson Jr.& Lane Gibson Sr., Christmas With the Gibsons
(Self-released, digital download)
If you've ever longed to spend the holidays with Lane Gibson Sr. and his family, have we got good news for you! The recording engineer and his son, Lane Gibson Jr., have released a new album of holiday classics, aptly titled Christmas With the Gibsons. It's probably the next best thing to waking up on Christmas morning at the Gibsons' Charlotte home.
The album includes eight traditional hymns and carols, largely of the non-secular variety. You'll have to look elsewhere for "Grandma Got Run Over by a Reindeer." Each tune here was arranged by the father-son duo for voice, acoustic guitar and/or keyboard.
The performances throughout are immaculately polished and heartfelt. The younger Gibson handles all lead vocals and sings with a clean and passionate tone. His clear renditions of "O Come, All Ye Faithful" and "Do You Hear What I Hear?" are especially pleasant. And his dad's backing harmonies and instrumental work are expertly understated.
Though their song selections and arrangements are tasteful, the Gibsons don't break much new ground with either. There are two notable exceptions: "God Rest Ye Merry Gentlemen" and "O Come, O Come Emmanuel." Both tunes come in the album's second half, which is dominated by keyboard, and each is colored by moody synth work that lends the songs a darker tone. Particularly given how straight the Gibsons play the rest of the album, these anomalous cuts add surprising intrigue to an otherwise cozy Christmas record.
Taryn Noelle & Friends, Feels Like Home
(Self-released, CD)
There are only so many classic Christmas tunes out there. As such, Christmas albums, especially of the jazzier variety, tend to rely on a similar lineup of standards. That's precisely what makes Feels Like Home, the new holiday album from Taryn Noelle & Friends, interesting. While the record contains plenty of chestnuts to roast on an open fire, Noelle takes a broader view of what a holiday song can be. The result is a winning, familiar-but-fresh mix of beloved classics and unconventional material.
The veteran jazz singer opens the record with "Baby, It's Cold Outside," a duet with pianist, composer and coproducer Joe Davidian. The pair is no Ella and Louis — who is? But they display lively chemistry. Noelle closes on a lovingly rendered version of "Have Yourself a Merry Little Christmas."
In between, the record leans heavily on tunes not generally considered to be holiday music. Alongside "I'll Be Home for Christmas," there is Irving Berlin's "Count Your Blessings (Instead of Sheep)" and Randy Newman's "Feels Like Home." In addition to "Santa Claus Is Coming to Town," there is the David Foster-penned and Celine Dion-popularized "The Prayer" and Joni Mitchell's "River."
Backed by an all-star ensemble of local jazz talent, Noelle, with her effortlessly smoky croon, reminds us that the most important part of "holiday spirit" is the latter word. (Which is not the same as putting the Christ in Christmas, thank you.) And that might just be a Christmas miracle.
Carol Ann Jones, Christmas in Vermont
(Self-released, CD, digital download)
Christmas in Vermont, the latest album from Georgia, Vt.-based Carol Ann Jones, bills itself as a "heartwarming album reminiscent of a country Christmas in Vermont." Inspired by the rootsy Christmas albums of yesteryear, Jones' latest evokes the nostalgic feel and sound of the holidays.
Credit for that feel belongs squarely to her backing band. Multi-instrumentalist Will Patton, guitarist Don Schabner and percussionist Gary Spaulding deliver just the right touch of twang to favorites such as "White Christmas," "Jingle Bells" and "The Christmas Song," among others.
But Jones is no slouch. She sings in an unadorned style that's never flashy. Particularly given the time-honored material with which she is working, she wisely plays her performances straight. These cuts are classics for a reason. And Jones is able to both honor those tunes and impart a subtle touch of her own artistic personality to each. Christmas in Vermont would be a fine accompaniment to any trip to the Christmas tree farm or snowy drive through the countryside.
The Woods Tea Co., Seasonal Selections
(Self-released, CD, digital download)
It's unlikely that any local band has recorded and released more seasonal music than the Woods Tea Co. Since releasing its first holiday album in 2001 — a full 20 years after it was founded — the acclaimed Vermont folk group has produced six such records. WTC are the soundtrack to the holidays throughout the Green Mountains.
The band recently released a seventh Christmas record, Seasonal Selections. Composed of choice cuts from each of its earlier holiday-themed albums, the record is a greatest-hits compilation that fans might find an absolute essential for Christmastime.
WTC's general repertoire spans centuries and continents. Likewise, the material here ranges from traditional British Isles and continental European folk selections ("Pat a Pan") to somber hymns ("O Holy Night") to novelty songs ("Mele Kalikimaka"). There are also original works by Vermont songwriters such as Patti Casey, Pete Sutherland and Howard Wooden.
Each song is performed with WTC's incomparable skill and taste. Warm, cozy and rustic, Seasonal Selections is the musical equivalent of sipping mulled cider by the woodstove on a bleak midwinter night.