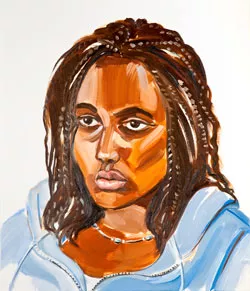 "Braided Blue" by Kate Longmaid
For nearly 30 years, the National Museum of Women in the Arts in Washington, D.C., has been inspiring and enriching the public by focusing on the often overlooked legacy of historical women artists. It also draws attention to the considerable accomplishments of contemporary women in the visual arts.
In 2007, the NMWA began its biennial "Women to Watch" exhibition program to highlight the works of female artists who may be deserving of greater recognition. Artists are selected with input from NMWA committees, curators and galleries in each state. The Vermont installment of "Women to Watch 2010: Contemporary Figurative Painting," curated by Idoline Duke of Stowe, spotlights Kate Longmaid, Adelaide Tyrol, Susan Abbott, Carrie Gelfan and Aline Ordman. The technically solid — albeit not particularly challenging — touring group show is now on view at the Flynn Center's Amy E. Tarrant Gallery in Burlington.
Longmaid has been singled out to participate in a nationwide exhibit at the NMWA later this year. Citing both Alice Neel and Lucian Freud as influences, she makes uncluttered portraits. Each of her eight 24-by-18-inch canvases consists of a head on a blank white background, so nothing distracts from the subject. The paint quality of her water-soluble oils is dry, as are the deadpan expressions of her sitters. In "The Blue Shawl," a woman with graying dark hair looks downward, a heavy shadow on the left side of her face. Much is left unsaid in Longmaid's portraits; intentionally, she offers few hints to her subjects' personalities.
Like those Picasso created in his neoclassical period of the 1920s, Gelfan's chunky figures border on the monumental. Her palette and use of flattened geometric patterning also recall an influence she's noted in the title of the painting "Homage to David Hockney." That work and "Mickey and Magdelana" are the strongest pieces in the exhibition. Gelfan portrays sunbathers on their backs looking at the viewer, as if they are pinned flat on shallow picture planes. Her narratives are deeply rooted in abstraction, and even in her large-scale figure studies, her methods are as interesting as what she depicts.
Ordman and Abbott present mostly street scenes in the show. Abbott is one of the 10 commissioned artists in "The Art of Action," a major touring exhibition that envisions the future of the Green Mountain State. Her works in "Women to Watch" are colorful scenes based on a visit to Rajasthan in northeastern India. Abbott simplifies figures and uses vibrant hues in tightly woven compositions. "The Marigold Seller" revolves around a harmony of yellow flowers and the merchant's lavender sari. "Family by the Steps" is a 22-by-30-inch oil on panel in which a boy in a turquoise shirt becomes the focal point of a jumbled collection of engaging angles and planes that describe a bustling marketplace.
Ordman's settings are less exotic, and her modest oils are decorative, neoimpressionist idylls. "Naptime" presents a child in a shaded stroller positioned on a sidewalk and tended by an equally sleepy sister. The sidewalk and small-town street recede in one-point perspective. Long shadows enhance the depth of the scene.
Tyrol is a highly accomplished botanical and natural-history illustrator, and her less commercial fine art is quite strong. Her paintings in this exhibition seem like sci-fi fluff, but a visit to her website provides context by showcasing her explorations beyond the confines of observable nature. The works shown at the Tarrant Gallery are, unfortunately, among the lesser pieces in Tyrol's oeuvre. Her 36-by-42-inch "The Invitation" portrays a swimmer underwater in an algae-infested pond, floating alongside a smiling, porpoise-like creature. The feet of a dog-paddling hound appear at upper right.
Tyrol's 36-by-26-inch "Taming the Butterflies" depicts a chimp in a tunic. Little white moths inexplicably flit around his bushy head. Tyrol says in her artist's statement, "The image of the primate is a signifier of our juvenile selves..." But it's likely viewers will be able to think only of Dr. Zaius, the orangutan minister of science in Planet of the Apes.
"Women to Watch 2010" is a parochial snapshot of what figuration means in the early 21st century. Perhaps, to some artists and curators, it's just a decadent backlash against the great isms of the 20th century. If so, the pendulum may be poised to swing back at any moment.