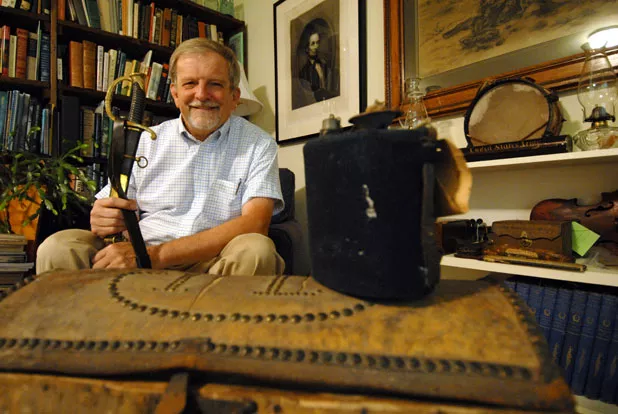 When Vermont established a Civil War cavalry regiment in the fall of 1861, Addison Preston couldn't not sign up. He was, after all, a man whom a notable Vermont historian would describe as "brave to a fault."
Impetuosity aside, the Danville businessman earned his stripes over the following three years while fighting for the Union Army. By the late spring of 1864, he was a colonel, and colleagues were speculating he would soon be promoted to brigadier general.
But Preston's good fortune only carried him so far. On June 3, the colonel dismounted his horse in a field near Richmond, Virginia, and approached a group of soldiers whom he assumed belonged to the Union Army. "Major, don't allow your men to fire," he told an underling before crossing the field. The soldiers were Confederates, and one of their bullets ripped through Preston's chest.
Almost a century and a half later, Preston's 1864 funeral at the Danville Congregational Church is still the largest on record in that town. Yet information about the Civil War's impact on Vermonters and the towns they hailed from remains relatively scarce.
Enter Montpelier historian Howard Coffin. For more than 40 years, Coffin has been visiting and reading about famous Civil War battlefields. He began publishing books about Vermont's connection to the conflict in 1993 with the 376-page Full Duty: Vermonters in the Civil War. Now the former Rutland Herald reporter and one-time press secretary for Sen. Jim Jeffords is turning his full attention to Vermont's Civil War sites.
Over the last two years, Coffin has talked with history buffs, librarians and town clerks in about 125 municipalities, logging 40,000 miles on his Hyundai coupe. Once he has surveyed all of the state's 251 cities and towns, he'll compile his research in a book to be published in 2012 to coincide with the Civil War's 150th anniversary.
Coffin acknowledges that "it's going to be a damn big book." After all, Civil War "sites" aren't just the churches where soldiers were mourned and the cemeteries where they were buried, but also the factories where wool, weapons and uniforms were manufactured; the fields where the soldiers drilled; the stops on the Underground Railroad; the halls where abolitionists spoke; and the childhood homes of Vermonters who fought and influenced the war effort. Coffin, who served in the U.S. Army during the Vietnam War, is even planning to write about a cave where a Civil War draft resister hid out.
Coffin's book will add to a remarkably uncluttered literary canon. While more than 34,000 Vermonters served in the Civil War, the only comprehensive tome on the topic - Vermont in the Civil War, by G.G. Benedict - was published in 1886.
Kevin Graffagnino, executive director of the Vermont Historical Society, says Coffin's current project will help sustain public interest in an important subject. "The Civil War wasn't being written about much in Vermont 25 years ago," Graffagnino notes. "Howard has been a major player in getting the Civil War back on the front page, as it were, of Vermont history."
Coffin suggests his project was born of a desire to understand the human condition. "Why do we fight? Why do men go off to war, or why don't they?" he asks rhetorically. "I don't think this country has a good understanding of what war's all about, and I think there might be a way to get at that through this war, because there's so much information that survived without censorship."
******
At 11:15 on a recent Thursday morning, Coffin parks his Hyundai in the driveway of the Danville Historical Society. He explains that Danville holds uncommon significance as a Civil War locale for two primary reasons. It's where Col. Addison Preston lived before shipping off for points south, and it houses the boyhood home of House Representative Thaddeus Stevens, a famous American legislator.
Stevens was born with a club foot in 1792 to a poor Danville family. After graduating from Dartmouth College in 1814, he established a law practice in Gettysburg, Pennsylvania. Known as a champion of human rights, Stevens was first elected to the House of Represent-atives in 1849 and chaired the House Ways and Means Committee during the Civil War. Just before his death in 1868, he led impeachment proceedings against President Andrew Johnson.
Mary Prior, a garrulous woman with short white hair, emerges from a side door of the historical society. She and Coffin sit down, and he explains that he'd like to document all the sites in her town that pertain to the Civil War.
"I can do sites," Prior says.
Coffin adds that he would also like to see any artifacts related to those sites.
"I can do artifacts," she replies.
Prior can also, it just so happens, furnish Capt. Charles D. Brainerd's 1879 essay "Danville in the War of the Rebellion," the town's first Civil War retrospective. According to Brainerd's seven-page brief, Danville residents voted to spend $36,000 on the war effort. Of the 185 Danville men who fought for the Union Army, 17 were taken prisoner and 12 died from wounds suffered in battle.
After making photocopies of Brainerd's essay, Prior explains that some of Col. Preston's Civil War gear is being stored in North Danville. Coffin grins. When Prior, a seventh-generation Danvillite, adds that she can show him Thaddeus Stevens' purported birthplace, his grin widens.
"Some of it is pretty exciting," Prior says.
"Well," he answers, "I'm getting excited."
A fifth-generation Vermonter, Coffin first heard stories about the Civil War from his mother while growing up in Woodstock. After serving as a medic, machine gunner and reporter for the U.S. Army in the mid-1960s, he worked as a Herald reporter, a news director at Dartmouth and the University of Vermont, and press secretary for Sen. Jim Jeffords.
Soon after he left the army, Coffin began using vacation time to visit and write about Civil War battlefields. By the time he retired from Jeffords' office in the mid-1990s, he was already something of a Civil War authority.
Over the years, Coffin's enthusiasm for relics of the "War Between the States," as the Confederacy preferred to call it, has helped generate interest on a national scale. In 1988, he helped draft a bill that asked Congress to preserve Civil War battlefields where Vermonters had fought and died. It passed. Coffin also petitioned Congress to buy 500 acres outside Fredericksburg, Virginia, from a housing developer for $5.5 million. The parcel is the former site of the Battle of the Wilderness, an 1864 conflict in which 1000 Vermonters were shot in a single afternoon.
******
A half-hour after their rendezvous at the Danville Historical Society, Coffin and Preston climb the stairs of the North Danville School Community Center. A pile of American flags rests against a wall in the foyer. Inside the "historical room" lie the boots, saddlebag and horse bridle that Col. Addison Preston probably had with him when he was killed in 1864. Coffin's eyes widen.
Then Prior opens two cardboard boxes that have been placed near a dog-eared copy of Full Duty. Coffin peers over the edges to find Civil War combat uniforms. The stripes on one of the uniforms denote the rank of lieutenant colonel. "That's almost pristine," he mutters while bending over to examine the garment. "This is tremendous!"
After chatting about Preston's gear, Coffin and Prior ponder the circumstances of the commander's demise. The way they talk, you'd think they were gossiping about a neighbor who'd been killed in Iraq. "It's almost as if he had a death wish," Coffin says, noting that it's unwise for commanders to expose themselves so blatantly to potential enemy fire. "He wanted to be one of the guys," Prior replies. "Didn't he?" Coffin sighs. "Well, I guess so."
Prior hops in Coffin's car and commences a drive-by tour of local Civil War sites. Here, she says when Coffin stops at a Federal-style white house, is where Addison Preston grew up. Here is the sleepy Congregational Church where his funeral service was held. And here, she continues, standing under a maple in the Danville Green Cemetery, is where the colonel was buried.
As a bank of thunderheads appears overhead, Coffin drives through a covered bridge and parks beside a clearing that overlooks the former Greenbank's Woolen Mill. Here, Prior explains between bites of a sandwich, is where Danville workers manufactured blue wool for Civil War uniforms. The mill burned in 1885.
Something - distant car horns, perhaps, or a car radio tuned to a country station - begins to trill in a vaguely melodic way. Coffin looks up from his sandwich to ask Prior what it might be. "It's probably the dinner bell for the mill workers," she replies. "You can feel their spirits, can't you?"
Coffin's Hyundai climbs out of Danville and dips down a dirt road. Passing a house where a soldier's camouflage fatigues are drying on a clothesline, the car swoops through a patch of darkened woods that mark the original "Danville Centre." Coffin parks beside a stand of 100-year-old cedars and a "NO TRESPASSING" sign. Then he and Prior walk across the road toward what look like the decrepit remnants of a stone wall.
Prior explains that some locals consider this the birthplace of Thaddeus Stevens. According to the Lancaster, Pennsylvania-based Thaddeus Stevens College of Technology, the Danville native was a proponent of legislation related to public education and civil rights. Stevens was the third public official to be buried at the Capitol Rotunda in Washington, D.C.; the first two were Senator Henry Clay and President Abraham Lincoln.
"It's remarkable," Coffin muses. "This club-footed baby grows up and changes the history of the world, and it started right here."
******
Clouds burst as Coffin and Prior head back to Danville. While wiper blades glide across his windshield, Coffin insists that this Civil War project shouldn't be construed as a celebration of war, but rather as a means to understand it. (The historian spoke in favor of impeachment at the Statehouse last winter and considers both the Vietnam and Iraq wars unjust.)
As a former military man, Coffin is more interested in shedding light on the experiences of the common soldier than he is in abetting knee-jerk patriotism. Today, for example, he carries Rutland Herald obituaries for two local boys who were killed toward the end of the Civil War. One, Alvah Kelsey, met his end while fighting for the Confederate Army in the fall of 1862. Another, Union Army Corporal Samuel W. Rollins, died of a fever in prison in the winter of 1865.
To find out where these soldiers lived, Coffin and Prior approach a white house that sits across the town green from Danville's gray Civil War monument. Inside, the woman who owns the place shows Coffin an antiquated map of Caledonia County that hangs in her dining room. Consulting the map with a magnifying glass, Coffin locates Danville and finds markings for homes that belonged to the soldiers.
By the time Coffin and Prior return to his car, it's after 4 p.m. The Hyundai re-crosses Route 2 and passes the Danville Video Store and the Danville Historical Society. Sunflowers and Queen Anne's Lace line the roadside on the way out of town. A streambed emerges at turns from behind a stand of deciduous trees. On a gently sloping hillside that Prior's family has owned since 1797, cows swat flies with their tails.
Coffin drives on, past Addison Preston's house, toward the Kelsey homestead. Though the drizzle has tapered off and the sky is showing streaks of blue, the air streaming through the windows feels heavy. "I don't want to glorify war," Coffin tells Prior. "I'm full well as interested in these stories as I am in Thaddeus Stevens."
"Because it's the common man," she affirms.
"That's right," he says. "The Civil War was glorious in some ways, but it was also a horrible experience full of immense suffering."