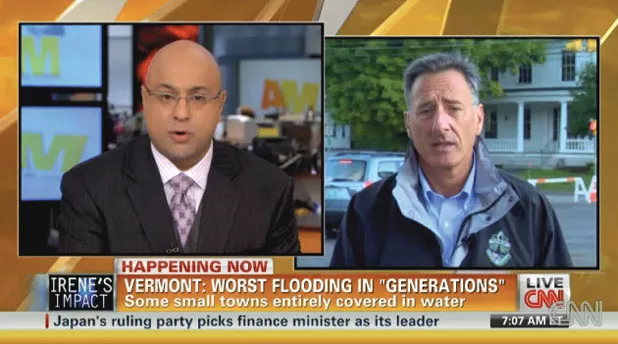 Gov. Peter Shumlin on CNN
Once it became clear that Hurricane Irene was a major story in Vermont — and a nonstory almost everywhere else — the national news media poured in. Correspondents from CNN, CBS News, the New York Times, Reuters, Bloomberg and Time magazine flocked to the small towns devastated by the storm's raging floodwaters. Within 24 hours, Vermont was in the national mainstream media spotlight.
Even before the storm had passed, some locals began grumbling about how the national channels were covering the story — or not covering it.
One Twitter user wrote, "Vermont is getting destroyed by flooding right now, and national media is covering bike paths in NYC."
Another tweeted, "No one in the national media is talking about Vermont being underwater. This pisses me off." To which someone replied, "They think NY is center of universe. Assholes."
Gov. Peter Shumlin himself took a swing at the "national press" two days after the storm, when he disputed reports of people being "stranded" in towns without access to medical care.
"I've heard, mostly in the national press, that there are folks who have medical needs that can't get met. This is not true," Shumlin told reporters on August 30 outside the state office complex in Waterbury. "There is an interesting national story being suggested that we have communities so isolated that we can't get them help. We have Red Cross in those communities; we have National Guard in those communities; we have choppers that can land in those communities at any time."
In a Bennington Banner op-ed, freelance journalist Telly Halkias praised the governor for socking it to the national media. "If Gov. Peter Shumlin does nothing else during his current term, he will have offered the public a valuable service by addressing frustration with the national media in the immediate aftermath of Hurricane Irene."
In fact, some Vermonters couldn't get medical care in the hours following the floods. In Grafton, population 2000, road washouts left one dialysis patient and another in need of chemotherapy with no way out until midday Monday, August 30, according to Windham County Sheriff Keith Clark.
"I am worried about people who are isolated," Clark told CBS News correspondent Wyatt Andrews in a news report that aired Monday morning. "We know that in one town there are people on dialysis who can't get out to get treatment. We're trying to get vehicles to them."
Several days later, Sheriff Clark told Seven Days that his information was accurate at the time. Later that day, the patients were evacuated on an unimproved, "class 4" road.
"Everything was happening very quickly," Clark says. "Things were reported one minute and changed the next."
Some observers suggest Vermonters might be too hard on the national press. Doug Clifton, who was the top editor at the Miami Herald and Cleveland Plain Dealer before retiring to Middlebury, says the two national outlets he tuned in to — "PBS NewsHour" and the New York Times — did a "reasonably good job of being aware that Vermont existed."
"The Times had the story out front on the first day," Clifton notes. "The coverage was appropriately played. They have the whole East Coast to cover. They did it in the right proportion."
If the national media can be faulted for anything, it's being "too New York-centric" and being 24 hours late to the story, says David Mindich, chair of the Journalism and Mass Communication Department at St. Michael's College.
"Thankfully, after a day or two, the national media played catch-up and got it," he says. "The New York City-based journalism juggernaut got it right — a day late."
What the national media got was a portrait of Vermont that reinforced the folksy, quaint image that many outsiders already have. Newscasts across the country picked up Susan Hammond's home video of the Lower Bartonsville covered bridge being swept away. A widely circulated Associated Press story profiled the isolated town of Rochester, where citizens came together for daily town meetings to share news and concerns. In a story headlined "Flooded Vermont Town Epitome of Patience," CNN noted that Pittsfield, population 427, dealt with the deluge by throwing a town barbecue to feed the masses.
Other tales were less stereotypically Vermont: Bloomberg reported on a marooned Wall Street trader who hired a helicopter to pick him up in Pittsfield and fly him home to New Jersey.
"We are what we are," Mindich says. "The places that were hit were largely rural, tight-knit communities that relied on agriculture and seasonal tourism. So, you are going to get the stereotypes about Vermont, because in part, the stereotypes reflect something real."
More important than how accurately the state was portrayed, Mindich says, is that it got sufficient attention. National media exposure facilitates federal disaster assistance. That's why Shumlin spent the first few days doing interviews with Wolf Blitzer, Amy Goodman and anyone else who extended an invitation, Mindich says.
"There are roads to be built and individuals and businesses that need help, and it's important for the governor to use the national media to explain that," Mindich says. "There probably isn't the long window of opportunity to explain how desperately we need help. This will pass out of the public's eye very quickly."
How quickly? Ordinarily, Clifton says the story would be bumped after just a few days or weeks. But he says there's one thing that could give this one a longer shelf life.
"There may be this different wrinkle this time because of the Republican position that federal aid to the distressed has got to be offset by cuts elsewhere," Clifton says. "The story might stay alive because of the political angle."