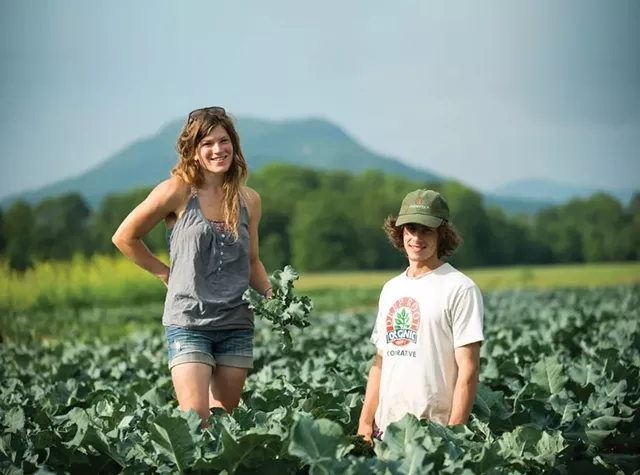 Courtesy Of Dig In Vermont/andy Duback
Open Farm Week
Vermont is famous for its locally grown food and drinks — and summer is ripe with opportunities to get closer to their source. Want to see where the heirloom tomatoes you found at the market were grown? How about sip wine steps from the vine? Read on for a roundup of events that will put you face-to-face with farmers, cheesemakers and vintners as you sample the fruits of their labor.
This tasting tour will also lead you to a feast of cultural offerings — from concerts and storytelling to ballet and workshops. Come, take a bite out of Vermont's landscape.
Open Farms, Open Arms
Meet chicks and calves up close, wander through pastures,and eat farm-fresh meals during Vermont's fourth annual Open Farm Week, held August 13 to 19. More than 100 farms around the state will welcome visitors and hold special events designed to showcase the everyday work of raising good food.
Within a 30-mile radius of Burlington, Maple Wind Farm in Richmond will host tours of the chick brooding facilities — plus a fried chicken dinner with all the fixings. At North Williston Cattle Company, see baby calves and a state-of-the-art robotic milker in action while sampling chocolate milk and cheese. At Trillium Hill Farm in Hinesburg, farmers will offer tours of their vegetable and beef operation, as well as an evening of wood-fired pizza and music.
Fairy-Tale Farm
Courtesy Of Sarah Webb
Shelburne Farms
Its majestic barn resembles a fairy-tale castle, but Shelburne Farms has a down-to-earth mission of sustainability education. What was once a Gilded Age estate owned by descendants of America's Vanderbilt family is now a National Historic Register property and working farm intended to demonstrate and teach how to build a healthy future for the planet.
Catch a wagon ride through striking grounds designed by Frederick Law Olmsted — best known for his work on New York City's Central Park. Stop at the Farm Barn to see a new litter of piglets, milk a cow and watch cheesemakers craft their award-winning raw-milk cheddar. (Taste it in a grilled cheese from the courtyard Farm Cart.) Climb the gentle hills to get a view of Lake Champlain, but loop back in time for free Wednesday-night concerts in July and August.
Insider Tip
— More cheese, please? Book a Sun to Cheese Tour, held every Friday, to visit the dairy herd, watch the milk become cheddar and enjoy a private tasting. To learn more about the history of Shelburne Farms, take a House & Formal Gardens Tour — and sip afternoon tea by the lake — on Tuesday or Thursday.
Cultural Treasure
Located in Charlotte, about 30 minutes south of Burlington, Clemmons Family Farm is one of the largest historic African American-owned farms in Vermont — and a stop on the state's African American Heritage Trail. After earning an ArtPlace America National Creative Placemaking Grant, the landmark farm is offering its first full summer of public events.
The family bought the farm in 1962 and is transitioning it into a public destination to celebrate African American heritage across history, culture, arts and sciences. The summer schedule includes interactive explorations of music, dance, food, photography, painting and poetry led by guest artists. Specific to food and farming, a new hoop house will nurture African American and African diaspora herbs, teas, vegetables and flowers, to be used in workshops on Afro-Caribbean ancestral foods and herbal nourishment.
Backyard Bounty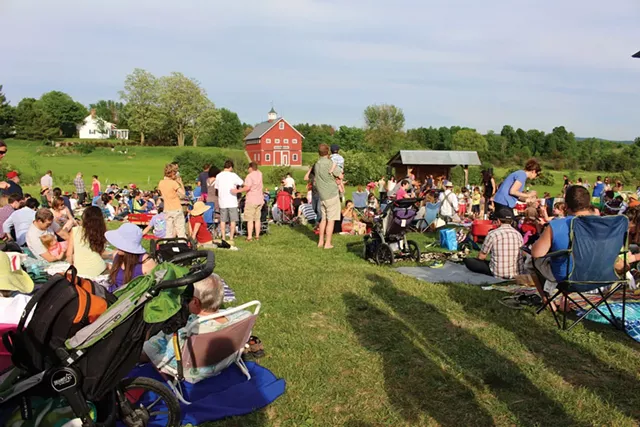 File: Stacey Brandt
Bread & Butter Farm
Grilling up a burger at home is one thing. Getting one hot off the flames at Bread & Butter Farm is quite another. For starters, these patties are made from the farm's own beef; the salad ingredients are grown on-site, too. Throw live music, beautiful views and a community of new friends into the mix, and it's a barbecue to remember.
The farm, which straddles the Shelburne and South Burlington town line, is heading into its eighth summer of Burger Nights. Tickets for the six Friday-evening events — taking place from mid-June through August — will be sold only in advance, and food will be served buffet-style. It's truly a party: Every evening includes a parade led by local children's-music superstar Mister Chris.
Insider Tip
— For a different kind of farm dinner party, check out the multicourse, Italian-inspired Agricola Farm Dinner Club in Panton, 45 minutes south of Burlington.
Barn Dance
Courtesy Of Farm To Ballet/tim Barden
Farm to Ballet Project
Pigs fly, cows leap and lettuce leaves pirouette during the fourth summer season of the Farm to Ballet Project. Vermont native Chatch Pregger returned home from his well-established dance career to create this uniquely accessible ballet, performed by a diverse company of dancers on farms across the state.
The project has also raised tens of thousands of dollars for more than a dozen agricultural nonprofit organizations. "Farm to Ballet is my way of supporting and growing Vermont's regenerative food system while at the same time nurturing the diverse talents of ballet dancers," Pregger says. "It's a great fusion of art and agriculture." The 2018 schedule includes performances at Shelburne Farms and Moonrise Farm in Essex Junction.
Urban Oasis
Courtesy of Intervale Center
Intervale Center
Visitors and even some locals may be surprised to find an oasis of small farms, community gardens and public trails located right in Burlington. Tucked alongside the Winooski River, the Intervale Center is a nonprofit foundation that helped reclaim a fertile agricultural history where a city dump once stood.
This year marks the center's 30th anniversary. Celebrate at Summervale, a free farm party held every Thursday in July and August. Each week includes farmer-driven food tastings, local music, kids' activities, and plenty of locally made eats and drinks for sale. (Or bring your own picnic.) Bike down for the easiest access — and valet bike parking — and leave alcohol and pets at home, please.
Insider Tip
— One of Summervale's food vendors — and a "graduate" of the Intervale's farm-incubator program — is Adam's Berry Farm, now located 25 minutes south of town in Charlotte. It's a beautiful destination for pick-your-own berries and frozen fruit popsicles.
Vineyard Views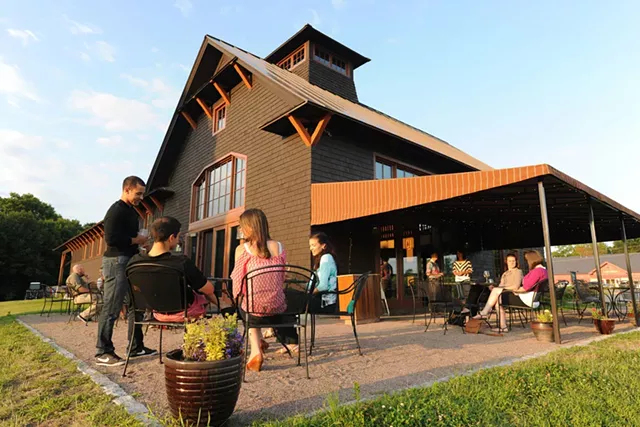 Courtesy of Shelburne Vineyard
Shelburne Vineyard
An increasing number of agricultural entrepreneurs is splashing into Vermont's wine scene — growing grapes and welcoming visitors to tasting rooms in view of gracefully climbing vines. Closest to Burlington is Shelburne Vineyard, just south of Shelburne Museum on Route 7.
The elegant tasting room is open daily for vineyard tours and samples of its award-winning wines, made from cold-hardy grape varieties. The vineyard also hosts free monthly concerts with local musicians and a mobile food vendor, as well as a monthly Bluegrass & BBQ series from late May through mid-September. For something different, try the "Moth"-style Wine & Story hour on the third Tuesday of each month.
Insider Tip
— Both within an hour of Burlington, Lincoln Peak Vineyard in New Haven and Snow Farm Vineyard in South Hero also hold summer concert series.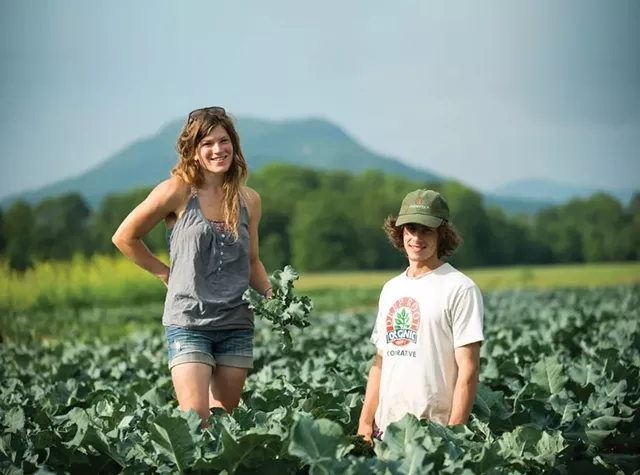 Courtesy Of Dig In Vermont/andy Duback
Open Farm Week
Le Vermont est reconnu pour ses produits locaux, à boire et à manger, et l'été fournit toutes sortes d'occasions d'en faire l'expérience. Vous voulez voir où sont cultivées les tomates ancestrales que vous avez trouvées au marché? Déguster un vin à quelques pas de la vigne? Vous trouverez dans cet article une description de nombreux événements qui vous permettront de rencontrer des agriculteurs, des fromagers et des viticulteurs, et de goûter à leurs produits.
Cet itinéraire de dégustation vous fera aussi découvrir des activités culturelles telles que concerts, narrations, ballets et ateliers. Venez savourer le paysage du Vermont.
Portes ouvertes dans les fermes
Faites connaissance avec des poussins et des veaux, promenez-vous dans les pâturages et savourez des repas de produits locaux lors de la quatrième semaine annuelle des fermes du Vermont, Open Farm Week, qui a lieu du 13 au 19 août. Une centaine de fermes de tout l'État y accueillent les visiteurs et font des démonstrations de leurs méthodes de production.
Dans un rayon de 48 kilomètres de Burlington, la ferme Maple Wind, à Richmond, organise des visites des poussinières et propose des repas complets de poulet frit. À la North Williston Cattle Company, vous verrez des petits veaux et une trayeuse robotisée de pointe; vous pourrez aussi goûter au lait au chocolat et aux fromages. À la ferme Trillium Hill, à Hinesburg, les fermiers font visiter leurs cultures maraîchères et leur élevage de bœufs et organisent des soirées de pizza au feu de bois, en musique.
La ferme des contes de fées
Courtesy Of Sarah Webb
Shelburne Farms
Sa grange majestueuse fait penser aux châteaux des contes de fées, mais la mission de Shelburne Farms est bien concrète et vise la sensibilisation à la durabilité. Cet ancien domaine ayant appartenu aux descendants de la famille américaine des Vanderbilt est maintenant une propriété inscrite au registre historique national et une ferme en activité dont l'objectif est de montrer aux gens comment assurer un avenir prospère à la planète.
Faites un tour de carriole sur le magnifique terrain aménagé selon les plans de Frederick Law Olmsted – surtout connu en tant que créateur de Central Park à New York. Arrêtez-vous à la grange pour voir une portée de petits cochons, traire une vache et assister à la fabrication du célèbre cheddar artisanal au lait cru. (Goûtez-y dans un sandwich au fromage grillé au Farm Cart.) Gravissez les douces collines du domaine pour découvrir la vue sur le lac Champlain, mais revenez à temps pour les concerts gratuits du mercredi soir qui ont lieu en juillet et en août.
Bon à savoir
— Encore du fromage? Réservez une visite Sun to Cheese, le vendredi, pour voir le troupeau, regarder la transformation du lait en cheddar et faire une dégustation privée. Pour en apprendre davantage sur l'histoire de Shelburne Farms, faites la visite de la maison et des jardins (House & Formal Gardens Tour) et sirotez un thé au bord du lac, le mardi ou le jeudi.
Un trésor culturel
Située à Charlotte, à environ 30 minutes au sud de Burlington, la ferme familiale Clemmons est l'une des plus grandes fermes historiques appartenant à des Afro-Américains au Vermont. C'est l'une des étapes de la African American Heritage Trail de l'État. Après avoir obtenu une subvention pour son rôle artistique et créatif à l'échelle nationale, cette célèbre ferme propose un premier été complet de manifestations publiques.
La famille qui possède cette ferme l'a achetée en 1962 et est en train de la transformer en une destination publique célébrant le patrimoine afro-américain dans les domaines de l'histoire, de la culture, des arts et des sciences. L'horaire de l'été prévoit des explorations interactives en musique, cuisine, photographie, peinture et poésie animées par des artistes invités. Pour l'alimentation et l'agriculture, une nouvelle serre-tunnel permettra de cultiver des herbes, des thés, des légumes et des fleurs d'Afrique et d'Amérique, qui seront utilisés dans les ateliers sur les aliments ancestraux afro-antillais et la nutrition par les herbes.
Des barbecues mémorables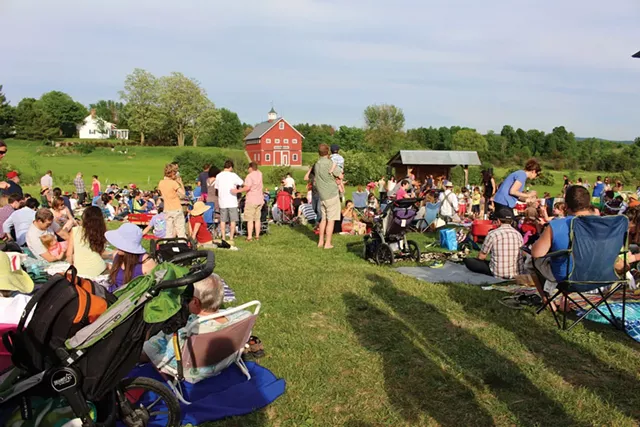 File: Stacey Brandt
Bread & Butter Farm
Faire griller un hamburger à la maison, c'est une chose, mais en savourer un qui vient d'être préparé sur le feu à la ferme Bread & Butter, c'en est une autre. Tout d'abord, ces boulettes sont préparées avec la viande de bœuf de la ferme, et les ingrédients de la salade sont cultivés sur place également. Ajoutez des musiciens, de magnifiques panoramas et un groupe de nouveaux amis, et vous avez un barbecue inoubliable.
Cette ferme, à cheval sur la frontière entre Shelburne et South Burlington, amorce sa huitième saison de soirées hamburgers. Les billets pour les six vendredi soirs, de la mi-juin jusqu'au mois d'août, seront vendus à l'avance et le repas sera servi sous la forme d'un buffet. C'est une véritable fête : le programme de chaque soirée comprend une parade menée par le musicien vedette des enfants du coin, Mister Chris.
Bon à savoir
— Pour faire l'expérience d'un autre genre de souper à la ferme, essayez le repas à plusieurs services d'inspiration italienne proposé par le Agricola Farm Dinner Club à Panton, à 45 minutes au sud de Burlington.
Danser à la ferme
Courtesy Of Farm To Ballet/tim Barden
Farm to Ballet Project
Les cochons voleront, les vaches bondiront et les feuilles de laitue feront des pirouettes pendant la quatrième saison estivale du Farm to Ballet Project. Le Vermontois Chatch Pregger est revenu chez lui après une brillante carrière en danse pour créer ce ballet unique, très accessible, exécuté par une troupe diversifiée dans les fermes de tout l'État.
Ce projet a aussi permis d'amasser des dizaines de milliers de dollars pour une douzaine d'organismes agricoles sans but lucratif. « Le projet Farm to Ballet est ma façon d'appuyer et de faire grandir le système alimentaire régénérateur du Vermont tout en développant les divers talents de danseurs, explique M. Pregger. C'est une formidable fusion entre l'art et l'agriculture. » Le programme de 2018 comprend des spectacles à Shelburne Farms et à la ferme Moonrise à Essex Junction.
Une oasis urbaine
Courtesy of Intervale Center
Intervale Center
Les visiteurs et même certains Vermontois seront surpris de découvrir une oasis de petites fermes, de jardins communautaires et de sentiers publics au cœur même de Burlington. Situé sur la rivière Winooski, l'Intervale Center est une fondation sans but lucratif qui a contribué à faire revivre une riche histoire agricole sur le site d'une ancienne décharge municipale.
Cette année marque le 30e anniversaire de ce centre. Venez le célébrer à Summervale, une fête agricole gratuite qui a lieu tous les jeudis de juillet et d'août. Chaque semaine, le programme inclut des dégustations organisées par les fermiers, un concert avec des musiciens du coin et des activités pour les enfants; vous y trouverez aussi tout un éventail de boissons et d'aliments locaux à vendre. (Vous pouvez aussi apporter votre pique-nique.) Rendez-vous en vélo, c'est le plus simple – un service de stationnement de bicyclettes est offert – et laissez l'alcool et les animaux domestiques à la maison, s'il vous plaît.
Bon à savoir
— La ferme Adam's Berry – « diplômée » du programme d'incubation de fermes d'Intervale – est l'un des fournisseurs de produits alimentaires à Summervale. Elle est maintenant située à 25 minutes au sud de Charlotte. C'est une belle destination pour aller cueillir vous-mêmes des petits fruits et savourer des sucettes glacées aux fruits.
Dans les vignobles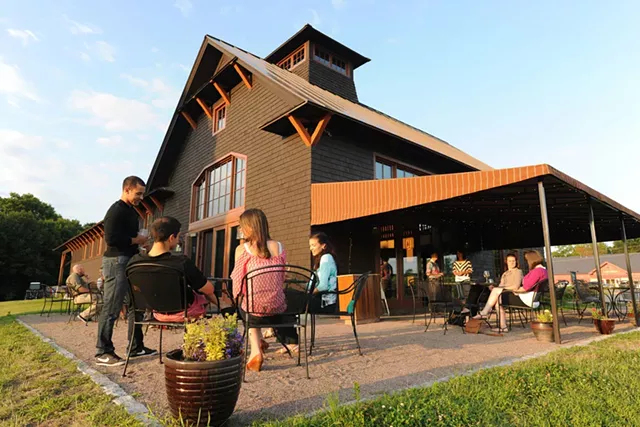 Courtesy of Shelburne Vineyard
Shelburne Vineyard
De plus en plus d'entrepreneurs se lancent dans le domaine vinicole au Vermont et cultivent la vigne tout en accueillant des visiteurs dans de belles salles de dégustation donnant sur de beaux vignobles. Le plus proche de Burlington est le vignoble Shelburne, juste au sud du musée Shelburne sur la route 7.
L'élégante salle de dégustation est ouverte tous les jours et on peut y goûter des vins primés faits de cépages résistants au froid; des visites du vignoble sont aussi offertes. Tous les mois, des concerts gratuits mettent en vedette des musiciens locaux et un service de restauration mobile est alors offert. De la fin mai à la mi-septembre, le vignoble organise la série mensuelle Bluegrass & BBQ. Pour vivre une expérience différente, assistez à l'heure Vin et narration de style « Moth », le troisième mardi du mois.
Bon à savoir
À moins d'une heure de Burlington, les vignobles Lincoln Peak à New Haven et Snow Farm à South Hero organisent aussi des séries de concerts estivaux.