James Buck
Frying squirrel legs at the Field-to-Fork: Wild Food Cooking seminar
Heirloom tomatoes, a pint of blueberries and ... bear meat? These ingredients don't often fill the same grocery bag, but things got a little wild at the Field-to-Fork: Wild Food Cooking seminar held on August 14 at City Market, Onion River Co-op's store in Burlington's South End.
Organized by the Vermont Department of Fish & Wildlife and Rooted in Vermont, a program of the Vermont Farm to Plate Network, the seminar was the third in a series encouraging Vermonters to add wild game meat to their local, seasonal diets. Previous events took place in Middlebury and Barre.
The local food movement is nothing new in Vermont — it's almost harder not to buy local when the supermarket shelves overflow with Vermont dairy, produce, beverages and meat. According to a 2018 poll conducted by the Vermont Sustainable Jobs Fund, a whopping 93.5 percent of Vermonters surveyed have purchased local food at grocery stores.
Nonetheless, some Vermonters still accuse the local food movement of being elitist, expensive and inaccessible. The stereotype of the locavore is often diametrically opposed to that of the hunter, both culturally and politically. But when it comes to eating, are the two really so different?
"There's this perception that people who enjoy local food are these crunchy, granola co-op people," said Nicole Meier, hunter education and outreach specialist at Fish & Wildlife, in an interview. "But hunters and anglers are some of the very first locavores that there ever were."
James Buck
Nicole Meier simmering squirrel legs
Meier was one of the key organizers of the Field-to-Fork seminar. When she wasn't busy putting cans of bear meat into a pressure cooker to demonstrate how to lengthen its shelf life, she was driving the conversation around the similarities between the two worlds. "There are people — most of us here tonight — that are the co-op people and the hunting and fishing people," she told a reporter. "And making that more visible is really important."
In the same Vermont Sustainable Jobs Fund poll, 26.4 percent of respondents indicated that they have hunted to eat. The tradition of hunting and angling is deeply rooted in the state, but the number of active participants is dwindling.
For Meier, the Field-to-Fork seminars are a way to draw people into that tradition who don't consider themselves hunters or anglers. She hopes that a bite of the pulled wild turkey sandwiches or bear meatballs cooked up during the seminar will spark an interest that leads to more people heading out into the woods and waters.
"We have this incredibly abundant resource of delicious fish in our rivers and ponds, deer and other wildlife in our fields and forests, and wild food that we can just pick off the ground and eat," Meier said to the 30 seminar attendees.
A quick show of hands revealed that the room was evenly split between those who had never hunted or fished and those who had. Shane Rogers, project manager of Rooted in Vermont, noted that the series aims to reach primarily those avid hunters and anglers.
"Rooted in Vermont was created as an idea of how to expand who we were talking to about local food," he said. "Hunting and angling go hand in hand with the local food movement, and it's long past due that we were explicitly trying to make that connection."
As the attendees broke into groups and headed to different stations, the connections and conversations happened naturally. Some gathered around a meat grinder in City Market's pristine Community Teaching Kitchen, where the question of how nonhunters can access wild game meat came up.
"Just come up and ask!" said Joyce DiMaggio, who lives in Essex Junction and has been hunting since high school. "Say, 'Hey, you hunt? Good. Can I get some meat from you?' I might even take you hunting with me," she said.
Rogers pointed out that those initial conversations can be intimidating to outsiders. He suggested an alternative to flat-out asking: "I barter with my hunter friends by making a marinara sauce. It's like a garbage pile of your vegetables." Offering a dish that incorporates local food — vegetables you grew yourself or sourced from the farmers market — keeps the conversation going, Rogers said.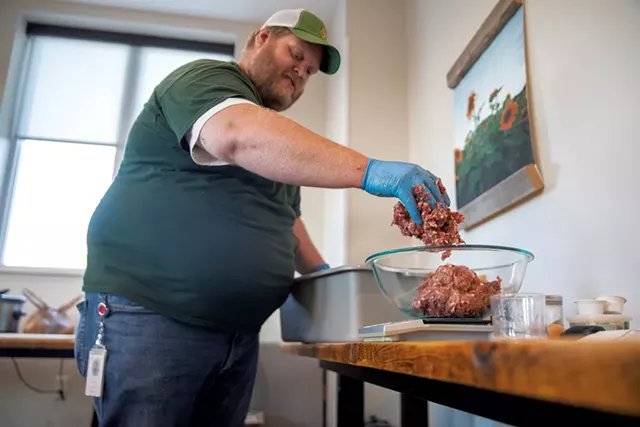 James Buck
Adam Miller mixing bear meat and pork for meatballs and sausages
The group was surprisingly lively, considering that the room was full of sharp knives and meat processing equipment. At the grinding station, Adam Miller, wildlife species program manager for Fish & Wildlife, had participants wielding those knives, trimming the fat off a pile of pork chops. He explained that combining bear meat with pork helps neutralize the gamy flavor that can be pervasive in wild-caught meat.
Miller chucked out pro tips as quickly as he threw pieces of meat in the grinder: Use the weight of the meat to help your knife separate the fat; put chunked meat in the freezer so it will slide through the grinder more easily; use fresh, well-processed meat, which isn't as gamy.
Miller's rapid-fire knowledge delivery is no surprise: He grew up hunting and fishing, and his yearly resolution is not to buy a single piece of meat from the grocery store. "Some years are better than others," Miller said, "but knowing where it all comes from, that it had a quick and painless death, and that we processed it ourselves is what's important to me and my family. And it tastes better, too!"
Giving participants a quick break from the piles of meat and fish, Lina Swislocki of the Vermont Department of Forests, Parks & Recreation's Invasive Plants program shared her extensive knowledge of edible invasives, including honeysuckle, wild parsnip and knotweed. She described how plants can affect wild game: Knotweed, for instance, which grows on creek sides, is terrible at erosion control, and large floating clumps can prevent fish from spawning. "It's cool if you're a knotweed, terrible if you're a trout," Swislocki said.
One station over, fish were the focus. Dylan Smith, Fish & Wildlife's access area coordinator, led participants in fileting fresh-caught white crappie, black crappie and large-mouth bass. He demonstrated the proper technique with both a regular and an electric knife, separating the filets in less than a minute.
Smith encouraged the attendees as they picked up their own knives to give it a go. "It's easy, just intimidating," he said. "When you get in there and actually do it, it's a skill you can bring home."
James Buck
Black crappie filleting instruction
The end of the seminar was a wild feast, featuring fried fish, bear meatballs, pulled wild turkey and even squirrel legs fried in rendered bear fat. None of the seminar leaders were trained chefs, but the turkey was succulent, the bear meatballs were packed with flavor, and the fish was perfectly crisp. Only a few of the attendees joked that the squirrel legs "tasted like chicken."
The turkey and the squirrel were contributions from Carter Heath, the National Wild Turkey Federation's regional director for New England. Earlier in the evening, Heath had participants shredding slow-cooked turkey while he mixed in a homemade barbecue sauce. "People say, 'Don't eat an old tom,'" he said, "but it's all how you cook it."
Just as Miller did with bear meat, Heath recommended making wild game accessible by substituting it in recipes that call for farmed meats. "I prefer a wild turkey to a domestic oven stuffer, anyway," he said.
Accessibility — of wild foods and the conversations around them — was the takeaway of the evening. Vermont's hunting and angling traditions have a lot in common with the local food movement, participants learned: a connection to the landscape, a desire to conserve it, a reduced environmental impact, and a sense of accountability for how we produce and consume food.
"That's one of the most powerful things about this," Rogers said of the series. "When it comes to food, we all have something in common even though our views and experiences may be different."
Meier agreed, pointing out that Vermonters are proud of their natural and agricultural resources. "The universal connection is food, right?" she said.