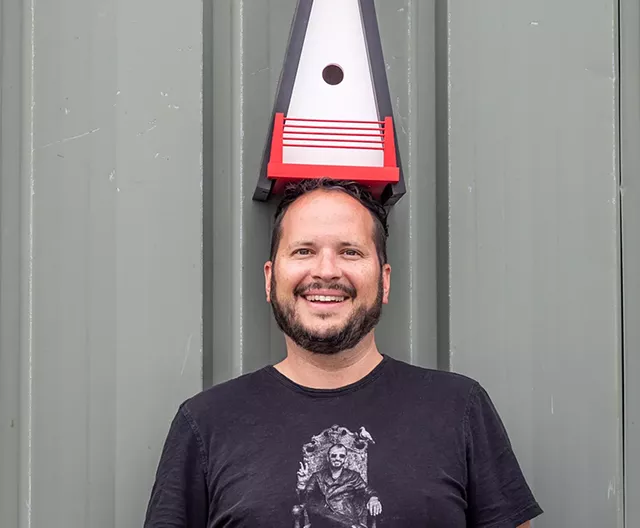 Age: 40
Occupation: Drummer, woodworker and owner of Pleasant Ranch
Lives in: Burlington
Steve Hadeka is a rock star — in the local music scene and among Vermont craftspeople. The Castleton native splits his time between jigs and gigs: During the day, he crafts one-of-a-kind wood furniture, kitchenware and home décor under his Pleasant Ranch brand.
But after hours and on weekends, Hadeka lays down sick backbeats for some of the state's most talented musical acts, including Matthew Mercury, Seth Yacovone Band and British Isles. He's also opened for such talents as Ray Charles, B.B. King, Trey Anastasio and the Derek Trucks Band.
Like much of the native wood he uses in his craft, Hadeka remains firmly rooted in the Green Mountain State. For his latest project, a line of midcentury modern birdhouses, he draws inspiration from Vermont's A-frame ski lodges; he drives by lots of these on his way to play shows at local ski areas.
Find Hadeka's work — and maybe him, too — at downtown Burlington home décor shop Common Deer, as well as at Burlington City Arts' Artist Market, held Saturdays from May through October. You can also catch him in the April 25, 2019, episode of "Stuck in Vermont."
Where to get a retail fix:
I recommend Birdfolk Collective, an eclectic brick-and-mortar store that celebrates handmade and independent designers, at 17 East Allen Street in Winooski.
Favorite venues for live music:
As a performer, I really enjoy ArtsRiot. [The chef] always cooks up a ridiculous family-style band meal for us. As a music spectator, I will say that much of the most interesting and diverse music I have seen in town has actually been at Radio Bean/Light Club Lamp Shop.
Burlington's best-kept secret:
Hands down, without a single doubt in my mind, Four Corners of the Earth sandwich shop on Pine Street. This place, and its genius owner Ladislav Pancisin, aka "Latso," is truly one of a kind. Try the Jamaican avocado — and leave yourself some time to peruse the eclectic artwork.
How to avoid cabin fever:
For me, it's all about keeping my body moving through the cold months. Last year, I took up the fast-growing sport of pickleball. Burlington Parks & Recreation hosts an excellent indoor drop-in pickleball program at the Robert Miller Community and Recreation Center. It's $3 for a two-hour game, and you only need to bring clean, appropriate sneakers. They'll even provide you with a paddle.
Essential Burlington field gear:
Buy or rent a standup paddleboard or kayak; make friends with someone with a boat; do what you can to get out on the water while you can! Burlington is a whole different place when you access our best asset: Lake Champlain.
Favorite field trips outside Burlington:
If you've got a couple bucks to blow, book a room at Hotel Bonaventure in Montréal. It features a year-round rooftop pool and hot tub, plenty of great stuff to see and eat within walking distance, and secure, easy parking.
If you are broke and it's warm out, tour the swimming holes of the Northeast Kingdom. Pro tip: Grab a copy of the excellent Take the Plunge: An Explorer's Guide to Swimming Holes of Vermont, by David Hajdasz, at a local bookstore.