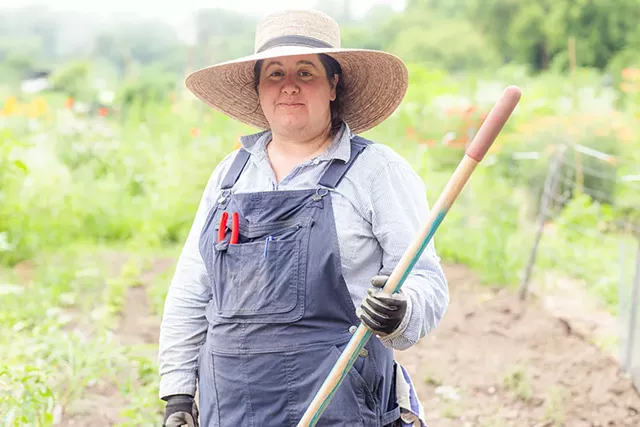 Age: 33
Occupation: Baker, food activist and owner of Miss Weinerz
lives in: Burlington
Ren Weiner didn't start life as a crunchy eater. Growing up in Westchester County, N.Y., the self-described "Skippy and Wonder Bread girl" discovered veganism as a teen, in part to help relieve symptoms of Lyme disease, which she contracted at age 10.
By high school, Weiner was baking vegan cookies to lure her classmates into listening to her various social causes. In college, Weiner got into the science of baking and traveled with the nonprofit collective Food Not Bombs, rescuing food that supermarkets were throwing away.
In 2010, Weiner moved to Vermont, where she'd spent family vacations snowboarding. After years of working "high-stress adrenaline jobs" in restaurants, Weiner launched her Burlington home bakery, Miss Weinerz, selling fluffy sourdough doughnuts and other sweet and savory treats at local cafés and farmers markets.
Though no longer vegan, Weiner calls herself "freegan," or someone who aims to reduce waste by salvaging food that otherwise would be discarded — think pulp from juicing operations, which she uses to make sprinkles, and egg whites from local ice cream manufacturers, which go into her marshmallows. Weiner's Neighborhood Food Club offers its members a weekly package of handcrafted goodies made with 100 percent local ingredients.
Go-to spot for a savory meal in Burlington:
Right now I'm loving Taco Gordo on North Winooski Avenue. It's authentic Vermont South American-inspired cuisine. It's quick, fun and delicious. Half the building is the taco shop, and the other half is All Souls Tortilleria, where the taco shells are made with Vermont corn. It doesn't get any fresher or have a smaller footprint than that!Favorite coffee spot or local roaster:
208 N. Winooski Ave.
Burlington, VT
802-540-0770
Mexican and Bar
I love the roasts that Brio Coffeeworks is putting out. Outside of Chittenden County, Carrier Roasting in Northfield. They're wonderful.Preferred method of burning off calories:
266 Pine St., Suite 116
Burlington, VT
802-777-6641
Coffee/Tea and Specialty Food & Drink
I love getting into nature, on any platform or level that I can. What's wonderful about Burlington are all the trails, whether it's walking or biking the Burlington bike path, going to Red Rocks Park, or taking the trails along the Intervale.
And I love snowboarding. But now that I can't do all the moguls and jumps, I've been getting into snowshoeing and cross-country skiing in the winter. I also have one of those inflatable kayaks with a bike pump to go paddling on Lake Champlain.
Vermont beverages of choice:
I drink Vermont kombuchas and tinctures. APIS makes kombucha with local honey, herbs and berries that's really bright and beautiful. And my favorite place to get tinctures is the Railyard Apothecary down on the waterfront.Recommended Vermont field gear:
270 Battery St.
Burlington, VT
Wellness
A water bottle. And a reusable coffee cup — ideally one that's a thermos because half the year, if you actually want to drink hot coffee, you're going to need a thermos. Snow tires are always worth it, as are sandbags in the back of your car. [If you get] stuck on ice, having sand around is amazing for traction.
Where you'd go if you had only a few hours left to spend in Vermont:
My secret mushroom spot, which I'm not going to tell you, obviously. Or the Sterling Pond, near Jeffersonville. That's such a nice spot.