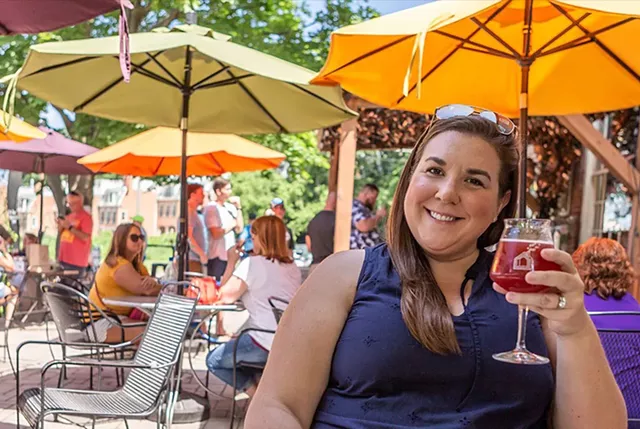 Luke Awtry
Erin McCormick
Age: 33
Occupation: Founder and blogger of Travel Like a Local: Vermont; chief operating officer of Hergenrother Realty Group at Keller Williams; and part-time Vermont real estate agent
Lives in: Colchester
Erin McCormick isn't very good at keeping secrets. At least, not the kind that deserve sharing. In her blog, Travel Like a Local: Vermont, she spills the beans on the state's hidden gems — everything from the best berry farms and B&Bs to scenic drives and salt caves.
The New Jersey native came to Vermont to attend Middlebury College 15 years ago and surprised herself by sticking around after graduation. Don't get her wrong; she likes getting outside of Vermont. But "whenever I travel, I realize that I actually love coming back the most," McCormick says. "There are so many different nooks and crannies throughout the state that make it really worth exploring. You can always hop in your car and, whether or not you have a destination in mind, find something that's really exciting: a great mom-and-pop shop, a new artisan, a new brewery."
The Colchester resident discovered plenty while researching her book, Classic Diners of Vermont, released last fall. Sometimes she'd visit a dozen diners across the state in a single day.
So when it comes to planning local road trips, she's a pro. Literally. One of McCormick's many gigs — which include working in real estate and managing a wedding band — is creating custom itineraries for Vermont visitors. Since she's not into secrets, she shared the following travel tips for free.
Her ideal Vermont field trip:
If it's a really beautiful summer day, I would head up into the Northeast Kingdom and go to Hill Farmstead, which is ranked the No. 1 brewery in the world by RateBeer. It's traveling along backcountry roads. Stop in at Willey's general store — there are so many fun spots up there.
403 Hill Rd.
Northeast Kingdom
Greensboro, VT
802-533-7450
Brewery and Events Venue
Best overnight lodging for a staycation:
One of my favorite places I've ever stayed, of anywhere I've ever traveled, is the Pitcher Inn in Warren. Talk about a quaint little town! It's right across the street from the Warren Store, where you can pick up a sandwich and eat by the falls. [The inn is] a little bit pricey, but it definitely is worth it. The food is amazing. You're so close to everything in Waitsfield. I would definitely recommend going to Lawson's Finest Liquids and also the Mad Taco. There's so much hiking in the area, as well.
275 Main St.
Mad River Valley/Waterbury
Warren, VT
802-496-6350
American (New)
Notable roadside landmark:
One that pops into my mind right away — I guess it's between Leicester and Brandon [on Route 7] — is that gorilla that's holding up a Volkswagen Bug. It's just one of those weird Vermont things.
A diner worth the drive:
My personal favorite diner is actually the Parkway, which is right by the [Burlington] airport. But the Miss Lyndonville Diner, which is in the Northeast Kingdom, is definitely worth the drive. You can have such great conversations with the locals there. That place is a community icon. There's also the Country Girl Diner down in Chester, and they have some of the best maple pecan pie ever. It's so, so good.
1696 Williston Rd.
Chittenden County
South Burlington, VT
802-652-1155
Diner
Field gear that's always in her car:
Make sure that you have toilet paper for those backcountry roads, where there might not be a gas station or a restroom nearby!