Luke Awtry
Caitlin Pascucci
Age: 30
Occupation: Founder and executive director of Sangha Studio
Lives in: Burlington
Caitlin Pascucci may be way into yoga, but she's definitely not one of those more-flexible-than-thou types with green juice in her veins. The founder of Sangha Studio believes that when it comes to yoga, the best practice is the one you can do while reclining on a beach.
Pascucci, by her own admission, was more or less peer-pressured into trying yoga as a student at Champlain College. Her path to becoming a yoga instructor was circuitous: After she graduated in 2010, she stayed in Burlington, mainly because she was dating someone here. When that relationship ended, she decided to stick around to, in her words, "figure this place out on my own."
As it turned out, yoga — particularly AcroYoga, which involves two people bearing each other aloft and, by extension, a crapload of trust between partners — became one of Pascucci's lifelines in post-breakup Burlington.
When she opened the original Sangha in a space above Nectar's in 2014, she said, she wanted to create a sense of community. So she opted for a nonprofit, donation-based model, the first of its kind in Vermont, to make sure cost wouldn't pose a barrier for anyone seeking to practice.
Today, Sangha offers everything from plein air rooftop sessions to LGBTQ-friendly flow at its Old North End and Pine Street locations. Here, Pascucci shares what she loves about her adopted hometown.
Wellness-y things she does around town:
I'm trying to run these days. I like to go around the Old North End, because all I can do is a mile and a half. I love the bike path and going to the beaches along the bike path. That's what I do all summer: I bike for exercise, but to go to places. Destination fitness activities are the best type of fitness activity — like, "I'm going to bike to you, and then we'll hang out."
How to get into Burlington's yoga scene:
They have AcroYoga jams at Oakledge Park and other places around town in the summer, which are these events where you just get together and do yoga outdoors. It's a very fun, social thing.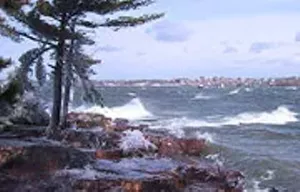 2 Flynn Ave.
Burlington, VT
802-864-0123
Swimming and Parks
One unhealthy thing she likes to do in Burlington:
I love chicken wings, but I'm really trying to not eat them right now, because I can't stop. No amount of yoga can save me from chicken wings. I love Wings Over Burlington. They're in the Blue Mall, but they deliver, so they're wherever you are. But the best wings are at Zabby & Elf's Stone Soup.
211 College St.
Burlington, VT
802-862-7616
Soup 'n' Sandwich and Vegetarian
Favorite field trips outside of Burlington:
I'm more of a beach person than a hike person. I love going up to South Hero along the causeway — there are some really nice beaches there, like White's Beach. My boyfriend has a motorcycle, so we'll take daytrips to places you wouldn't necessarily drive to, but they're fun to get to on a bike. We like Lost Nation Brewing in Morrisville. It's a really pretty ride, and there's a nice patio. And we like Seb's in South Hero, which has great French fries. Basically, I like finding a nice beach or a patio where I can work on my tan and think about yoga.
87 Old Creamery Rd.
Stowe/Smuggs
Morrisville, VT
802-851-8041
Brewery and Pub Food